Bitcoin prices remain volatile, swinging within a $3k zone with visible caps at $40k and $35k reading from formation in the daily chart. After an early scare in the wee hours of February 23, Bitcoin prices strongly bounced back in subsequent sessions, breaking above critical resistance levels now support.
The world is focused on Russia and Ukraine and whether Putin would continue attacking after throwing the first jab on February 23. Following the first missile strike hitting Ukraine, crypto and Bitcoin prices tanked.
Losses were deep in Bitcoin as the store-of-value coin shaved nine percent, dropping below $36.5k. However, should there be continued provocation and Russia and NATO formally declare war, the resulting inflationary environment, analysts predict, would be massive for Bitcoin and cryptocurrencies.
War is inflationary, Benefiting Bitcoin
Bitcoin is deflationary, and there will ever be 21 million coins to ever circulate. Thus far, over 90 percent of BTC have been mined as the coin finds widespread support from institutions and deep-pocketed individuals.
Like the events following the easing of monetary policy and printing of money to contain the spread of the COVID-19 virus, war will force the U.S. to expand and print more money on top of issuing out sanctions. Russia has already created legislation to identify Bitcoin and cryptocurrencies as virtual currencies.
In the event of a full-blown war, there is talk that Russia and some of its oligarch will adopt Bitcoin and cryptocurrencies to circumvent sanctions, a net positive for Bitcoin and other top-tier cryptocurrencies which are censorship-resistant with solid utilities.
Bitcoin Price Analysis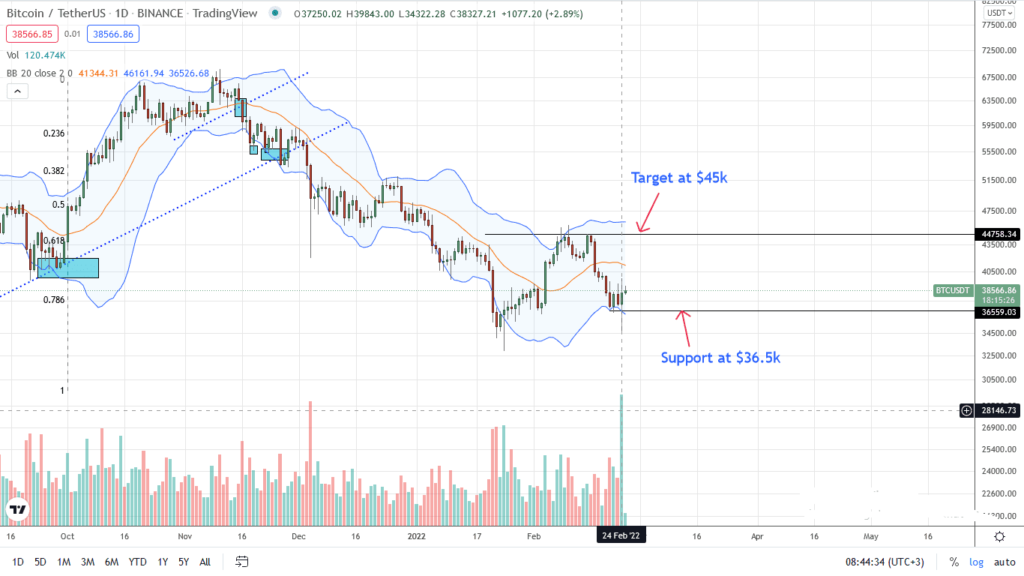 The BTC price is highly volatile, swinging back to green at the time of writing. It was an encouraging snapback after the sharp dump of February 23 when BTC collapsed below $36.5k, dragging the whole market with it.
Technically, BTC bulls are back in charge as traders flow back following the sharp spike in volumes on February 24, lifting prices higher. Aggressive traders may load the dip at spot rates in anticipation of more gains in the days ahead. On the other hand, considering the total reversal of February 21 and 22 losses and the close above the $36.5k support level, risk-averse traders may wait for better entries above the $40k round number. Afterward, they may load on pullbacks targeting $45k—and February 2022 highs.
Notably, BTCUSDT prices are in a tight trade range at spot rates. Depending on the breakout direction—either above $40k or $35k—the medium-term trajectory would be defined, offering guidance for the market.
Technical charts courtesy of Trading View
Disclaimer: Opinions expressed are not investment advice. Do your research.
---
If you found this article interesting, here you can find more  Bitcoin news