It is still the Wild West in cryptocurrency markets as the sector lacks elaborate pricing mechanisms. The situation is further worsened with the prevalent use of automated trading bots and techniques.
So what happens in crypto to determine the price of a coin or token? The price action of most coins is mainly determined by speculators.
So what happens when there is fake news that is spreading a rumor about a positive development on a coin or token? Depending on how believable the news is and how gullible the market is, the coin could pump severalfold in a matter of hours thanks to the high-frequency traders.
This is what happened to Bitcoin Cash's offshoot cryptocurrency Bitcoin SV, the coin backed by controversial Bitcoin developer and CTO of nChain Craig Wright. The coin's price went on a rampage rally hiking more than 107% in a few hours due to what has been confirmed to be fake news.
The coin had an intraday low of $114 on Wednesday morning before it shot up to all-time highs of $237 in the wee hours of Thursday morning. It is, expectedly, the biggest gainer in the top 10 coins with the closest contenders Bitcoin Cash, EOS and NEO flocked around 8-9% levels. Bitcoin SV jumped to secure the coveted position amongst the top 10 with a market cap of $4.1 billion enough to earn it the #8 spot on the Coinmarketcap list.
Fake news stemming off the Chinese social media scene has been identified as the culprit behind the massive price rally. A photoshopped image of what appears to be a confirmation of the claim that Wright is indeed Satoshi Nakamoto has been doing rounds across Chinese social media platforms.
The doctored image is allegedly created Coinbull. The image states in Chinese that Wright managed to transfer some coins out of one of the wallets believed to belong to Bitcoin creator Satoshi Nakamoto thereby definitively proving that he is indeed the true Satoshi.
An internet translation of the text (which was written in Chinese) has been provided by Dovey Wan, the founding partner at Primitive Ventures.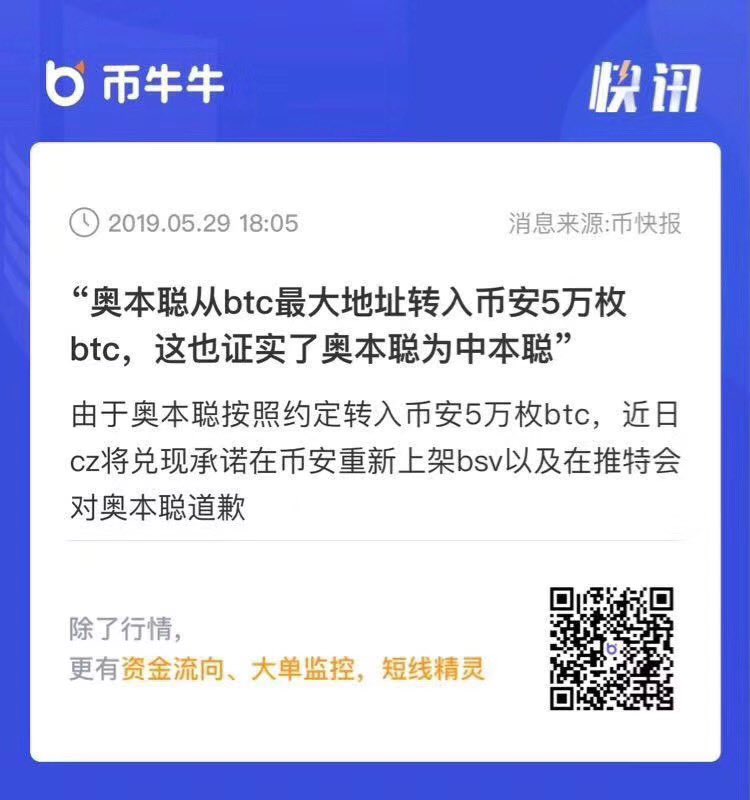 The image reads"CSW transferred 50k BTC from the biggest BTC wallet to Binance, which confirmed he is the real Satoshi. As such CZ will re-list BSV and make an official apology on Twitter."
Wan added commentary to his tweet saying that:
"it's fake af but many retail will believe it for a while before they figure out it's fake."
A follow-up tweet stated that "I don't know how much this contributes to the pump, but this fake news snapshot went viral in many Chinese retail groups around the same time and folks (thought it was real) got super excited abt it."
The same has been dispelled by Binance CEO Changpeng Zhao saying on Twitter that:
"Careful, it's caused by fake new circulation in China. I got pinged 20 times today, clarifying it is fake."
Coinbull itself has released a statement dispelling the news. It has said that:
"Recently, we have received feedback from users that certain people had maliciously sent out photoshopped Coinbull news alert to spread rumors about Binance and CSW which had bad consequences. We remind our users again not to trust any rumors and not to spread any rumors. Thank you for your support."
The price of Bitcoin SV has retreated over the past few hours to press time and is currently trading at $242, still an impressive 104% gains over the last 24 hours.