Investors remain nervous about where the price of bitcoin is going next, as the currency trades around the $20,000 mark.
After a sharp sell-off over the weekend, bitcoin jumped 8% on Monday, keeping investors' nerves on edge as it continues to lie around the $20,000 mark.
The world's largest cryptocurrency stood at a value of $20.5K at the time of writing. The bitcoin price smashed through the $20,000 barrier and fell as low as $18,261.75 in the last 24 hours. Over the weekend, bitcoin's price fell to a record low of $17,611,58.
Any Hopes Shaping?
During this same period, ether fluctuated above $1,075 and jumped over 12%. Bitcoin is still around 70% below its all-time high hit in November 2011 and has lost 57% year to date. While the rebound will be welcomed by investors, bitcoin is still around 70% below its all-time high.
In addition, Andrew Brenner, head of international fixed income at National Alliance Securities, said on Sunday that the rise in Bitcoin is most likely explained by the fact that retailers were buying the digital currency over the weekend when few professionals were working.
He said:
"Some buyers think now is a good time to get in because Bitcoin got down to a level which shows some near-term attractiveness."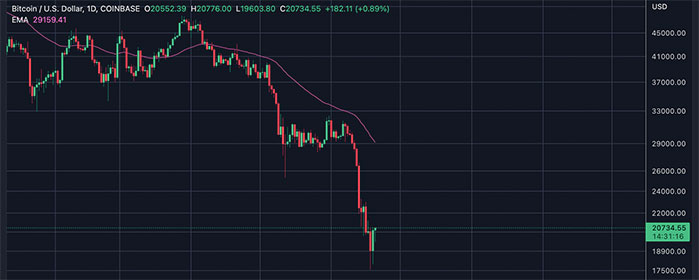 The analyst said digital currencies like bitcoin and others are extremely volatile. There has been an equities sell-off at the same time as the crypto market is experiencing a blow-off, with US equities suffering their biggest weekly percentage drop in two years on the fears of rising interest rates and the looming possibility of a recession.
The economist Brendaner believes digital currencies are not a good investment at a time when the Federal Reserve is closing its expansive monetary policy and tightening the supply of dollars. On the other hand, many crypto enthusiasts believe it's the best time to buy Bitcoin. It can start to jump again and head towards new ATHs in the next months. But the next months aren't still clear, and it may be many months even until 2024.
Anyhow, the bottom of the Bitcoin price is never clear in bear markets like what we're seeing now. Every new investor that aims to enter the market in bear conditions should be careful about buying strategies because there always may be lower prices for Bitcoin and other cryptocurrencies. In the end, old traders who have seen the market crash from 2018 to 2020 believe it's a healthy move and needed for Bitcoin to start rising again.