That Bitcoin is still steady above $45k is a miracle.
The downturn of September 7 was nearly a death spiral. However, the resilience of the market and the high hopium across the board appear to be keeping Bitcoin together.
At the time of press, BTC is in green at least on the last trading day but deep in red week-to-date.
Bitcoin is now Legal Tender in El Salvador
The confidence in Bitcoin is the level of adoption and buzz it has received in the past few days. El Salvador, after Nayib Bukele's announcement in June 2021, made Bitcoin legal tender.
This is the first time a sovereign country is going against the grain and making a privately issued cryptocurrency, an alternative to fiat, money. It was a record-breaker.
Previously, Bukele said the incorporation of BTC in their economy is strategic and primarily wants to see its citizens transact cheaply.
Almost 25 percent of its economy relies on remittance, mainly from the U.S. With Bitcoin in the equation, there will be no payment to intermediaries.
Western Union to Loss Millions in Revenue
As per a CNBC article, El Salvador citizens will save $400 million per year, usually paid to private remittance companies like Western Union.
Besides the money involved, all payments would be digital, saving people the hassle of being physically cashing out.
Even so, amid the excitement, on September 7, when El Salvador made BTC legal tender, BTC crashed and is yet to recover. Analysts maintain that the coin could post even more losses in the days ahead.
Bitcoin Price Analysis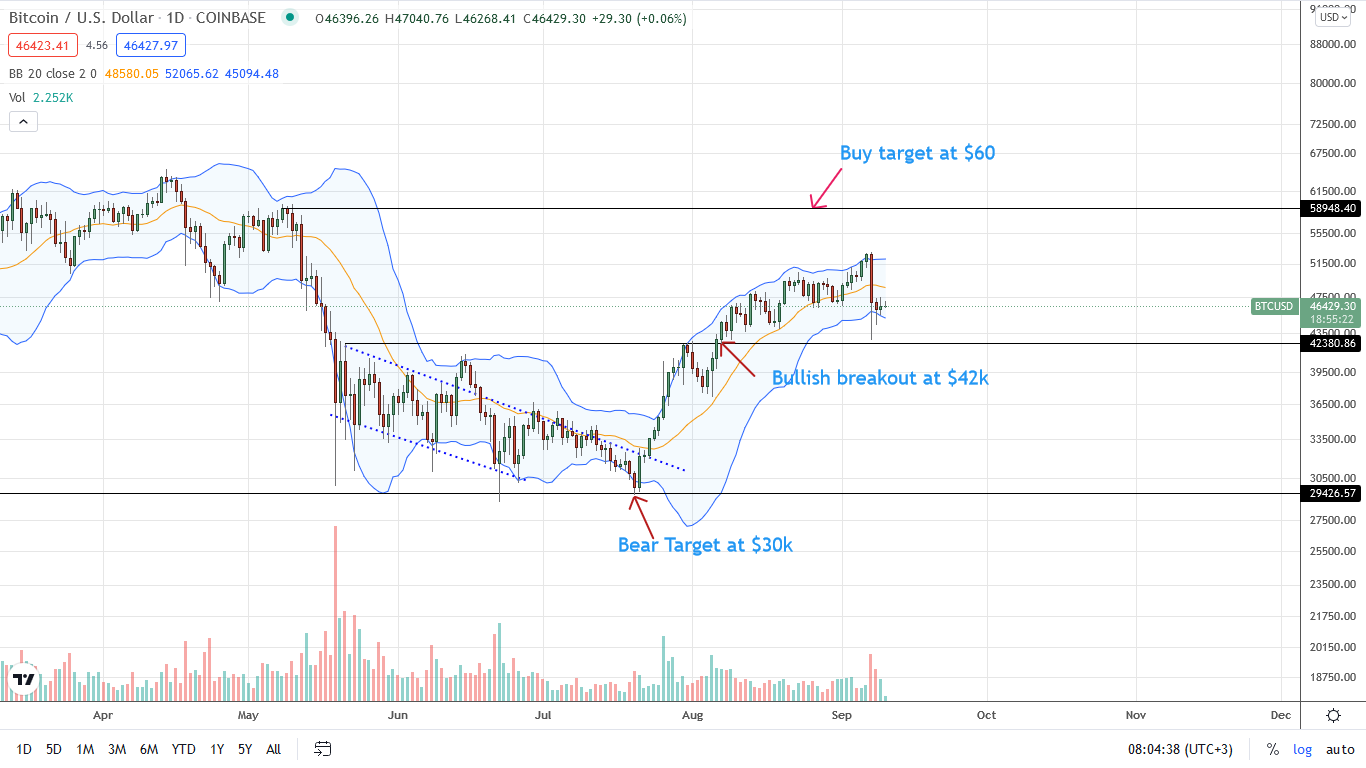 The BTC price, as aforementioned, is steady on the last trading day but weak week-to-date.
From the daily chart, it is clear that sellers have the upper hand from an Effort-versus-Results perspective. Notably, despite gains of September 9, price action is skewed for sellers because bulls haven't managed to unwind selling pressure of mid this week.
Reading from the price action in the daily chart, there might be entries for determined sellers. Every pullback may offer an unloading opportunity for a ride swinging to $42k—January 2021 highs– or lower in the short term in a retest.
Extended losses might see BTC drop to as low as $30k in a bear trend continuation syncing with Q2 2021 losses.
Technical charts courtesy of Trading View
Disclaimer: Opinions expressed are not investment advice. Do your research.