The Bitcoin price continues to fluctuate but retains an uptrend provided $30k holds.
The digital gold is down three percent at the time of writing, trending around $33.1k, down from $36k posted mid this week.
Traders are, nonetheless, optimistic, expecting recoveries in the upcoming weeks due to sound fundamentals flowing in.
El Salvador Opened the Flood Gates
After El Salvador, the potential role Bitcoin can play in the global economy has been highlighted.
Besides being a store-of-value, the network is a global remittance platform where users can send and receive funds cheaply.
President Nayib Bukele is confident the adoption of Bitcoin as legal tender will jump-start a plateauing economy pinned down by the effects of the coronavirus pandemic.
Soon to follow El Salvador is Panama, where a proposal to make BTC legal tender will be tabled in July.
The Investment Wave in Germany
Meanwhile, in Germany, funds managing over $1.8 trillion of value are now free to allocate to Bitcoin, investing up to 20 percent.
These funds are under contractual agreements, mostly from institutional investors like saving banks, which give insight into the investment policy.
Still, this is a breather for Bitcoin and crypto, in general, considering that the last pump to $64k was predominantly at the back of the institutional entry.
The regulatory approval, if anything, should be interpreted positively since the inclusion of Bitcoin into any portfolio, studies show, leads to a drastic improvement in yield.
Therefore, German funds who choose to get BTC exposure could, if history guides, post superior yields, boosting returns to shareholders.
Bitcoin Price Analysis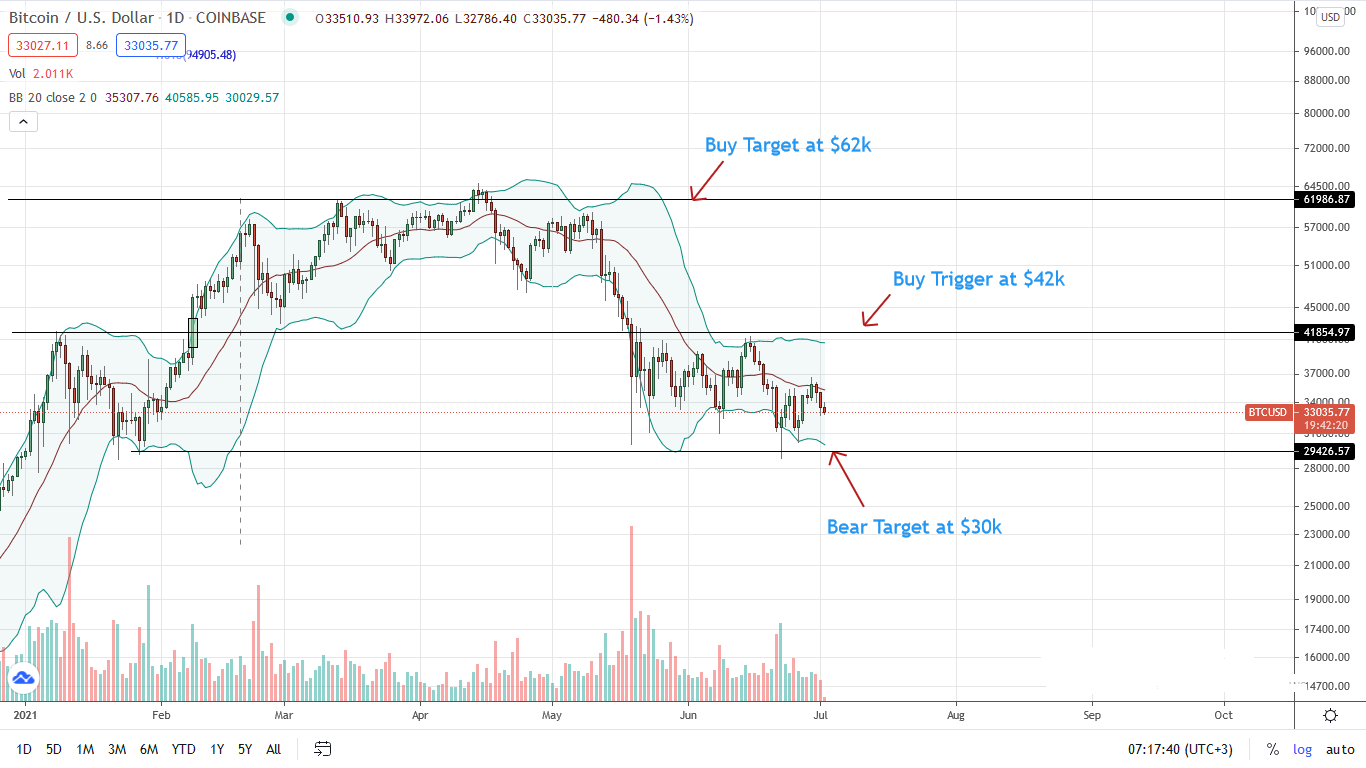 The BTC/USD price ranges below $40k and $42k, losing three percent on the last trading day.
Notably, the middle BB continues to cap price gains as visible from the daily chart. Specifically, BTC/USD recoiled after the latest retest, shrinking to spot rates.
Aggressive traders may find liquidating opportunities with every pullback. Their immediate target will be $30k—June 2021 lows.
In this mode, they will be syncing with sellers of May and June since BTC/USD prices are still within the trade zone defined in the second half of May 2021.
This tilts price action in favor of sellers in the short-term, but in light of growing confidence and deep losses of the last two months, BTC/USD prices could recover.
On the more optimistic side, a breakout above the $12k range may revive demand as traders aim for a retest of $50k.
Chart Courtesy of Trading View
Disclosure: Opinions Expressed Are Not Investment Advice. Do Your Research.
---
If you found this article interesting, here you can find more Bitcoin news