Bitcoin, the flagship cryptocurrency has maintained its quarterly uptrend breaching the highly anticipated $10,000 mark on Saturday morning June 22nd. As anticipated by most analysts, the leading cryptocurrency's price has rallied more than 10% in the last 24 hours to reach a yearly high of $10,915 on the Luxemburg cryptocurrency exchange Bitstamp. The coin is currently trading at around $10,800, which is about 10.4% gains in the last 24 hours, the biggest gains amongst the biggest 20 coins according to CoinMarketCap.
The volume for Bitcoin trades in the same timeframe as reported by Coinmarketcap is about $24.82 billion, while the "Real 10" volume as reported by Messari stands at a modest $2.35 billion. The "Real 10" volume is the volume reported by 10 of the most trusted exchanges that have been identified by Bitwise Asset Management to be reported actual trade volumes on their platforms. The altcoin market has struggled to keep up with the gains of Bitcoin which has propelled its market dominance past the 60% mark to the current 62.45% as reported by Messari.
Right on the heels of the Bitcoin price is Dash and Ethereum's prices both posting about 7.8% and 7.6% gains in the last 24 hours. Bitcoin Cash[BCH], Binance Coin [BNB] and NEO have also posted modest gains in the range 5-6% in the same time frame with the rest of the leading coins seeing about 2-5% gains. The entire market cap for cryptocurrencies has trailed the Bitcoin gains jumping up close to 7% to reach yearly highs of $324.57 billion.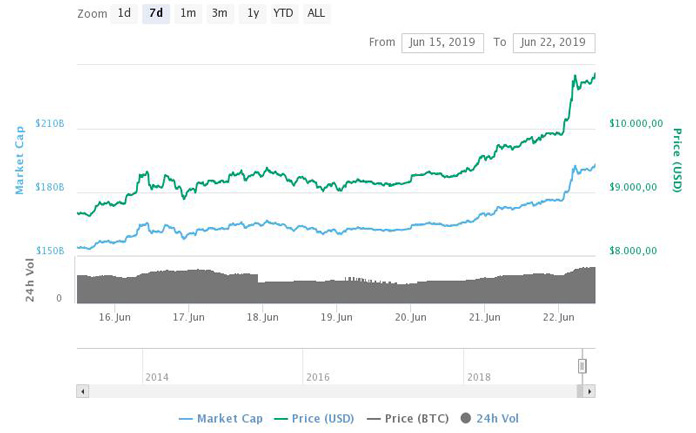 So, what is causing the Bitcoin rally? Well, it is hard to pinpoint a single factor behind the massive gains by the entire cryptocurrency market but the launch of the Facebook whitepaper has been a major boost especially to Bitcoin. Facebook announced the launch of the Libra cryptocurrency on Tuesday this week to a varied reception. The crypto community was tone between rooting for the social media giant's efforts of getting scared for what the launch of the Libra digital assets portends for the future of Bitcoin.
This week also saw the rise of the Bitcoin mining hash rate to new all-time highs as was reported by Blockchain.com  on Wednesday, June 19th. Previous highs of about 60 trillion hashes per second (TH/s) were breached as the figure rose to 65.19TH/s. This is interpreted as a bullish sign as Bitcoin has previously shown a trailing effect towards the hash rate, which also shows the level of interest by miners to mine bitcoins.
Finally, Bitcoin halving is also fast approaching. The period reduction of the bitcoin mining rewards by half is scheduled to occur sometime in May 2020. Previous halvings have been associated by massive bull runs which lend most speculators to anticipate another bitcoin rally come this May 2020.