The Bitcoin price might have broken above $40k at spot rates, but the coin is still under consolidation, moving inside a tight trade range.
BTCUSDT has psychological support at around the $36.5k level on the downside and $42.5k on the upper end.
The 10 percent surge of March 16 needs to be strongly confirmed for another relieving leg up above the barrier, potentially pumping prices towards $445, a critical liquidation line in the BTC price candlestick arrangement.
E.U. Approves Proof-of-Work Crypto Networks
The consolidation of BTC prices is amid positive developments, especially in the E.U. An environmental committee assessed that Proof-of-Work networks, and most prominently Bitcoin, have a place in Europe.
Despite evidence pointing to Bitcoin mining rigs tapping green energy sources to function, environmentalists squarely blame Bitcoin, saying the network is unsustainable and energy-inefficient, unwinding years of work done by organizations and governments in mitigating the effects of climate change.
The endorsement is massive for Bitcoin. Nonetheless, the announcement had little effect on Bitcoin prices reading from the development in the daily chart.
The FED and BOE Tightening
The surge of BTC prices coincides with the FED raising interest rates even amid high inflation.
The U.S. central bank, nonetheless said they were cautious, maintains that the record-high inflation in the country was transient and inevitable following months of an accommodative monetary policy environment.
The BoE followed suit on Thursday, raising their rates to 0.75, signaling a shift by central banks to tighten, unexpectedly pumping Bitcoin and other store-of-value assets, including the greenback, as per the second half's performance week.
Bitcoin Price Analysis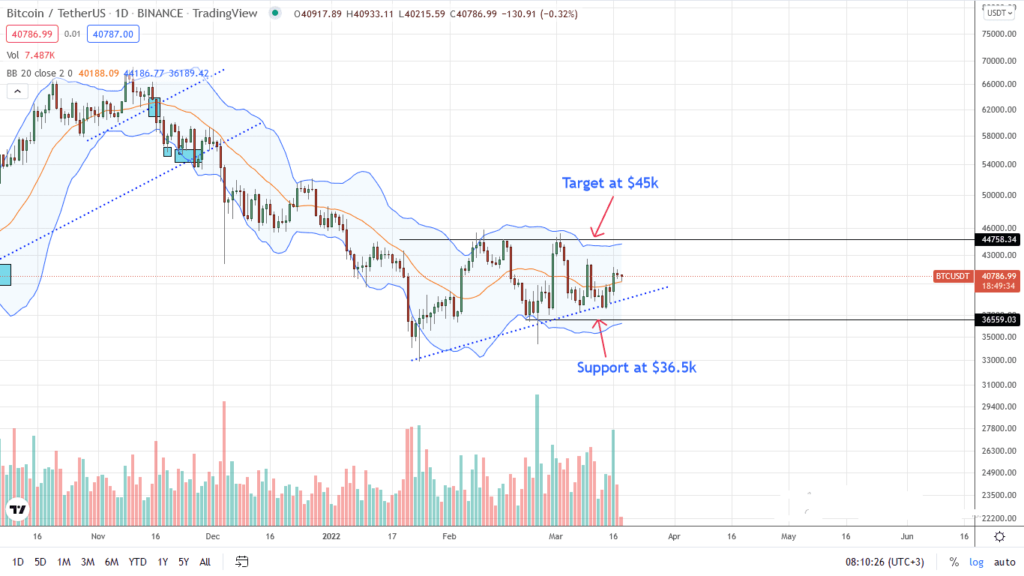 Currently, Bitcoin is up 26 percent from 2022 lows, printing higher highs above $40k.
At spot rates, buyers are in control, and the odds of BTC breaking above $42.5k—the immediate resistance level is high. Specifically, the close above $40k with rising volumes confirmed the double bar bullish pattern of March 13 and 14 from the multi-week support trend line.
As it is, every low—provided price trend inside the March 16 bull bar and ideally above $40k may offer entries for aggressive Bitcoin traders expecting a price expansion towards $42.5k and $45k in the medium term.
On the reverse side, deep, unexpected dumps below the multi-week support trend line and $36.5k may trigger a wave of selling pressure towards $33k in a resumption of the bear trend of mid-Q4 2021.
Technical charts courtesy of Trading View
Disclaimer: Opinions expressed are not investment advice. Do your research.
---
If you found this article interesting, here you can find more  Bitcoin news