Bitcoin is up 12 percent in the last week of trading, adding four percent in the past 24 hours. The uptrend is defined, and the coin is within a bullish breakout formation.
Since BTC is above $18.5k with rising trading volumes, there could be more upsides in the next few trading days. It considers the current formation in the daily chart and fundamental factors behind the revival across the board.
As it is, BTC is at multi-week highs with more upsides since there is sufficient participation. Even so, from a top-down preview, there must be a conclusive reversal of November 8 losses, canceling out bear momentum.
Inflation falling
Behind the surge in Bitcoin (and crypto prices) are favorable macroeconomic factors.
In the United States, recent statistics indicate that consumer inflation is falling, per sampled data when compiling the latest report. On a year-to-year basis, inflation fell from 7.1 to 6.5 percent. It is the first time in three years that inflation is tapering on a monthly basis.
At the same time, unemployment is falling, pointing to an improving economy. It was left in tatters by COVID-19 intervention measures and the monetary policies adopted by central banks afterward.
Traders are now shifting their attention to the next rate hike set for February 1. The Federal Reserve of the United States could raise rates by 25bps.
Bitcoin Price Analysis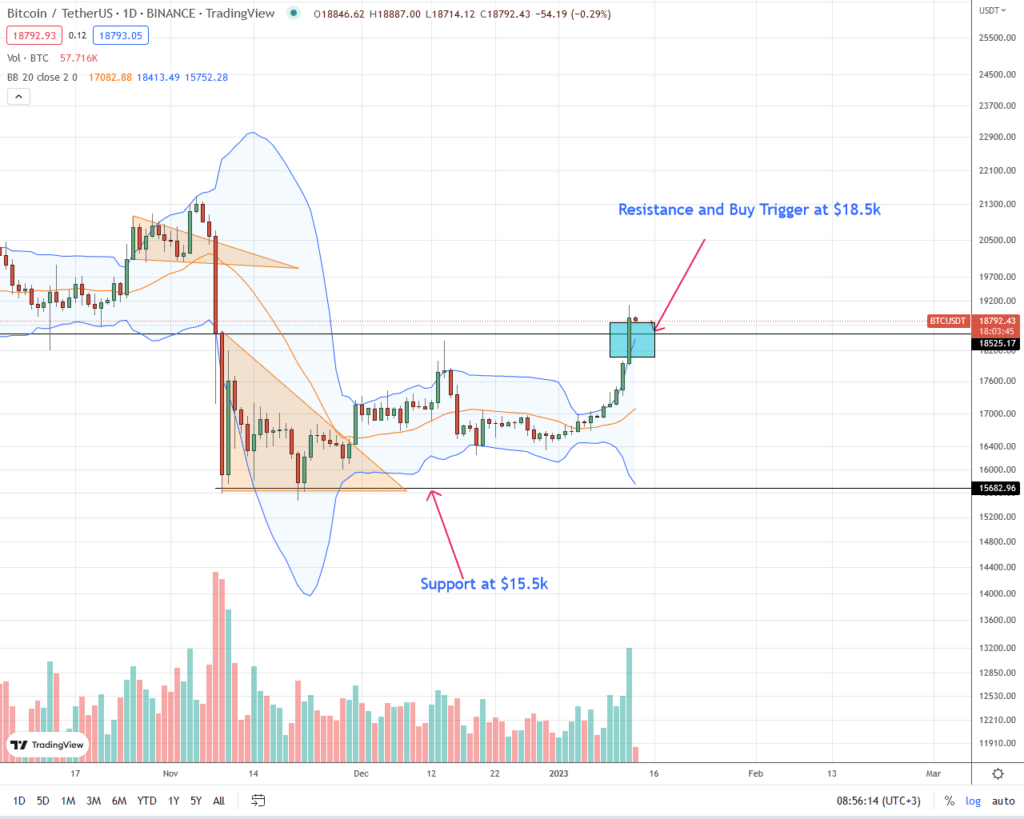 BTC is up 21 percent from November lows and tracking higher, reading from the developments in the daily chart.
The surge of Bitcoin prices on January 12 pushed the coin above $18.5k, above a multi-week liquidation level, thrusting bulls back in control.
Even though prices are within the November 8 and 9 bear range, there are indicators of strength, oiled by fundamental factors.
Notably, BTC bull bars are along the upper BB and diverge from the middle BB, indicating increasing volatility.
Accordingly, aggressive traders can look to double down on every dip above $18.5k. The immediate target, in this case, will be $20.7k, or November 9 highs, and later $21.5k, marking November 2022 highs.
Technical charts courtesy of 
Trading View.
Disclaimer: 
Opinions expressed are not investment advice. Do your research
.
---
If you found this article interesting, here you can find more  Bitcoin news.