The Bitcoin price is below the $46.5k level after briefly consolidating in a tight $2k range. Despite the cool-off traced to early this week, buyers still have a chance.
Currently, Bitcoin is down seven percent against the USDT from March 2022 highs despite increasingly positive trader sentiment and adoption rates.
Whales Ramping Up Bitcoin
Undoubtedly, the performance of Bitcoin has been encouraging in the past few weeks. For instance, Bitcoin comprehensively closed above immediate liquidation levels, now support, at the back of increasing trading volumes. Fanning demand is the increasing use of Bitcoin as a store of value over fiat currencies and even gold due to the asset's deflationary characteristic.
Over the months, Michael Saylor's MicroStrategy has been ramping up Bitcoin to become the largest BTC holder in the world. This week, its subsidiary, Macrostrategy, borrowed $230 million against MicroStrategy's BTC haul to buy more Bitcoin. The development is amid Terra Foundation's commitment to eventually buy $10 billion of BTC to stabilize its stablecoin, UST.
At spot rates, the Terra Foundation, which is heavily promoting stablecoins and cryptocurrency in payment, has bought over 30k of BTC—pointing to high confidence in its ecosystem and the future of the technology.
Bitcoin Mining Stabilizes Electricity Grid
Meanwhile, more U.S. elected officials are endorsing Bitcoin and its network. Recently, the Kentucky Representative said energy-intensive BTC mining operations would stabilize the state's grid and help employ people.
Bitcoin Price Analysis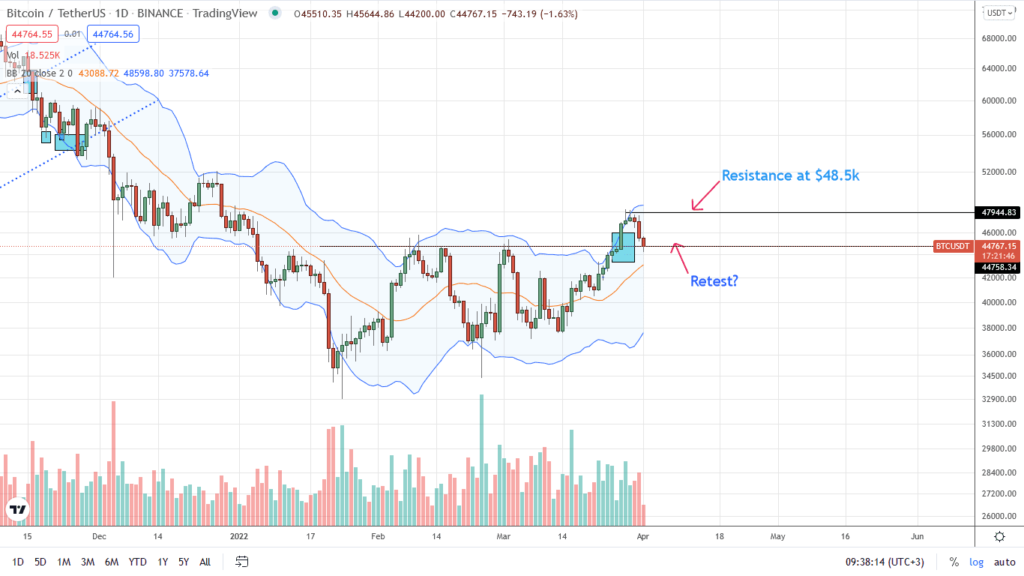 The Bitcoin price is cooling off at spot rates after posting impressive gains. Currently, BTC is down seven percent from March 2022 highs, retracing after a 42 percent surge from 2022 lows.
As per the Bitcoin technical candlestick arrangement in the daily chart, sellers are in command after closing below the $45k and $46.5k support zone.
Because of the steep losses of March 31, aggressive traders may want to trade with the emerging trend, unloading on pullbacks with a target of $42k in the immediate term. If such is the case, the breakout above February 2022 highs would be a bull trap, a basis for a possible snapback inside the roughly $10k tracing back to mid-January 2022.
On the flip side, a reversal of March 31 losses would complete a retest with a close above $48.5k, confirming buying pressure in a buy trend continuation back to $50k—or better.
Technical charts courtesy of Trading View
Disclaimer: Opinions expressed are not investment advice. Do your research.
---
If you found this article interesting, here you can find more  Bitcoin news