The Bitcoin price is hot and cold, at least if price action in the daily chart is anything to go by.
There is heightened volatility in the past few days, with yesterday's fluctuation vividly demonstrating the state of BTC/USD price action.
BTC/USD Prices see-sawing
Technically, buyers are still on an uptrend. $42k is still proving to be a strong liquidation point.
It could suggest that buyers don't have momentum to sustain prices above this mark—since there is no demand. Alternatively, it could mean bears are still in contention, with every high being a selling opportunity.
This supremacy contestation will be marked out in the days ahead.
In the short term, the primary determinant will be the reaction at $36k and $42k.
The latter is a psychological mark that also flashes with January 2021 highs, a critical level that was broken, sparking a wave of demand, thrusting BTC/USD to $64k.
JP Morgan's Bitcoin Fund
At present, there is demand for Bitcoin from retailers and, as expected, institutions.
New reports reveal that JP Morgan, a global bank in the U.S., has launched an in-house fund with NYDIG.
It will allow Bitcoin exposure to wealthy, accredited clients. It is a drastic shift, away from the stance Jamie Dimon took back in 2018, that would make JP Morgan one of the most active in the digital sphere.
Presently, there are no investors. However, that will change as it will be pitched as the safest and cheapest Bitcoin investment vehicle accessible for private clients.
Bitcoin Price Analysis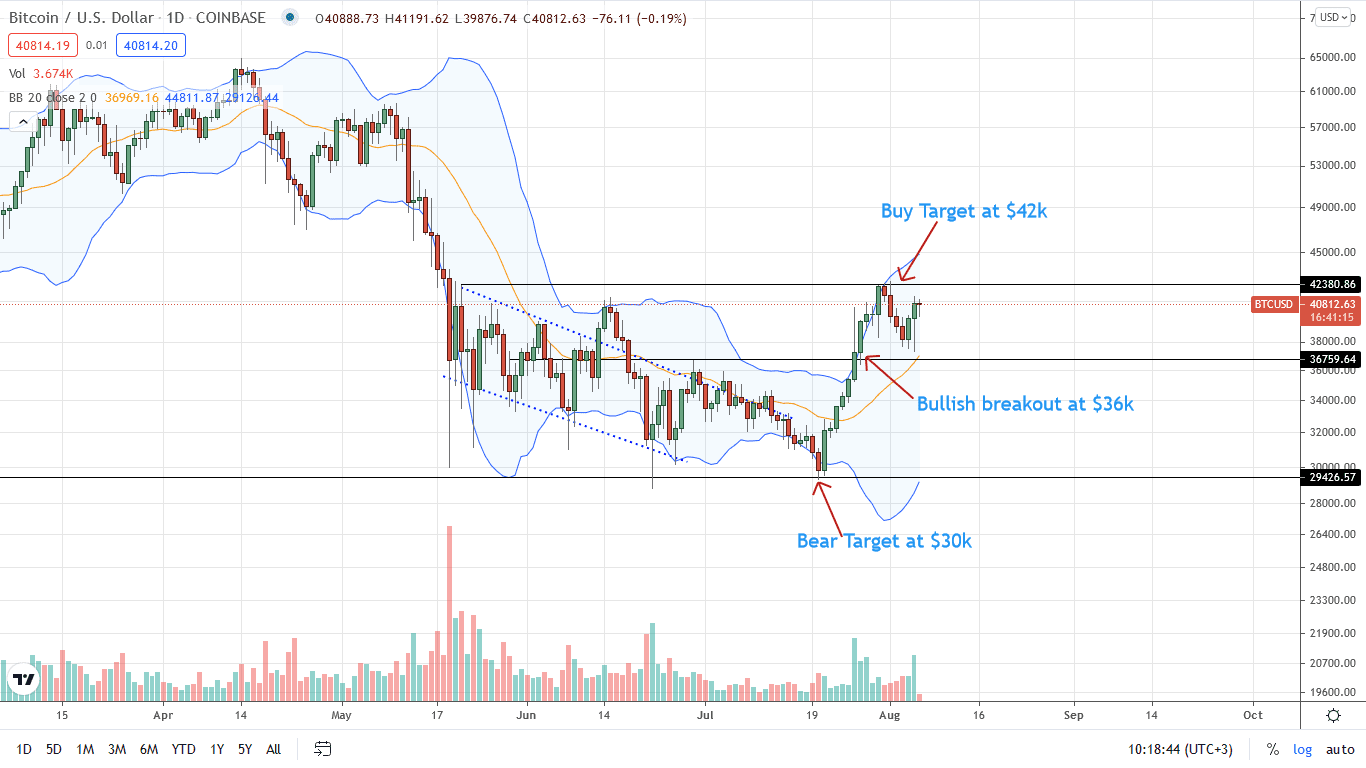 The uptrend is clear as per price action in the daily chart.
However, after steady gains of the last two weeks, BTC/USD prices explaining the high level of volatility of Aug 5. Prices stumbled to Aug 4 lows before bouncing back strongly to spot rates.
Accordingly, provided prices are firm above $36k, provides a buying opportunity for ambitious, risk-off traders expecting a breakout above this month's high.
Specifically, a high volume close above $42k will be the fuel that would turbo-charge the next wave of higher highs towards $60k—May 2021 highs.
On the reverse side, losses below $36k cancel the uptrend, possibly triggering the next wave of liquidation back towards $30k.
Technical charts courtesy of Trading View
Disclaimer: Opinions expressed are not investment advice. Do your research.
---
If you found this article interesting, here you can find more Bitcoin news