Some analysts have described the Bitcoin price as a "coiled spring." It is given the asset's inability to crawl out of the $10k zone of the past two weeks.
In general, the BTC/USD uptrend is valid.
However, the short-term trajectory depends on price action and reaction at $50k and $62k in the next few weeks.
Public Companies Buying More Bitcoin
Fundamentals are robust.
From adoption to analysts keeping the bullish buzz going, most are expectant of a bullish breakout.
Part of this is due to the widespread hoarding and public companies adding BTC as part of their investment strategy.
For instance, to cushion themselves against fiat currency changes and high inflation, the NASDAQ-listed MercadoLibre said it bought $7.8 million of Bitcoin.
The company has roots in South America and now follows the likes of MicroStrategy and Tesla.
In addition to this, Metromile, an insurance company, now accepts users to pay their premiums using BTC and would buy $10 million of the coin.
Bitcoin Developers hard at Work
While public companies hold, the network's hash rate is steadily improving after the Apr 18 crash.
At the same time, miners agree that enhancements boosting transactions' privacy through Taproot suit their bottom lines.
Also, nothing appears to be stopping Bitcoin holders from moving their coins from exchanges.
This indicates confidence and bullish traders who would instead control their private keys in the next leg up that would likely lift the coin above $60k in a buy trend continuation pattern.
Bitcoin Price Analysis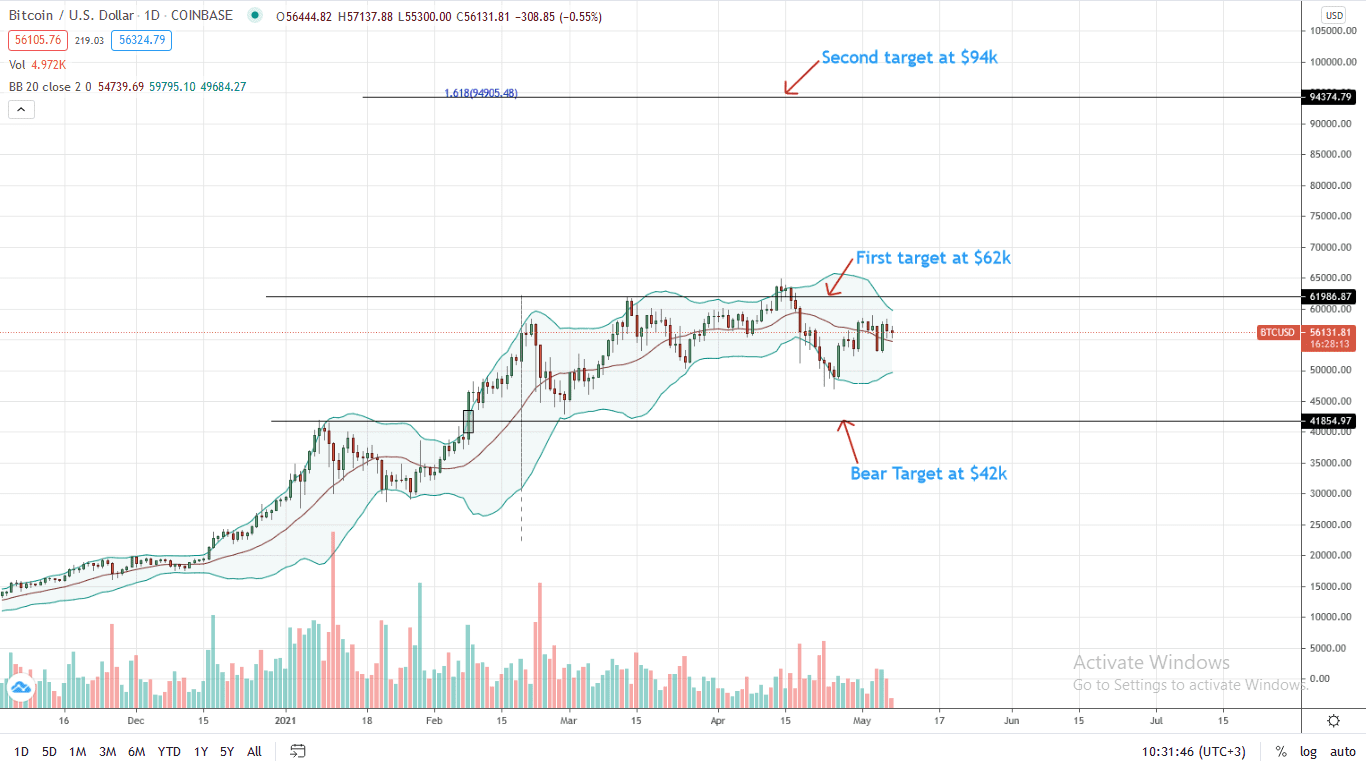 The BTC/USD price action of the last few days is wavy.
Prices are boxed in a $7 range with caps at $59k.
Although yesterday's bar turned bullish, presenting an opportunity for traders to buy the dips, there could be better entries for risk-averse traders above $60k.
Technically, a close above $62k may catalyze demand as BTC breaks away, motoring to new all-time highs—perhaps towards $94k—the 1.618 Fibonacci extension level of the Q1 2021 trade range.
Still, there may be weakness now that the middle BB is slanting negatively.
Therefore, if BTC/USD prices recoil from spot rates, shrinking below $52k, BTC bears may force the coin below $50k—confirming losses from Apr 18.
Chart Courtesy of Trading View
Disclosure: Opinions Expressed Are Not Investment Advice. Do Your Research.
---
If you found this article interesting, here you can find more Bitcoin news