The Bitcoin price is firm above $58k as of writing on Mar 19. Although BTC/USD is volatile, buyers' presence and the subsequent determination—as seen from institutions, is a net positive for bulls.
If recent news is anything to go by, the path of least resistance will be northwards. As such, sellers—albeit tinge of weakness on more than one okay, will lag, allowing Bitcoin bulls to pull higher, reinjecting even more momentum.
Meitu buys another $50 million of BTC and ETH
The Xiamen-based Meitu appears to be borrowing a leaf from MicroStrategy. Both are public companies doubling down on Bitcoin.
Meitu, on Mar 17, bought $50 million of BTC and ETH. As per the co-founder, their decision to invest in BTC is unprecedented, setting the motion for even more companies to buy Bitcoin.
In their view, BTC is a superior store-of-value due to its digital existence. They now own a significant chunk of coins worth $90 million after buying $40 million in early March.
Morgan Stanley Support of BTC
Meanwhile, Morgan Stanley, one of the largest financial institutions in the United States managing over $4 trillion of assets, has said institutions can hold Bitcoin for diversification purposes.
According to sources, Morgan Stanley said BTC is investable and has met the minimum threshold, especially suitable for investors with aggressive tolerance levels for risk.
For this reason, they will provide a means for institutions to have exposure to the world's most valuable digital currency, as per an internal memo to its financial advisors. However, not all will invest—only those with at least $5 million in stake with the bank qualifies.
Bitcoin Price Analysis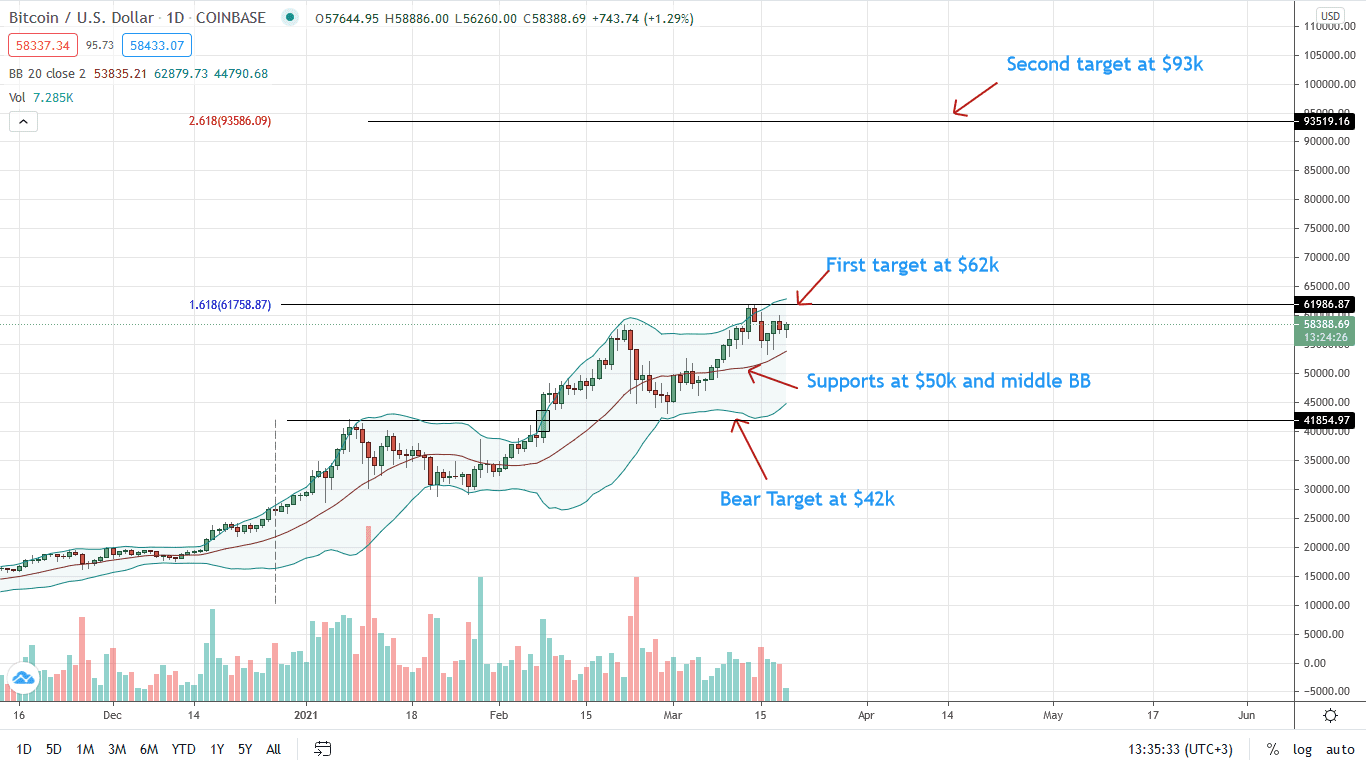 The path of least resistance is northwards as per coin trackers.
As of writing on Mar 19, the Bitcoin price is stable, adding 9X year-to-date.
Technically, BTC remains firmly in an uptrend. From the daily chart, immediate resistance is Mar 2021 highs of around $62k—flashing with the 1.618 Fibonacci extension level of the Dec 2020 and Jan 2021 trade range.
The reversal from the middle BB is with relatively high trading volumes, firm above Feb 2021 highs. As such, further confirmation and rally above $62k with even more participation (preferably exceeding the average trading volumes of late February 2021) could see the BTC/USD price race to a new level.
From Fibonacci extension tools, BTC prices could reach $93k—the 2.618 extension level of the previous trade range aforementioned.
A reversal below $53k and middle BB (support) may slow down bears, forcing prices towards $42k—Jan 2021 highs.
Chart Courtesy of Trading View
Disclosure: Opinions Expressed Are Not Investment Advice. Do Your Research.
---
If you found this article interesting, here you can find more Bitcoin news