The Bitcoin price is steady, firm under the expectation of bulls. After stellar performances in the last few weeks, the coin has the attention of Wall Street megaliths.
Despite their reservations, the quest for higher profits and a share of the Bitcoin spoils proved irresistible.
Amid the FOMO conditions currently palpable, the CEO of BlackRock—one of the world's largest asset managers commanding over $7.4 trillion, couldn't be left behind.
There may be resistance from the government and some critics claiming Bitcoin won't amount to anything because of its lack of intrinsic value and high volatility. Regardless, in all this, Larry Fink said Bitcoin could, after all, evolve to be a global network.
In his assessment, Bitcoin has the attention of millennials. A study in early 2020 revealed that most millennials in the United States knew what Bitcoin and leading crypto were and would invest in the digital asset, not gold.
Larry Fink's comments, therefore, highlights the growing trend from a manager's point of view and the growing significance of the asset. He added that Bitcoin's evolution into a fully-fledged, self-sustaining system could significantly impact the role of the USD in the global monetary scene.
The greenback is a reserve currency; held by foreign nations to cushion themselves against financial shocks.
If Fink's forecast comes to pass, it would be interesting to see how authorities will act to reassert the influence of fiat.
Bitcoin Price Analysis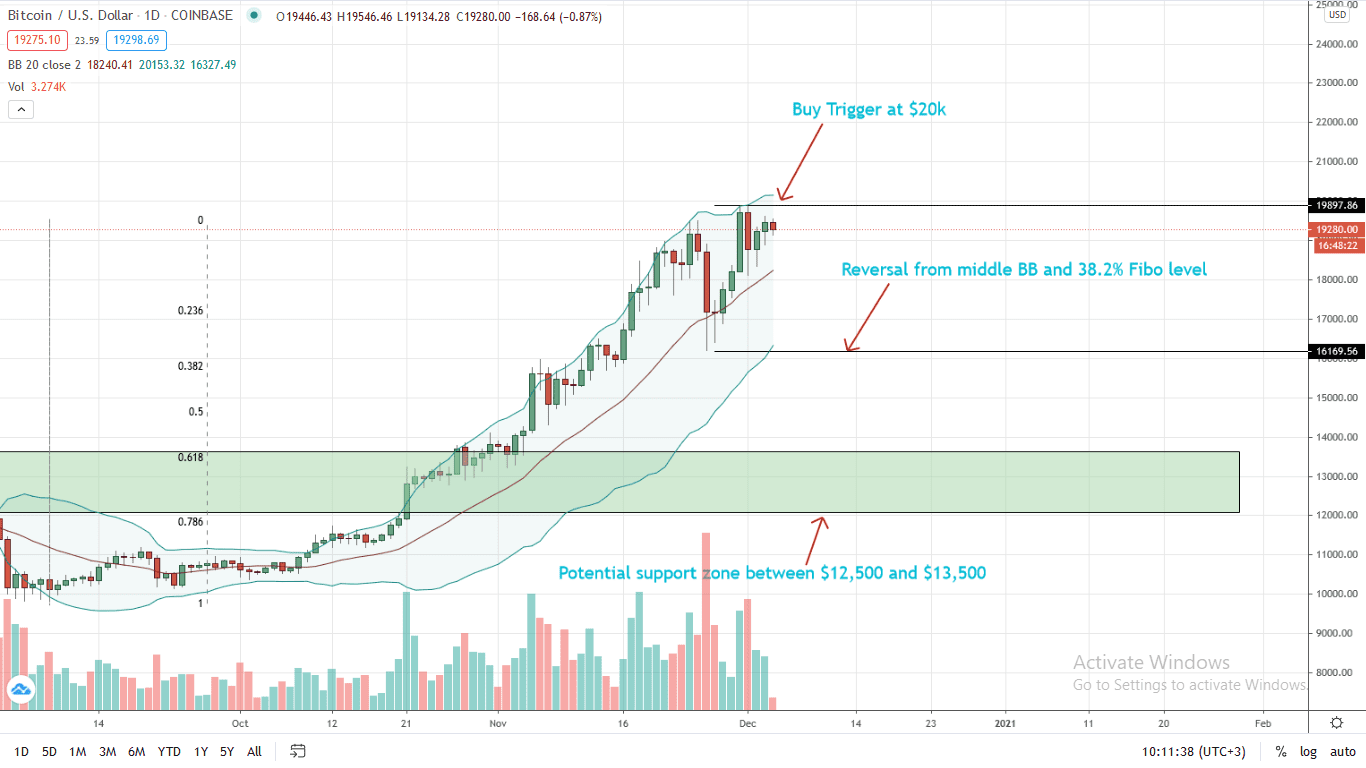 At the time of writing, the Bitcoin price is stable on the last day, adding 16 percent week-to-date.
Despite the consolidation, the uptrend is firm; buyers are in control judging from price action.
That prices are stable above $19k, reversing after dropping to around $18.1k early this week, points to determined buyers.
As such, every dip may provide another opportunity for traders to ramp up their purchases.
However, this will depend on the reaction at $18k in the immediate term. From candlestick arrangement, the zone between $18k and $18.1k is a region of support—clear in smaller timeframes.
Losses below this level may spark a sell-off with immediate targets at $16.1k—the 38.2 percent Fibonacci retracement level of the September to November trade range.
Conversely, a break above $20k could see the Bitcoin price shoot to a new all-time high. The first buy target will be $25k—the 161.8 percent Fibonacci extension level based on the September to November trade range.
Preferably, the close above $20k—or 2020 highs, ought to be with high trading volumes exceeding those of Nov 26 (Coinbase data).
Chart Courtesy of Trading View
Disclosure: Opinions Expressed Are Not Investment Advice. Do Your Research.
---
If you found this article interesting, here you can find more Bitcoin news