The Bitcoin price crashed below $50k following news of Elon Musk backtracking, saying Tesla won't be accepting payment in Bitcoin from now on.
The Elon Bomb Shell
As of writing, BTC/USD prices remain steady but under immense sell pressure hoovering around $50k.
Despite his concerns, traders and crypto proponents are buoyant with a defiant attitude even after Elon Musk's comments.
In his view, Elon thinks Bitcoin is energy inefficient, consuming too much. Accordingly, they will be considering other options that are more efficient, energy-wise, and offers the same value proposition.
In a press release, Tesla:
"We are concerned about rapidly increasing use of fossil fuels for Bitcoin mining and transactions, especially coal, which has the worst emissions of any fuel."
Tesla Won't Sell Bitcoin
The good news is that the company won't be selling any BTC since "cryptocurrency is a good idea on many levels." Instead, they plan to use them for transactions once mining transitions to more sustainable energy.
For years, critics of Bitcoin maintain that the network is an energy hog that's adversely affecting the environment.
Due to rising Bitcoin prices, there are concerns that miners are powering up coal and other energy sources that unwind progress made in environmental conservation, contributing to climate change.
On their end, Elon and Tesla are part of a team working towards gradually shifting away from coal and oil-based energy sources.
Shortly after their announcement that it would begin accepting BTC, they were heavily criticized due to Bitcoin's excessive energy requirements.
Bitcoin Price Analysis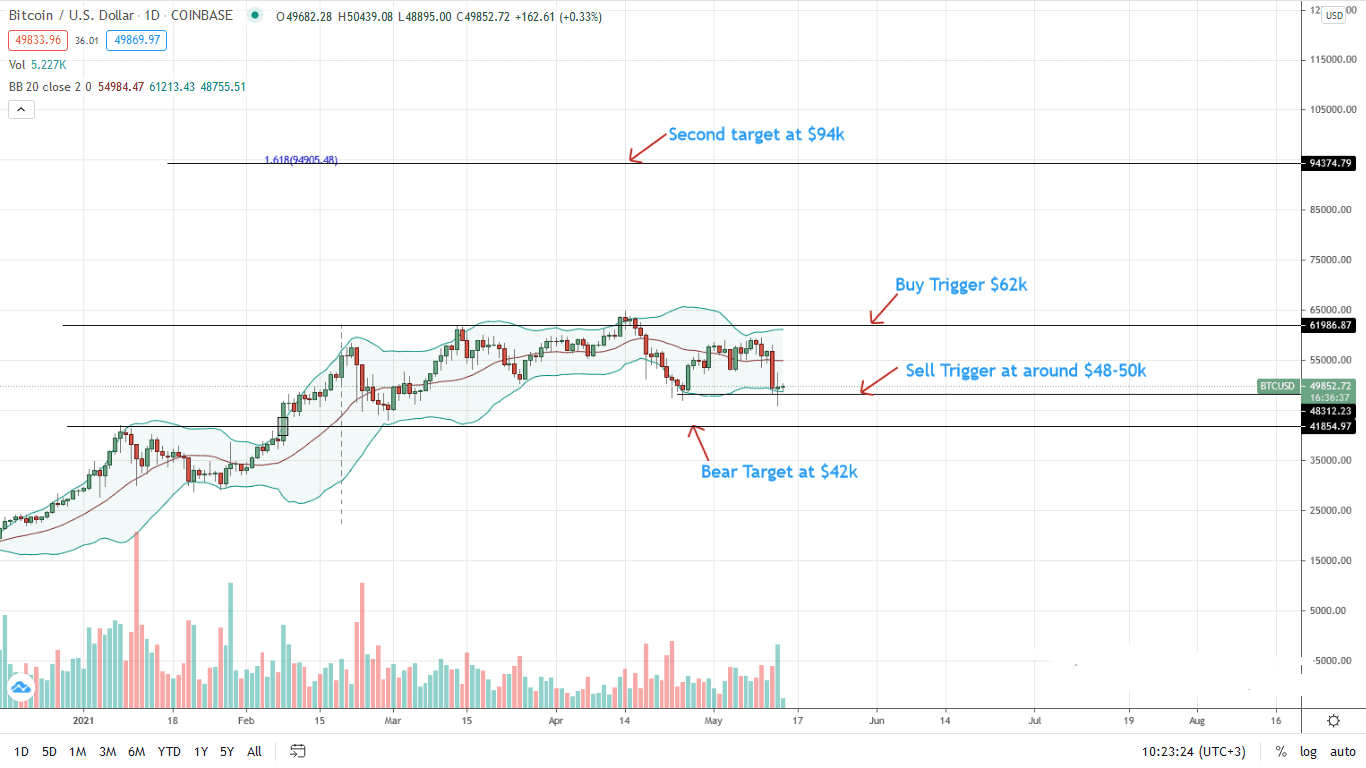 As of writing on May 14, the BTC price remains in an uptrend but in a consolidation. The coin is down 10 percent week-to-date, losing 20 percent against ETH in the same period.
Technically, buyers stand a chance. However, the short-term trajectory depends on if BTC/USD will still be bound inside an $18k zone with caps at $42k and $60k on the upper end.
From the daily chart, a confirmation of May 12 losses may see BTC/USD slump to $42k in the immediate term. The immediate support flashes with April 2021 lows—a sell trigger—at around $48k to $50k.
On the flip side, a rebound from spot rates would reinforce buyers' confidence, building a foundation for a race back to $60k.
Chart Courtesy of Trading View
Disclosure: Opinions Expressed Are Not Investment Advice. Do Your Research.
---
If you found this article interesting, here you can find more Bitcoin news