It's no surprise that Bitcoin price is down one percent in the last day. Fact is, Bitcoin has been ranging since after week ending Sep 23 rapid gains. Looking at price, odds are it may find support thanks to yesterday's bullish candlestick reversing from near Sep 27 lows. Furthermore, fundamental events cushion price, strengthening our bullish position.
Latest Bitcoin News
There is always a thing or two about regulation. First, there is guarantee that businesses will always sync with what the law stipulate and secondly, there is investor protection.
Gemini, owned by the Winklevoss Twins, for example is a regulated entity operating from the stringent New York State. The twins are serial investors and were behind Facebook back in 2004. Their business acumen and experience make them understand what it means to be on the right side of the law.
Regulation—even in a sector as cryptocurrency which thrives under decentralization and "self-regulation" need a tinge of oversight to flourish. It's under this spirit of adherence that Gemini is insuring their customers' digital assets.
In a Medium post, Yusuf Hussain, the Head of Risk at the crypto exchange said they will insure investor funds held in their operations hot wallet. Evidently, there are risks involved with keeping large amounts of funds in online wallets. Considering these widespread hacks in recent days, it appears as if hackers are probing, ready to strike whenever they sense weakness. "Funds are Safu", Zhao Changpeng the CEO of Binance once tweeted assuring account holders of their fund safety.
With Gemini's action, it means that there are two level of protection against potential losses: The FDIC deposit insurance will cater for fiat losses and this new insurance will safeguard against crypto losses. This, despite the high premiums, cement Gemini's mission of bolstering and promoting the "future of money".
Bitcoin Price Analysis
Weekly Chart – BTC Price prediction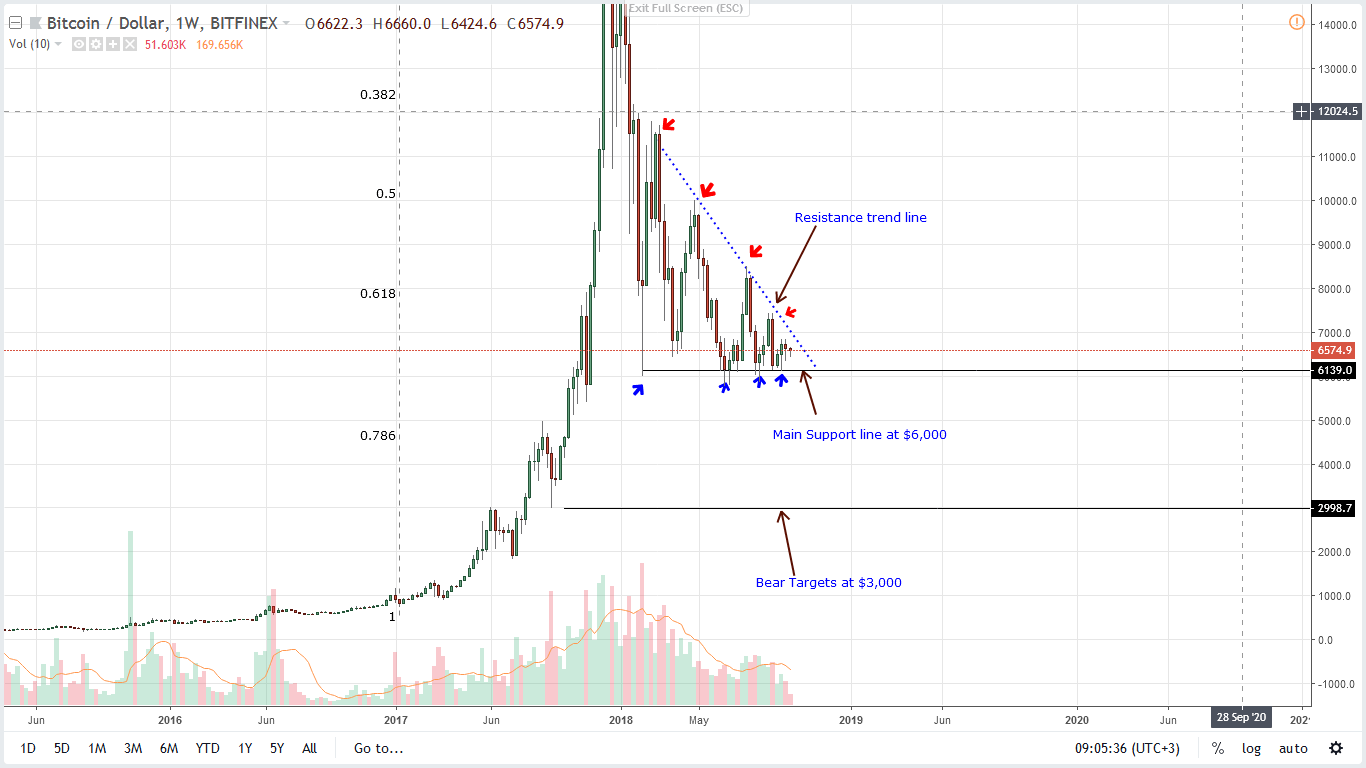 Overly, Fibonacci retracement rules and the deep correction could be behind Bitcoin support. Notice that despite swinging sentiment as price oscillate within tight ranges in lower time frame, BTC always find support, rejecting lower lows in the process.
Coincidentally, this rejection is happening at key Fibonacci retracement level around the 61.8 percent and the 78.6 percent. More often than not, reversals do print out in between those levels. Bounce backs tend to hit the 38.2 percent level which in this case is around $12,000.
Of note is the reaction around the $6,000-$6,500 support level and the all important resistance trend line separating buyers from sellers. Like previous Bitcoin trade plans, as long as prices are stuck within these two levels, then we recommend assuming a neutral position.
However, considering the last three bars and especially last week's which had a long lower wick signaling bull pressure in lower time frames, aggressive types can begin loading on dips.
But, once there are solid moves above the resistance trend line and $7,200, then it will be enough for risk-on traders to buy on pull backs with first targets at $8,500.
Daily Chart – BTC Price prediction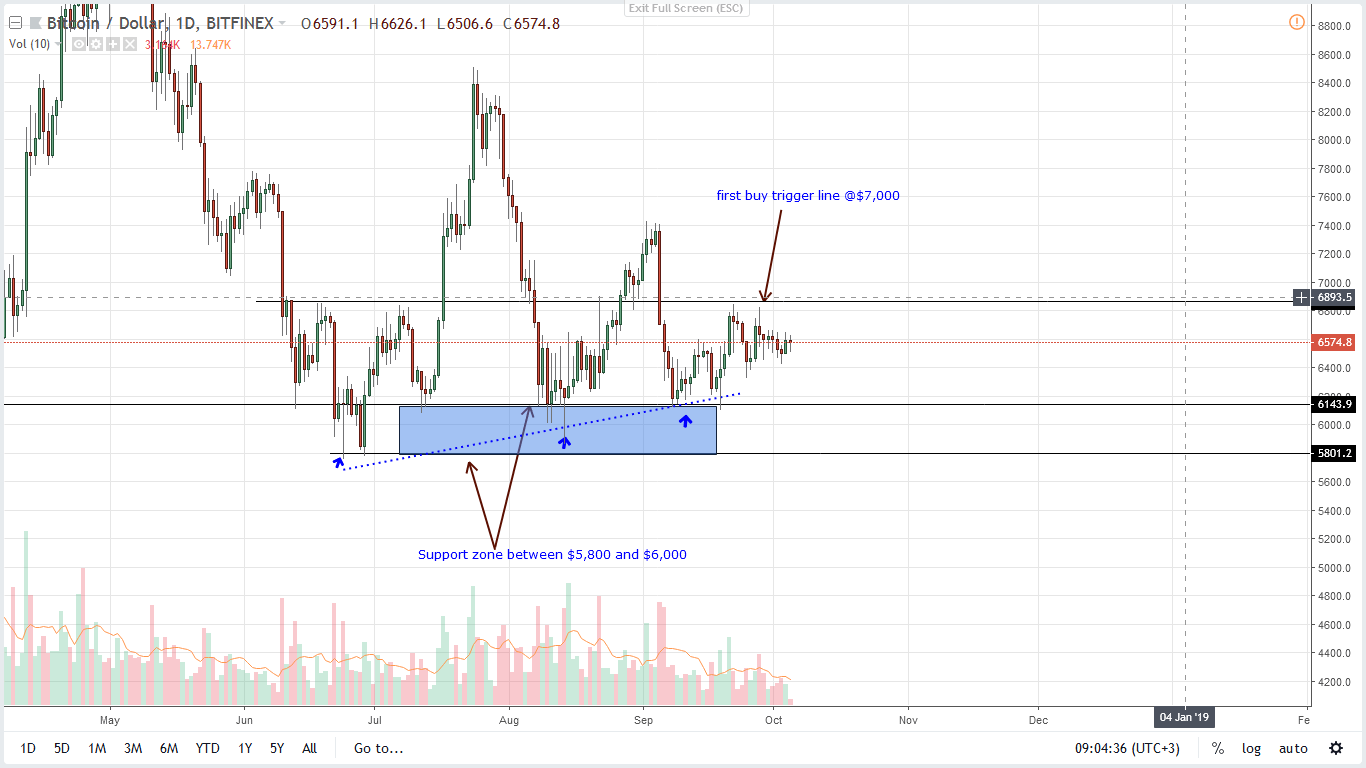 Still, BTC prices are moving inside Sep 27 high low rejecting lower lows. After yesterday's reversals, it's likely that momentum will increase as the weekend approaches. Thanks to the last two weeks price movements, risk-off traders can buy at spot prices with stops at $6,300. Those are the median prices of the last two weeks and a reliable minor support.
To reiterate previous Bitcoin trade plan, bulls will only be in charge once price print above $7,200. Before then risk on trades can watch from the sidelines.
Any sharp price decline that will strike our stops will invalidate our Bitcoin price outlook and could set the ground rolling for breaks below $5,800 and lower.
Disclaimer: Views and opinions expressed are those of the author and aren't investment advice. Trading of any form involves risk and so do your due diligence before making a trading decision.