Latest Bitcoin [BTC] News
True, the great financial crisis was devastating and 10 years down the line, many investors have a sour taste of what that value wiping recession did. Many are blaming the cronyism of banks and the savings-destroying move by the US Federal Reserve to slash interest rate and print money in a quantitative easing intervention. Perhaps that explains the likely disenfranchisement of millennials and their move away from monolithic financial facilitators like the stock market exchanges.
Encouragingly, as they look away from these mercantile, most are considering spending their fortunes in blockchain based cryptocurrency projects. Of the 1,000 surveyed by eToro, 43 percent said they preferred doing their business in crypto exchanges where they have control of their finances.
Furthermore, 59 percent of millenials who don't trade will quickly immerse themselves in cryptocurrencies if these assets were offered by trusted financial institutions. Besides, 71 percent said they would trade if these cryptocurrencies were offered by customer facing and trusted firms.
Guy Hirsch, Managing Director of eToro U.S had this to say about the findings of their survey:
"While both crypto enthusiasts and millenials alike seem to distrust monolithic institutions like traditional exchanges and the largest investment banks that play in them, there's a great deal of demand from younger investors for offerings from firms that are more recognizable, aren't perceived to be bad actors and have an infrastructure that can provide personalized and tailored advice."
BTC/USD Price Analysis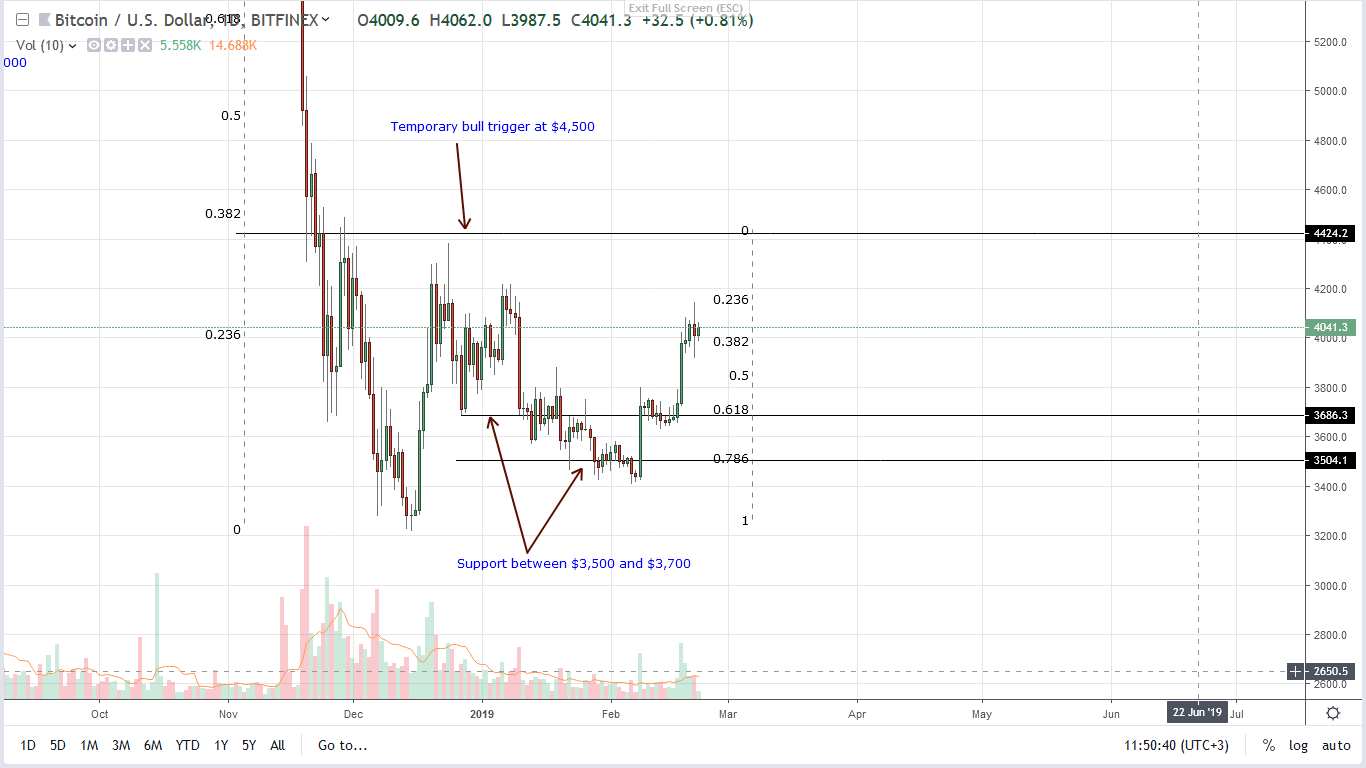 At the time of writing, BTC is changing hands at $4,040 according to data streams from BitFinex. With this price tag, the coin is up 10.1 percent in the last week but pretty stable in the last day and hour. All the same, we are net bullish on the coin and with market out supports at $3,500—800 zone, any pull back would offer risk-off traders an opportunity to pick up BTC at a discount.
Note that our trade conditions are live and as long as prices are above $3,800, buyers are in charge. It is likely that Bitcoin (BTC) will expand towards $4,500—our first target from our last BTC/USD price analysis— as spelled out by Fibonacci retracement rules now that BTC is rocketing from the 78.6 percent Fibonacci retracement level.
Meanwhile, risk-averse conservative traders should wait for better signals and that will only print out if BTC break off the recent congestion as they trade above $4,500. After that, first target will be the main resistance zone at $5,800–$6,000.
All Charts Courtesy of TradingView—BitFinex
Disclaimer: Views and opinions expressed are those of the author and aren't investment advice. Trading of any form involves risk and so do your due diligence before making a trading decision.