The free-fall wasn't specific to Bitcoin only—a relief, but the global financial market. Another circuit breaker temporarily halted the trading of S&P 500 index for a record 15 minutes. That was a circuit breaker in less than two weeks.
The Stock and Crypto Markets Meltdown
But the stock market is at a difficult position and this, by all means, may be the beginning of another dreaded meltdown. Analysts say this may be worse than the GFC of 2008-09. And there are primers to parlay what the future holds. For comparison, the commodities and the stock market are at lows last seen in 1987. Then the stock market crashed.
However, the difference with March 12's meltdown is that a weak economy propped by central banks cheap money and political pumps broke the cooling system and Coronavirus is popping the stock market bubble.
Government's Restrictive Measures Is Negative for Bitcoin and the Economy
Unfortunately for Bitcoin holders, the situation is grim because the governments' hands are tied. For public health reasons, the economy is the sacrificial lamb and that is net negative for Bitcoin in the short term but overwhelmingly bullish in the long term more so if other factors are put into play.
Bitcoin is autonomous. No third parties and is digital. It can be moved cheaply and despite price fluctuation, it can act as an agent for storing value. If push comes to shove—like it is now, BTC can be used as a conduit for USDT and vice versa.
BTC/USD Price Analysis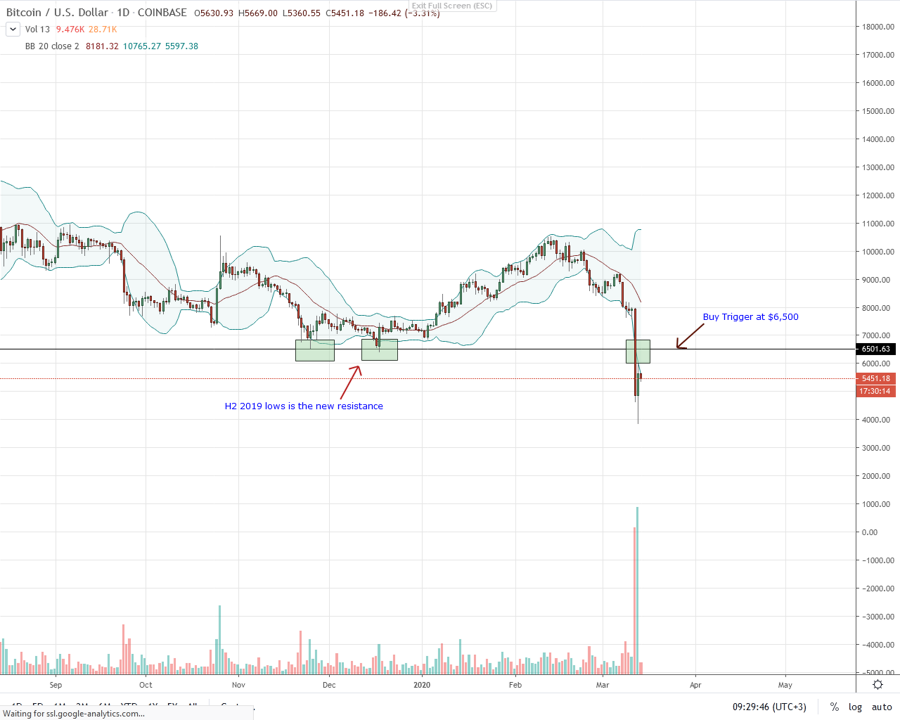 Prices temporarily fell to $3,800 before snapping back to spot levels. Week-to-date, BTC is down 40% but like the force that broke crypto on Black Thursday, Mar 13 participation shored prices, preventing another collapse.
BTC is back above $5,000 and technical indicators are as expected—pointing south. However, leading indicators hint of support at spot levels. Trading volumes are high and prices back to May 2020 levels.
Although it may take time, $6,500 or the new resistance previous support that marks H2 2019 lows is our level of concern.
For trend continuation and nullification of Black Thursday's bears, the reversal above $6,500 ought to be with high trading volumes preferably exceeding Mar 13's.
A firm close above that will cancel the retest and the bear breakout pattern. Bulls would then aim for $10,500 or Feb 2020 highs.
On the flip side, if prices drop below Mar 13 low of $3,800, BTC may crater back to 2018 lows of $3,000.
---
Chart courtesy of Trading View—Coinbase
Disclaimer: Views and opinions expressed are those of the author and is not investment advice. Trading of any form involves risk. Do your research.