Despite bears of the last few days, Bitcoin prices are stable and poised to edge higher by the end of this week. Fundamental developments combined with a resurgent market triggered mostly by Stellar Lumens and Ripple performance is fanning investor confidence.
As the week concludes, we retain a neutral to bullish stand only recommending buys once there are strong moves above $7,200.
Latest Bitcoin News
Technologies do shape and that's what we are currently witnessing. Bitcoin is a product of desperation conceived at the time when the global economy was bleeding. While the coin's development has grown in leaps and bounds, the reception has been mixed to say the least.
Like every new disruptive technology keen on re-shaping the financial landscape, regulators often step in. They were tough at first but after in-depth analysis, they are thawing on the idea of blockchain and Bitcoin.
Safe the scalability problem and arguments that it can be shut down because they lack "user cases' as forwarded by Economist David Williams, many people see the real utility behind this efficient and cheap coin. And price can best demonstrate its demand and consequent utility.
From exchanges, banks and governments, Bitcoin is proving its mantle. Just recently, Bakkt, an independent and subsidiary company of the Intercontinental Exchange triggered a market wide excitement when it said their first contracts will be physically delivered Bitcoin futures.
Though CBoE and CME Bitcoin Futures flopped, the creation of Bakkt Bitcoin Futures might be a game changer. Bakkt wants to create a regulated and open ecosystem for trading, spending and storing digital assets via a seamless global network.
The company shall leverage on Microsoft Cloud solutions with backing from several companies as BCG, BS and Starbucks. Aside from Bakkt announcement, US Congressmen are now realizing that they can tap in from the market. U.S. Rep.
Tom Emmer, the co-chair of the Congressional Blockchain Caucus, in a press release, announced three bills meant to create an easy tax framework for coin holders and foster development of blockchain technology.
Bitcoin Price Analysis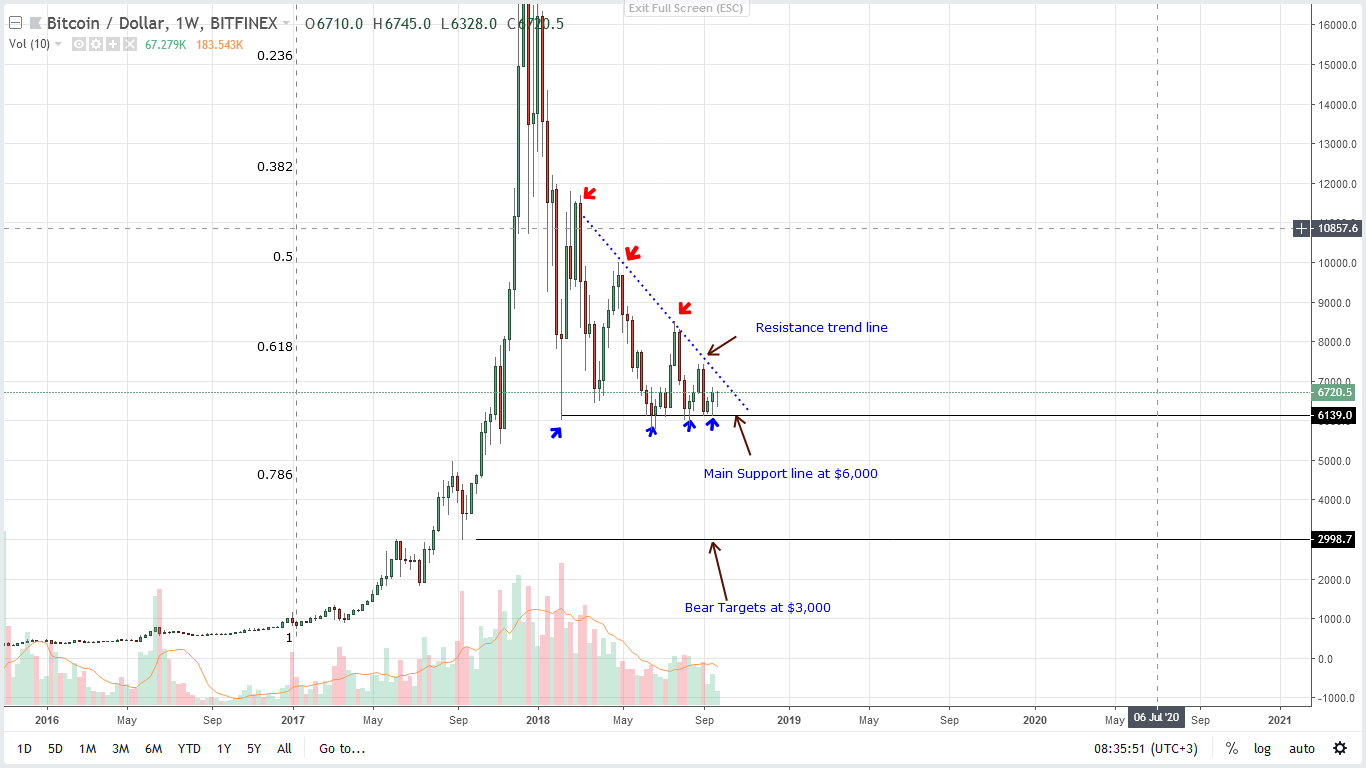 Overly, it appears that sellers do have an upper hand purely from a price action perspective. At the start of the week, Bitcoin prices were up 10 percent on a week over week basis.
Days later sellers took over and prices are now up a mere one percent in the last week. What's worse is that prices are now nearing the apex of our descending wedge. Supports are at $6,000 with lower limits at $5,800 with the main resistance trend line capping bulls.
Going forward, our trade plan remains pretty much the same as in previous Bitcoin price analysis. Considering last week's high volume rejection of lower lows printing the second week of bear rejection plus this week's long lower wick combined with the overall positivity, risk off traders can initiate longs on every dip in lower time frames.
A reference bar in our analysis is Sep 21 high volume bull bar which failed to close above $7,000 driving back prices into a consolidation. All in all, we retain a bullish outlook aware that any drop below $6,000 is inviting for sellers while any moves above $7,000–$7,200 triggers the next wave of bulls.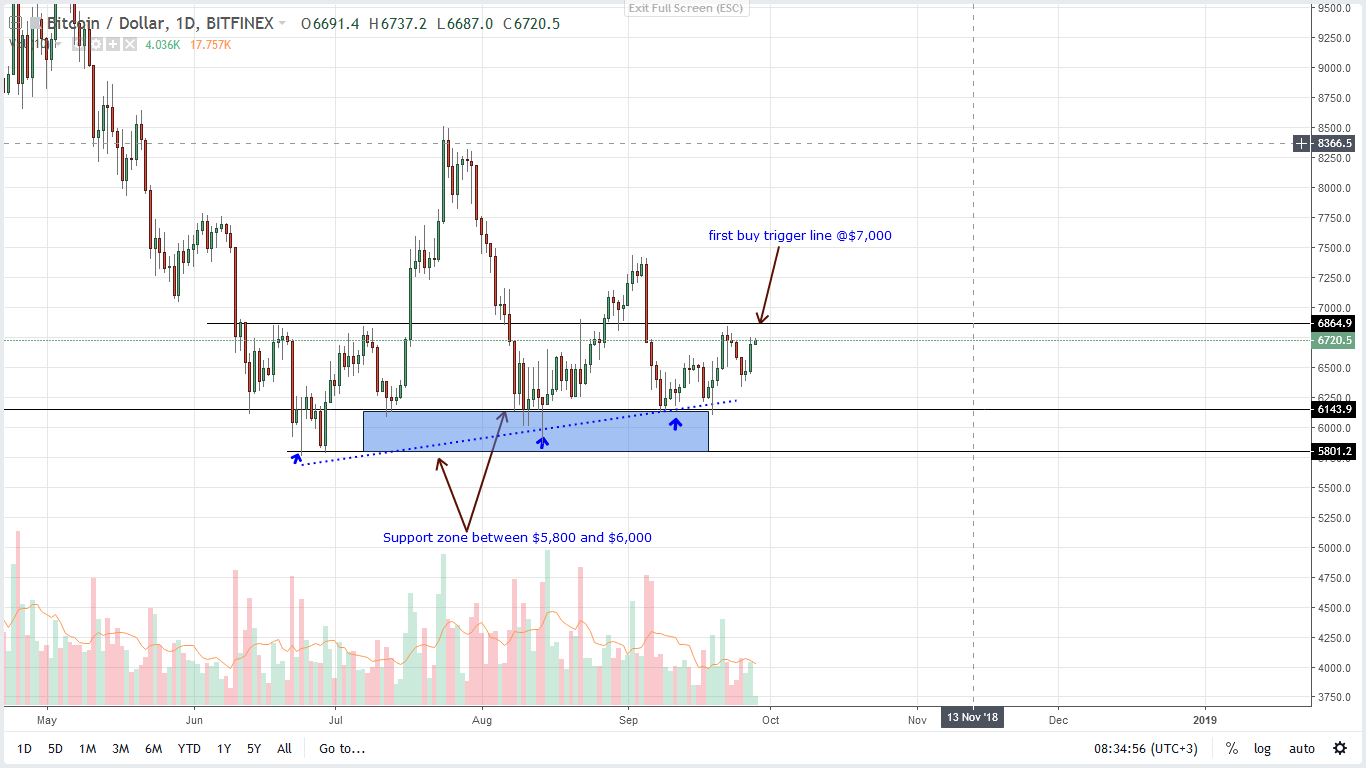 At the moment, Bitcoin prices have corrected 50 percent from last week's highs from Fibonacci retracement rules, these are levels where prices do snap back resuming trend.
The failure of sellers to close below Sep 25 indicates bulls and it is the reason why we recommend small position buys with stops at $6,200 and first targets at $7,000 and later $7,200.
Disclaimer: Views and opinions expressed are those of the author and aren't investment advice. Trading of any form involves risk and so do your due diligence before making a trading decision.