The Bitcoin price is rounding after deep losses earlier this week.
So strong has been the recovery that the coin is roughly up $7k after sinking in mid-week. It is on the cusp of breaching $40k—just $2k shy from the $42k strong resistance level.
Bitcoin is Legal Tender in El Salvador
The significance of this rally cannot be understated. El Salvador became the first country in the world to approve Bitcoin. The coin is now legal tender.
It means users across the globe with businesses or obligations in the country can right off the bat settle their debts and taxes using BTC. There will be extra perks for Bitcoin and crypto entrepreneurs too.
Those who invest at least 3 BTC in the country will automatically receive permanent residency status.
Moreover, there are tax reprieves. For instance, BTC and USD will be displayed in supermarkets. Therefore, like cash is, there is no capital gains tax. El Salvador also charges zero tax on properties.
Investing in Crypto using 401(k)
In other developments, ForUsAll Inc. has partnered with Coinbase Global.
Beginning July 2021, American workers under its administration would invest in an array of cryptocurrencies, including Bitcoin, ETH, and LTC, using their 401(k) contributions.
A cap of five percent has been placed.
Analysts interpret this as a step in the right direction and a monumental event that will spark meaningful discussion on how pension funds and other 401(k) providers could consider Bitcoin and cryptocurrencies alternative investments.
Bitcoin Price Analysis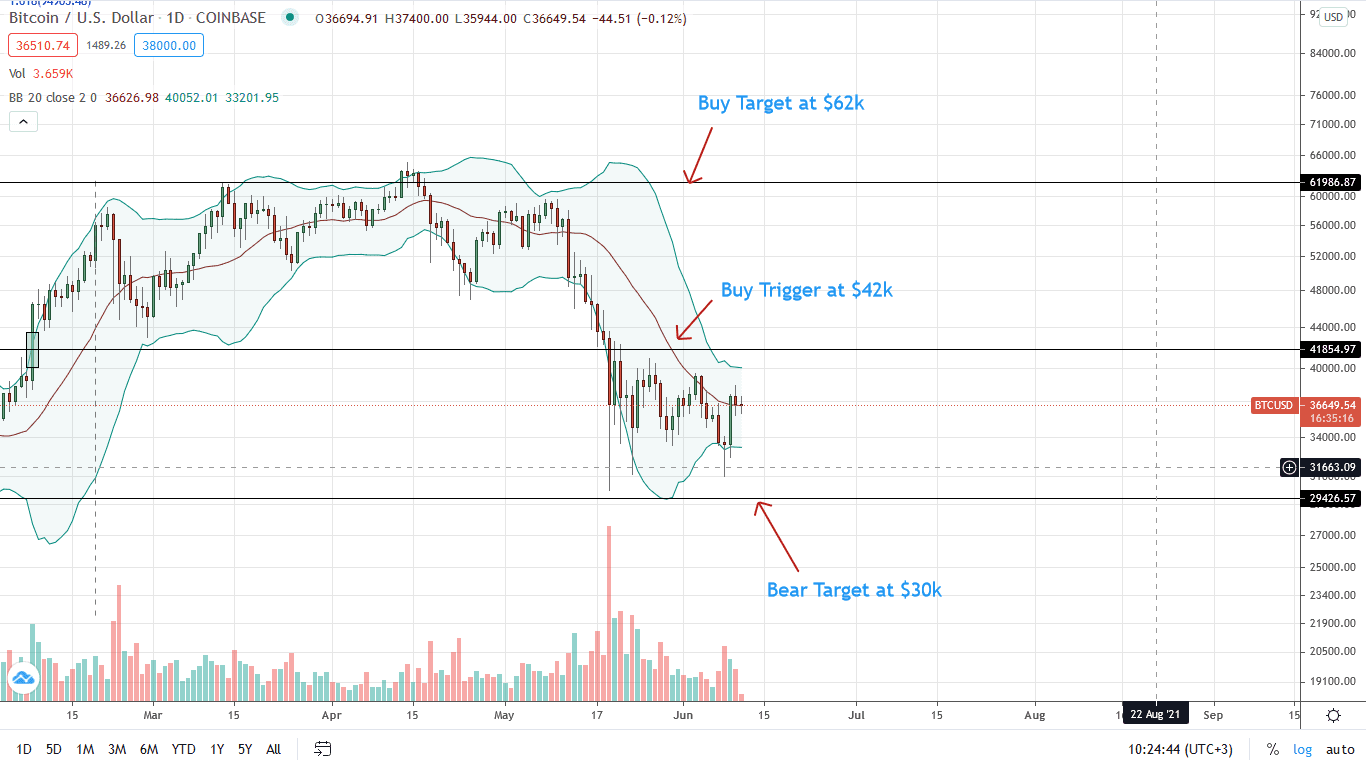 For the first time in a month, the BTC/USD price is trading above the middle BB in a bullish breakout pattern.
An encouragement for bulls, the shift in momentum potentially marks the end of lower lows traced back to mid-May 2021 when Bitcoin plunged from over $50k to as low as $26k in late May 2021.
At present, every low may be a loading opportunity for bulls. Therefore, even though trading volumes are light, the confirmation of the three-bar bullish reversal pattern of June 7 to 9 is a net positive for Bitcoin HODLers.
Accordingly, aggressive traders can begin loading the dip provided prices trend above $30k. The immediate target lies at $42k—Jan 2021 highs from the candlestick arrangement in the daily chart.
A sharp, high volumes close above this mark may ignite more demand in a wave that would begin the reversals of May 19 losses.
On the other end, an unexpected dip below $30k quashes bulls' hopes.
Chart Courtesy of Trading View
Disclosure: Opinions Expressed Are Not Investment Advice. Do Your Research.
---
If you found this article interesting, here you can find more Bitcoin news