The Bitcoin price is back, expectedly aligning with the primary trend after a period of brief consolidation earlier this week.
As of writing on Mar 12, the BTC price is changing hands at $57.1k, adding 18 percent week-to-date, stretching gains to 7.5X in the last 12 months.
The $1.9 trillion Stimulus Package Signed into Law
Sparking the demand for Bitcoin is the unwavering central banks, specifically the FED's commitment to print even more money to steady the U.S. economy through a reflation.
There have been comments from before, citing the FED's need to stay put and print trillions of dollars out of thin air as coverage for the Coronavirus pandemic effects.
Albeit initial resistance from Republican politicians, President Joe Biden, on Mar 11, signed into law the $1.9 trillion COVID-19 relief package. It officially signaled what would be the next wave of positive economic data in the U.S, cushioned from the ravages of the virus, and flash with helicopter money.
Analysts expect the inflation rate to subsequently rise above the two percent FED target, even touching three percent, wreaking havoc to the bond market.
With falling treasuries—despite the expectation of accelerated economic growth, the greenback could suffer. In return, safe-haven store-of-value assets like Bitcoin may spiral even higher.
Back to 2020?
Already, the candlestick arrangement of the BTC/USD pair appears to be mirroring those of 2020.
However, this time, there are different fundamentals, including the entry of institutions–with rumors of megaliths like Twitter and Apple eventually scooping BTC by assigning a portion of their billions to the digital gold as a hedge against inflation.
Bitcoin Price Analysis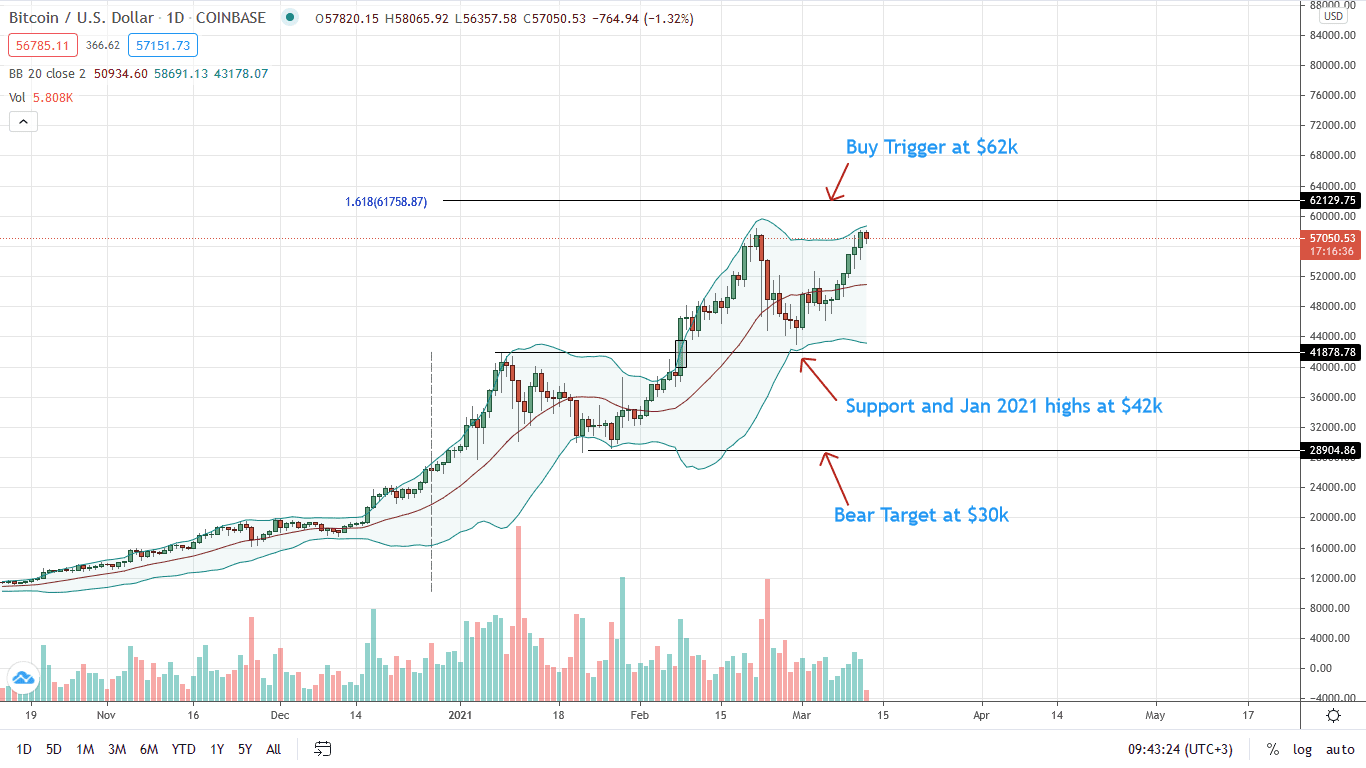 The BTC/USD price is trending at around Feb 2021 highs, retesting $58k.
Technically, buyers are in control and may throb even higher, blasting $58k.
Noticeably, the march to spot levels is with relatively high trading volumes. There has been confirmation of the double-bar bullish reversal pattern of Feb 28 and Mar 1.
Although volumes are comparatively lower, participation is within normal levels.
However, what would spark demand, pouring cold water on bears, and setting the tone for the next wave of higher highs is whether the break above $58k would be with higher trading volumes exceeding those of Feb 23.
From an Effort-versus-Result perspective, it would nullify sellers of late February, thrusting BTC to over $90k, the 2.618 Fibonacci extension level of the Q4 and Jan 2021 trade range. If, on the flip side, BTC prices sharply crash from spot rates, Bitcoin may fall back to $42k—Jan 2021, in another retest.
Chart Courtesy of Trading View
Disclosure: Opinions Expressed Are Not Investment Advice. Do Your Research.
---
If you found this article interesting, here you can find more Bitcoin news