Bitcoin [BTC] mining continues to pose a challenge in several countries. However, these developments have had little or no impact on the mining giant, Bitmain which is on an expansion spree of its equipment.
In the latest news, the company has reportedly rolled out the new Litecoin/Dogecoin mining machine L7. This was revealed by popular Chinese reporter Colin Wu in his latest tweet. Wu also went on to disclose that the equipment has a hash rate of 9500MH/s and 3425W, which is equivalent to 19 sets of L3+, and the price is $15,000. In addition to that, the price is reduced by 13% for overseas purchases. L7 will be delivered by November this year.
Furthermore, the Chinese reporter also stated that Bitmain also disclosed a 5nm-based Bitcoin water-cooled mining device along with a preview of the Dash mining machine D7.
What does Bitmain's move signify?
Bitmain's move to introduce Litecoin/Dogecoin mining can be attributed to the huge popularity of the meme-coin over the past couple of months. After briefly boosting the fortunes of the king coin, the eccentric billionaire Elon Musk shifted his gears towards the DOGE. Since his first appreciation, Musk has fully embraced the token with open arms and even calling himself the 'Doge Father'.
As ridiculous as it sounds, there is no stopping for Musk when it comes to the meme-coin. So much so that his aerospace manufacturing company, SpaceX has recently announced a collaboration with the futurist Geometric Energy Corporation [GEC] to sell space art using Dogecoin.
Litecoin miners sees huge boost, thanks to Dogecoin
Dogecoin had previously sent the market into a frenzy. While that has faded with time, there are many celebrities and popular market players who have helped this joke coin to remain relevant despite severe critics in the space.
A few weeks ago, Dogecoin had made up 10% of all Litecoin's merge mining revenue. The miners of the silver crypto had witnessed almost 5x growth in daily revenue [80% from DOGE income].  Spencernoon's report on the same stated that "opportunistic" Litecoin miners have fostered DOGE's hash rate by 48% Year-to-date with the merge-mined coin that now boasts a higher market cap than its base coin.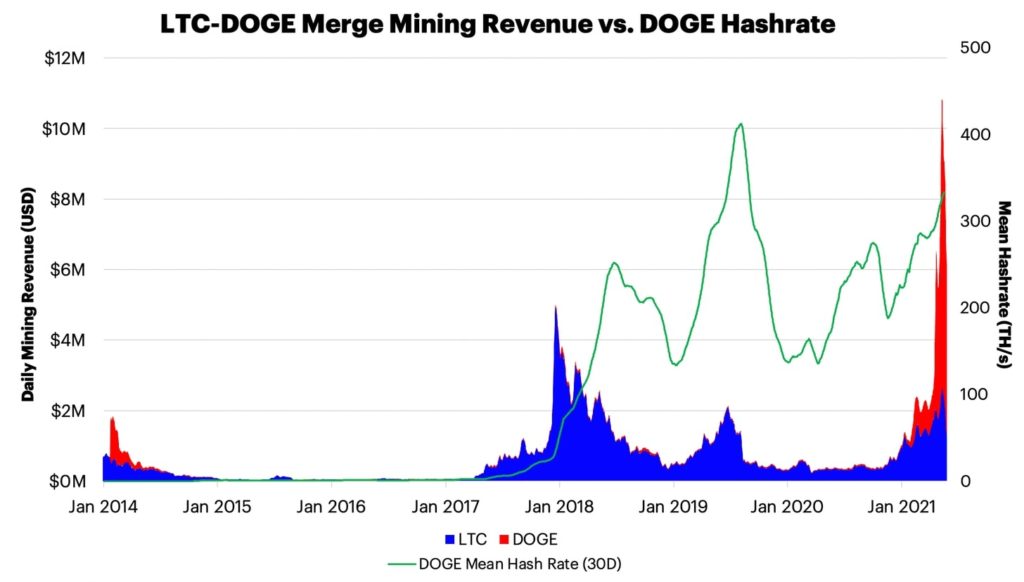 At the time of writing, DOGE was the sixth-largest cryptocurrency with a market cap of $38.22 billion. LTC, on the other hand, has suffered majorly at the hands of the bears and slipped to the 12th spot registering a market cap of $10.57 billion.