Bitcoin is on fire once again and was approaching the recently breached $40k almost a week after its uptrend was cut short. In an interesting development for the world's premier crypto-asset, the network hash rate has climbed to an all-time high figure of 142.6118 exahash/sec.
According to the chart compiled by BitInfoCharts, Bitcoin's hash rate surpassed the previous high of 140.066 exahash/sec on the 24th of Jan this year.

The rising hash rate was an indicator of how healthy, powerful, and profitable the Bitcoin network currently is since a higher hash rate ultimately translates to higher processing power for the network, which also creates greater security.
Moreover, the increasing high hash rate also demonstrates that the network miners are investing capital into mining equipment, meaning they have immense confidence in the BTC network. Hence, it would be appealing for miners to continue to join a more profitable network and deploy more computational power to secure it.
According to the latest stats by BTC.com, the top mining pool was F2Pool which captured a hash rate of 15.2%. Closely following the trail was Binance Pool with 13%, Poolin with 10.6%, AntPool with 10.4%, and Huobi.pool with 9.9% hash rate contribution.

In addition, Bitcoin's network mining difficulty is also higher than it has ever been during the crypto-asset's lifetime. The network difficulty is essentially a measure of the amount of resources required to mine Bitcoin that surges or drops depending on the amount of computing power consumed by the network, which is known as its hash rate.
Hence, the higher the difficulty, the more complicated it is for all the miners trying to find BTC blocks on a given day. Currently, Bitcoin's mining difficulty is a whopping 18.93 trillion.
The network's hash rate has been running hot for several weeks now. This, in turn, has prompted a great number of ASIC mining equipment to profit at a massive scale at the current price per BTC including older generation mining rigs. Owing to this, the Bitcoin network miners reportedly generated 62% more revenues in the month of January than the previous month.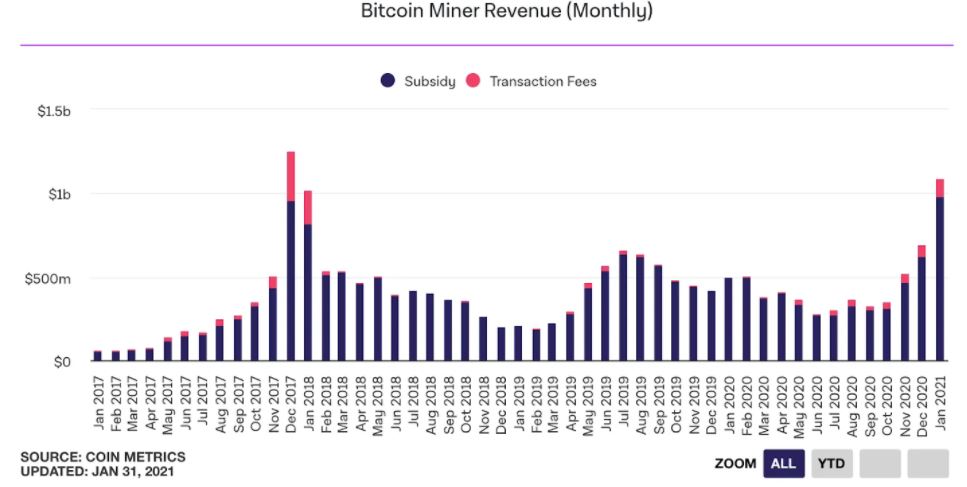 As per data on Coin Metrics, miners generated an estimated $1.1 billion in revenue in the first month of 2021. The surge was accompanied by Bitcoin skyrocketing above $30k for the very first time in its 12 years of existence and subsequently hitting a price ceiling of over $42k.
The revenue figures extended December's own 33% surge, which continued to maintain a steady uptrend as Bitcoin rallied by more than 300% in 2020.
---
If you found this article interesting, here you can find more Bitcoin news