Bitcoin prices are in tight trading ranges at spot rates. As an illustration, the coin has been moving within a $300 zone with caps at $17k and $16.5k in the better part of the second half of December 2022.
The drop in volatility could be pinned to the inactivity of the holidays. However, traders are also apprehensive, aware that prices could turn for the worse if there are losses below immediate support levels. So far, $16.5k and $15.5k have established themselves as worthy levels to watch out for.
On the upper end, the line at $17k, marking December highs, is a critical buy trigger. If buyers' edge past this line, BTC could race to $17.5k or better in the next few trading sessions.
Hash Rate and Crypto Winter
Bitcoin will likely close the year weaker after sharp losses in the past few months. The coin is more than 60 percent lower than peaks, with risks of the downtrend continuing in the near future. Support is at $16.5k, as mentioned earlier, but if there are losses below $15.5k, BTC could slip faster.
The development could compound losses for miners who, as news reveal, are dumping most of their coins to cover operational costs. Others, because of the dire crypto winter, are filing for bankruptcy.
This disruption and frigid conditions in North America are destabilizing hash rate. Earlier this week, the hash rate fell 30 percent before sharply recovering after power outages in Texas, a center of most crypto miners in the United States.
Bitcoin Price Analysis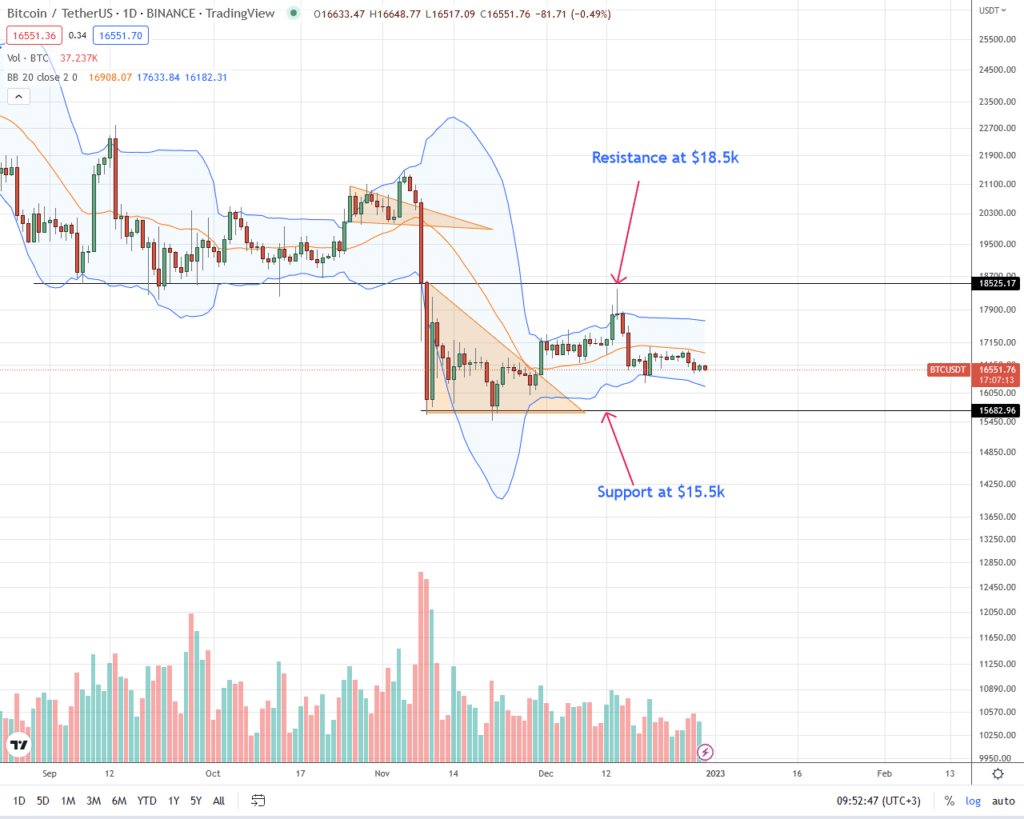 As the year concludes, there is little to write about Bitcoin. The coin is down over 65 percent from November 2021 peaks and currently in consolidation below $17.5k, closer to 2022 lows at $15.5k registered in early November 2022.
BTC breaks out in lower timeframes, sliding lower from BB squeezes in the 1HR and 4HR charts. Traders can look to unload on every attempt below $17k, targeting $16.5k and $15.5k, respectively.
Risk-on traders can watch events unfolding from the sides. Once there is a conclusive breakout above $17.5k or $15.5k, they can ride the emerging trend to $20k or $12k, or worse, in the coming sessions.
Technical charts courtesy of 
Trading View.
Disclaimer: 
Opinions expressed are not investment advice. Do your research
.
---
If you found this article interesting, here you can find more  Bitcoin news.