Another eventful week comes to an end. Cardano [ADA] jumped another crucial spot in the leaderboard while replacing Binance Coin [BNB]. Dogecoin [DOGE], on the other hand, has maintained a low profile after registering uncontrolled spikes earlier this month.
As the weekend dawned, Bitcoin was still struggling close to $39K as hints of rebound did not appear. The only thing that was eye-catching in the midst of the crypto bloodbath was the cryptocurrency's rising dominance over the market.
Bitcoin's dominance noted the first major uptick after the sharp decline in the second week of May. It rose to 45.5% on the 22nd of May. As a result, several altcoins have closely mimicked Bitcoin's price action in the last two weeks bearing brunt of the aggressive bears.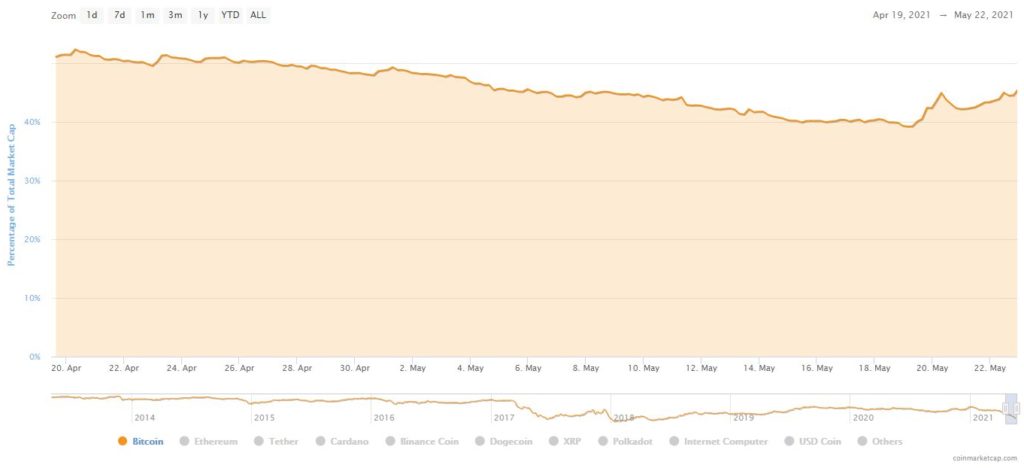 May has been quite a month for the cryptocurrency industry. Bitcoin and its peer altcoins went on a wild ride since the first major correction after the Tesla debate to China's trading and mining restrictions that were enough to severely hurt the asset class's combined valuation.
Institutional players buying the dip did little help as no major rally sustained to push the king coin closer to its previous glory.
What's Happening With The Wider Crypto Market?
Cardano reclaimed the spot for the fourth-largest cryptocurrency by market cap as it replaced Binance Coin. ADA was currently exchanging hands at $1.53, even though it was still down by nearly 3% over the past 24-hours. In addition, its market cap neared a whopping $50 billion, at the time of writing.
Despite flashing red and amassing a 7-day loss of over 30%, Cardano turned out to be one of the most resilient crypto-asset in the leaderboard this week. One of the major reasons for this was the development of its blockchain front.
The digital asset's development arm Input Output Hong Kong [IOHK] had recently disclosed that it was preparing to roll out a converter of sorts that would allow interoperability between the Ethereum network and Cardano.
This would further enable the users to swap supported Ethereum tokens [ERC-20] to "special Cardano-based tokens." This ERC-20 converter tool with built-in two-way convertibility was also nearing testnet deployment.
Meanwhile, Binance Coin [BNB] has also seen a sharp decline and was currently being traded at $302.15.
Where is DOGE? Elon Musk's commitment towards Dogecoin [DOGE] has done little to help its cause as it suffered back-to-back damaging corrections this week. The memecoin slid to the sixth position on the leaderboard after incurring more than 6% losses over the last 24-hours alone.