Bitcoin Dark (BTCD) has suspiciously increased its value roughly 400% in half a day, triggering the alarms of the crypto community due to its sudden spike.
The crypto asset – born in 2014 to compete against Bitcoin – saw its value skyrocketed over the course of half a day when it was hovering around $ 20 in its BTCD/USD exchange rate (around 14:14 UTC of September 3), and began to climb up quickly towards the three figures – $ 102.95 by September 04, at 1:44 UTC.
This marks the first time this coin records such value since May 11, when it was dragged to the floor along with almost every  other cryptocurrency on the market, due to the bearish sentiment that has been lingering since December, 2017.
Regarding its trading volume, the coin also saw a surprising increase, from an average of roughly $ 100,000 – $ 200,000 a day, to almost $ 1 million. At the time of writing this, its value suffered a correction, and it is now quoting at $ 61.88 per coin.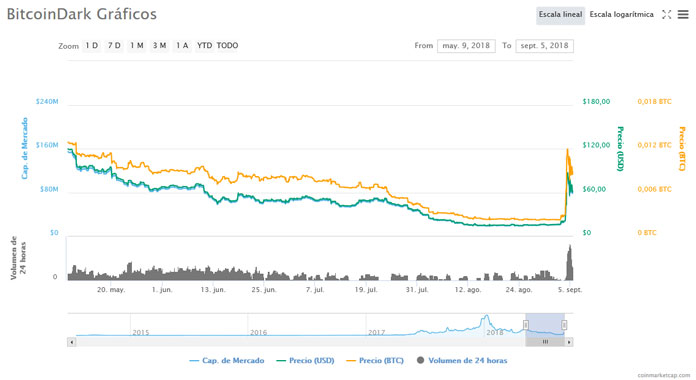 Pump n' dump scheme behind the rise
Although the crypto market is widely known for its high volatility, there are several facts to take into account when talking about this virtual coin. For starters, this is a cryptocurrency whose developer team abandoned early this year, in favor of Komodo (KMD). In fact, the last tweet of the BTCD Twitter stated:
"Remember that #BTCD was swapped for Komodo. And the whole team moved on to the development of #Komodo. So, you can follow all the news on Komodo's official Twitter here : https://twitter.com/KomodoPlatform"
And secondly, the token is only traded on Poloniex and Trade by Trade, according to CoinMarketCap. The spike was registered in the former's platform and since then, a message that reads BTCD is "under maintenance or experiencing wallet issues" has been jumping out to users who try to access any of its two trading pairs – BTCD/BTC and BTCD/XMR.
It is possible that due to these reasons, users began to label this event as a pump and dump scheme – which is usually achieved by groups of investors who organize synchronized inflow and outflow of funds to manipulate the value of a certain asset, profiting from it.
Hence, this could have prompted Poloniex to freeze further operations in order to stop these investors from withdrawing their earnings.