Safe the Bitcoin price doldrums, the network is robust and secure, weathering all the FUD storms if statistics leads.
Bitcoin Hash Rate Recovery and Node Count Rise
Thus far, the Bitcoin hash rate is recovering and is now above the ideal 100 EH/s at 108 EH/s, bouncing back after June 2021 crackdown in China.
June's contraction was because most miners sought bases that require time and shrewd negotiations with local officials.
Better still, those planning to land in new territories must find ideal locations that will guarantee stability—and, therefore, profitability.
Amid the exodus from China, the network temporarily "suffered" but allowed the building of new full nodes.
Data from Bitnodes on July 16 reveals that there are 12,835 reachable nodes, a 27 percent increment in the last 365 days where the average has been persistently around 10k nodes.
The Bitcoin network relies on distributed full and miner nodes to function as designed.
The higher the distribution, the stronger it becomes. Therefore, the more accessible users can send and receive funds trustlessly without third parties.
The Lightning Network Capacity and Channel Count Expansion
Accompanying the increase in full node operators, there is a noticeable growth in the number of the Lightning Network capacity.
As of writing on July 16, the layer-2 network locked over $58 million of BTC. The amount has been gradually increasing over the past seven months.
Noticeably, this swelling coincided with the expansion of Bitcoin prices.
Besides improved capacity, the number of state channels now exceeds 56.6k, adding 13 percent on the last day.
Bitcoin Price Analysis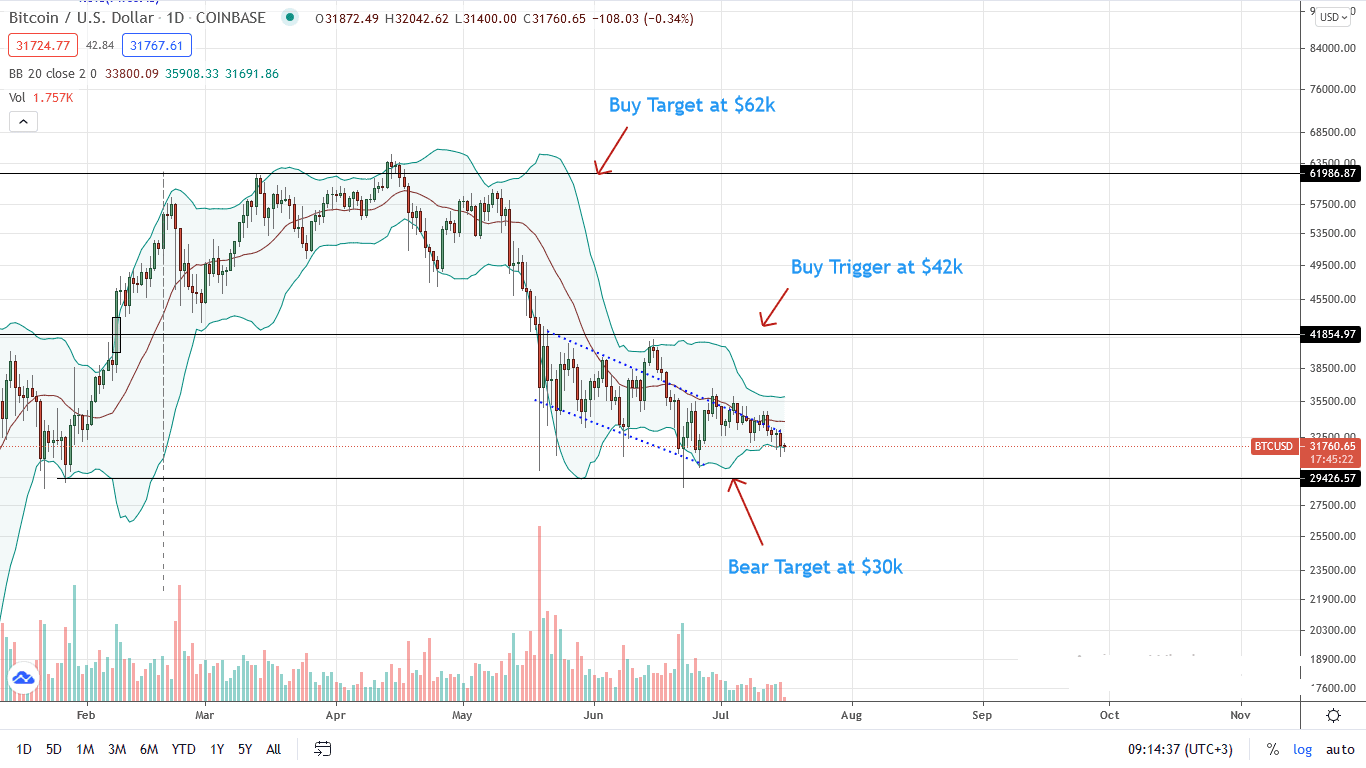 The meltdown continues, and Bitcoin is under immense sell pressure.
As of writing, BTC is down three percent on the last trading day as bears target $30k.
Although bulls are optimistic, BTC/USD price action is back firmly within the descending channel and away from the primary resistance level at $36k. Overly, this is bearish and hints at the underlying weakness that may see BTC crater towards the psychological support line at $30k.
Reading from this development, aggressive BTC traders may find an unloading opportunity from every pullback, dumping the coin targeting the round number.
In the short term, further losses below $30k would extinguish bullish flickers, even setting a stage for a retest of $20k and $25k.
However, this could change if BTC/USD bulls break above the descending channel, unwinding July 15 losses, relieving HODLers.
Chart Courtesy of Trading View
Disclosure: Opinions Expressed Are Not Investment Advice. Do Your Research.
---
If you found this article interesting, here you can find more Bitcoin news