After a strong recovery in the last few sessions, Bitcoin (BTC) sank sharply to revisit $20K. Ethereum (ETH) along with major cryptocurrencies plunged amid rising U.S. inflation rates.
Inflation in the US accelerated amid rising costs for rents and healthcare continued to batter the economy. The financial scenario sent the economy into a tailspin with the Dow Jones index losing nearly 1,300 points. The broader market pangs are not just affecting stocks and bonds, but also cryptocurrencies. Bitcoin (BTC) has been increasingly moving in tandem with the traditional markets as the correlation has only surged in recent months.
Bitcoin Revisits $20K Level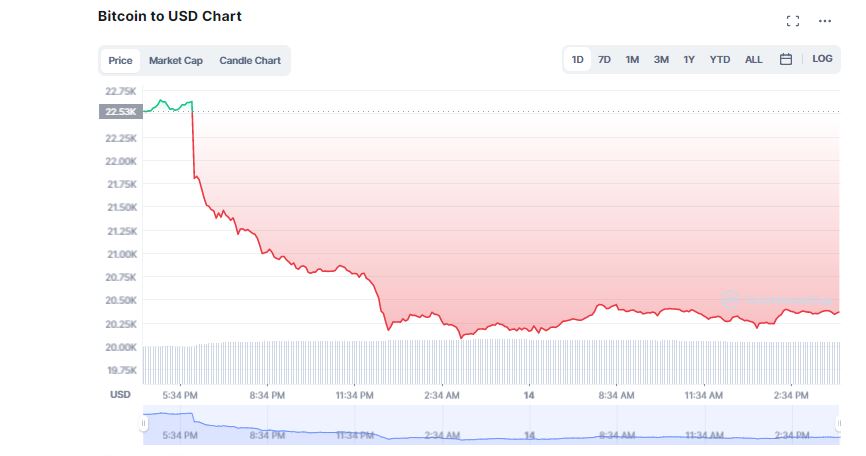 As the US inflation numbers spooked traders, Bitcoin (BTC), fell over 8 percent in the last 24 hours to currently hover at $20,376. The bellwether token plunged in the wake broad-based sell-off after higher-than-expected US inflation data. Bitcoin's dominance is currently 39.35 percent, a decrease of 0.77 percent over the day. However, according to CoinMarketCap, BTC increased 8.54 percent in the past 7 days.
The world's largest cryptocurrency dipped to the $20,000 level after a brief relief rally and breached the $22,000 mark. But the price failed to sustain its upward movement and decreased sharply the same day, creating a massive bearish engulfing candlestick that led to a low of $19,860.
If the downward movement continues, the closest support area would be at $19,000. Edul Patel, CEO of Murudex, believes another series of aggressive rate hikes are in the pipeline by the US Fed to tame rising prices. He added,
"Bitcoin and most cryptocurrencies fell after the U.S inflation data disappointed investors on Tuesday as inflation rose more than expected. Investors and traders may need some time to digest the report and get back to the market."
Will ETH Bounce Back?
Meanwhile, Ethereum (ETH), slipped about 6.96 percent in the past 24 hours to $1,601. It seems, the highly anticipated Ethereum "Merge" is unable to salvage the dropping ETH prices. Nevertheless, Ether has managed to climb 5.81 percent over the past week. Patel continued to bet on ETH ahead of the much-anticipated Merge upgrade. He suggested,
"if buyers can keep ETH above the $1,500 level we may expect a local bounce back."

The global cryptocurrency market cap tanked sharply to $991 billion, down as much as 7.19 percent in the last 24 hours. Other crypto prices' today performance also declined as XRP, Cardano (ADA), Polygon (MATIC), Avalanche (AVAX) and Polkadot (DOT) were trading with cuts over the last 24 hours.
Simultaneously, Solana (SOL) witnessed a massive fall as it sank more than 12 percent to trade at $33.54, at print time. Meanwhile, Dogecoin (DOGE) and Shiba Inu (SHIB) collapsed by 4.62 percent and 5.18 percent, respectively.