The Bitcoin price is bottoming up, shaking off the intense selling pressure of late January 2022. At the time of writing, BTC prices are firm to the upside but momentum is slowing down.
Overall, the BTCUSDT price formation favors buyers despite lower lows in the past two days. Nonetheless, risk-off Bitcoin traders appear to be loading the dips and positioning themselves for possible more upsides in the days ahead.
Russia to Recognize Bitcoin and Crypto Assets as Currencies
This optimism stems from several fundamental factors. Chiefly, events from Russia could shape Bitcoin and cryptocurrencies in the medium and long term.
After months of apprehensiveness from the country's central banks, leading regulators in Russia have agreed to recognize Bitcoin and cryptocurrencies.
Specifically, there could be a chance that Bitcoin would be identified as a legal currency, a move similar to the one adopted by El Salvador.
Support from Russia would be massive for Bitcoin and legitimize the use of cryptocurrencies, currencies which are alternatives to fiat currencies, and actively promote financial inclusion.
The agreement to draft new legislation or adjust existing ones follows President Putin's backing of cryptocurrency and Bitcoin mining. He said the sector could potentially provide extra revenue for the Russian economy.
El Salvador $1 billion Bitcoin Bond
Russia's endorsement of crypto assets is ahead of El Salvador's plan to release a $1 billion Bitcoin bond in mid-March.
El Salvador made history by becoming the first sovereign country to accept BTC as legal tender.
It has since been buying the dips and accumulating Bitcoin while providing infrastructure for its citizens to tap maximum benefits from cheap remittance enabled by Bitcoin.
Bitcoin Technical Analysis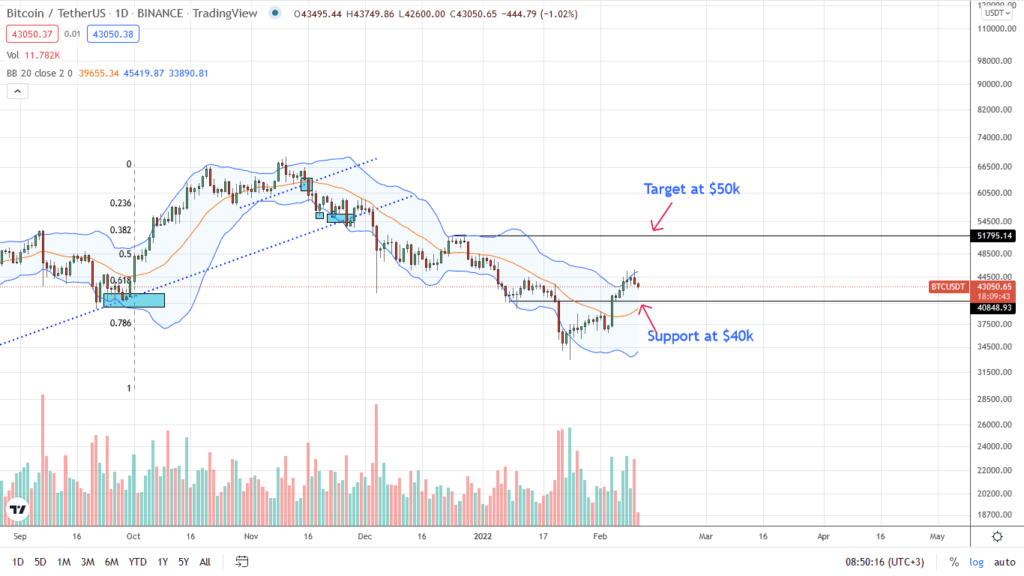 The Bitcoin price is up 30 percent from January 2022 lows at the time of writing. Technically, buyers are in control, reversing losses of late December, signaling strength after rampantly breaking above $40k with increasing trading volumes.
As BTC bull remain upbeat, traders may find entries above the middle BB and $40k as they set sight on $45k and $46.5k—a strong resistance zone. A close above this level with equally high trading volumes may be the building blocks to retest $50k and later $53k in a buy trend reversal pattern.
Still, there are fissures as lower lows print relative to the upper BB. Therefore, unexpected deep losses below $41k and $40k would likely slow down the uptrend, diffusing the strong bullish momentum—placing back sellers in contention.
Technical charts courtesy of Trading View
Disclaimer: Opinions expressed are not investment advice. Do your research.
---
If you found this article interesting, here you can find more  Bitcoin news