Bitcoin remains in a bullish formation despite the slight pullback on October 27.
At spot rates, BTC is up 13 percent from September lows. As it is, there could be more on the horizon, reading from the BTCUSDT candlestick arrangement in the daily chart. If anything, BTC may rally 22% to $25k, or August 2022 highs.
Considering the prevailing sentiment and existing formation in the daily chart, buyers are in control. The immediate support line is at $20.5k, around the psychological level.
Depending on how prices react to it in the short term, BTC may either soar to greater heights, even printing new Q4 2022 highs. On the other hand, it can pull back to the tight trade range of the better part of mid-September to October.
Dropping Brent Prices a Relief for Crypto Markets
Fundamentally, dropping commodity valuation, especially the drop in pump prices, greatly impacts the markets.
Analysts expect inflation to follow suit, relieving the markets and the cool-off injecting life to depressed asset prices, mainly stocks and crypto assets.
With Brent Oil dropping, labor markets improving, and economists expecting central banks to slow down or start scaling back their rate hike regimes, fresh capital might be unlocked, pumping Bitcoin to new weekly highs.
Hong Kong to Enable Retail Trading of Cryptocurrencies
At the back of this is news of Hong Kong regulators planning to allow institutions and firms to offer retail trading of Bitcoin and crypto assets.
There has yet to be an official comment from Hong Kong officials. However, the news is licensing for interested parties might be implemented as early as March 2023.
Bitcoin Price Analysis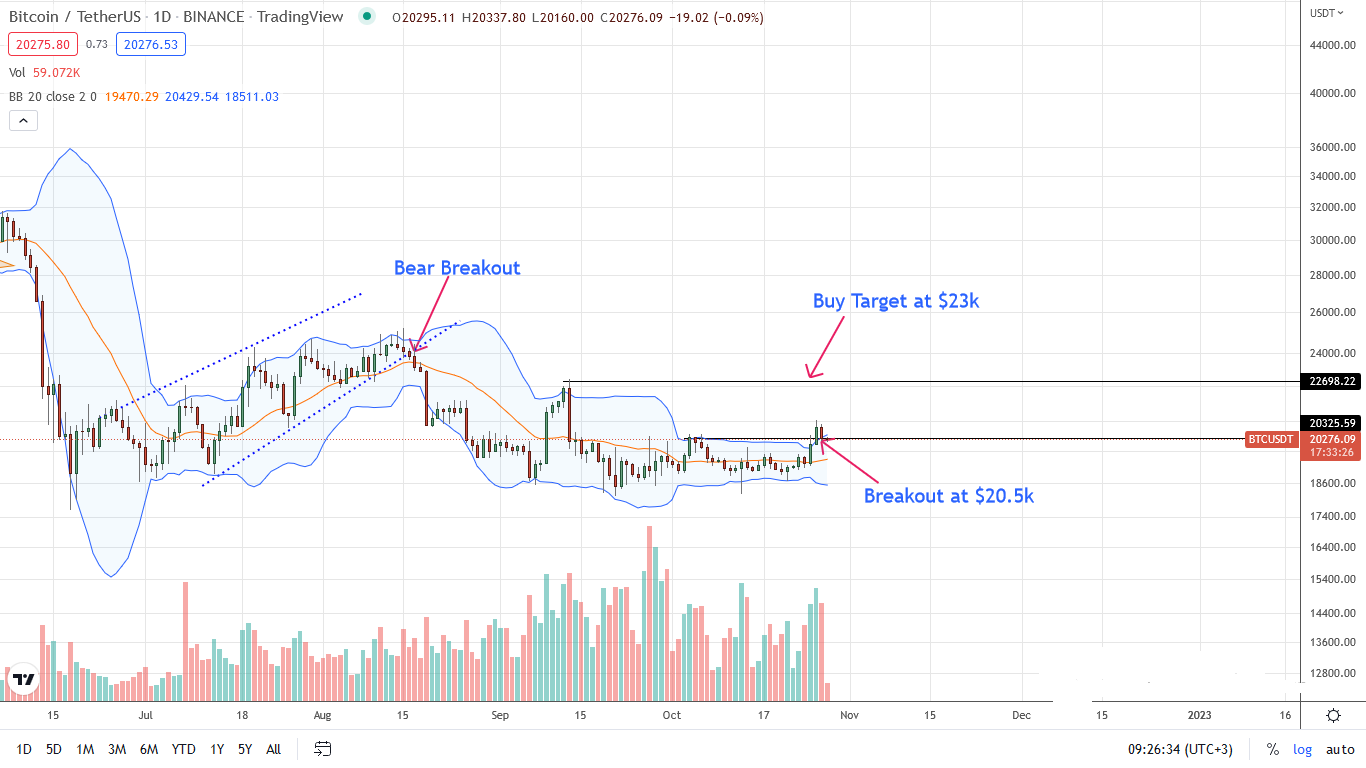 Bitcoin is up roughly 13 percent from September lows. Presently, the coin looks likely to extend this week's gains, per the formation in the daily chart. Technically, BTC is within a bullish breakout formation with support at around the $20k to $20.5k zone.
Even though BTC prices pulled back slightly on October 27, the coin is within the wide-ranging, bullish engulfing bars of October 25 and 26. This points to strong demand. Subsequently, traders may look to double down on any dip, targeting $23k, the September 2022 highs, and later $25k, flashing with August 2022 highs.
Any liquidation that may see BTC fall below $18.5k will nullify this preview.
Technical charts courtesy of Trading View.
Disclaimer: Opinions expressed are not investment advice. Do your research.
---
If you found this article interesting, here you can find more  Bitcoin news.