After swiftly bouncing off lower lows, Bitcoin's [BTC] tryst near the $40K was anything but smooth-sailing. The asset shed over 3% gains and was back below the coveted resistance level.
Bitcoin is still trying to recover from the long-term bearish trend that has continued since its drop from its all-time high near $65K. To put things into perspective, the world's largest flagship crypto-asset has traded within the range of $30K and $40K significantly longer than the $40K and $65K over the past few weeks. But, the confidence seems to be slowly returning to the market as Crypto Fear & Greed Index reached 'neutral' for the first time this week since mid-May.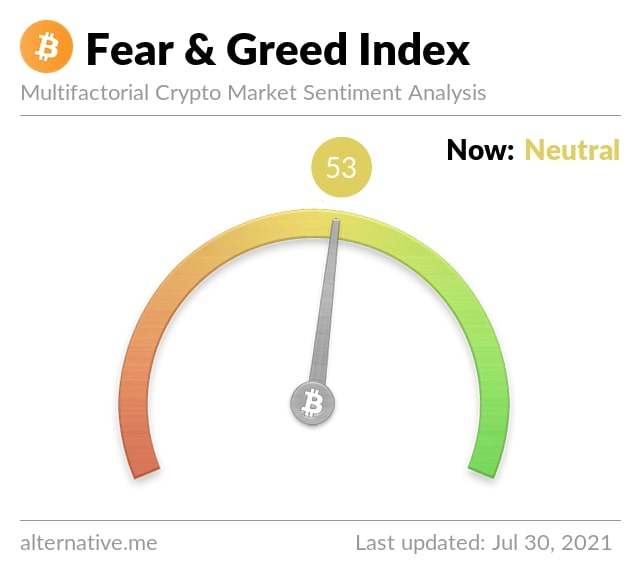 Spike in Bitcoin Active Users
Glassnode also reported that the Bitcoin market is exhibiting revival hints as it continued to flirt the crucial level. The research firm also noted a fresh new wave of active users on the network. Last week, the crypto-asset activities increased by about 30%, from 250k active users to 325k active users.
The last time the figures stood at this level was during the second quarter of 2020 when Bitcoin was still being traded around $11,000. The tweet regarding the same read,
"Bitcoin has seen a resurgence in Active Entities over the past week, rising by 30% from 250k to 325k active entities per day. This degree of activity was sustained in July 2020 when $BTC prices were around $11.3k in Q2-2020."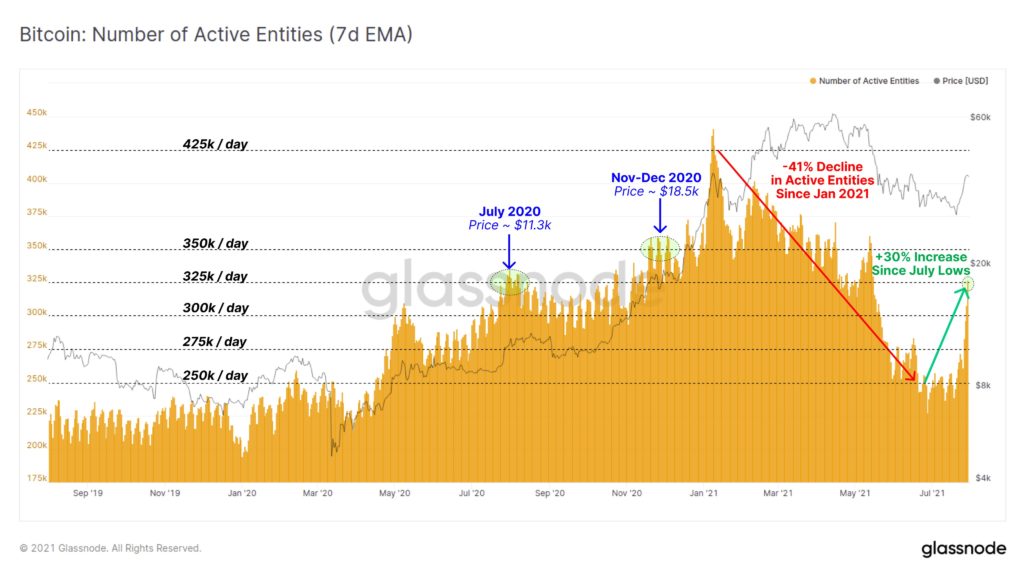 It is important to note that the growing network activity coincides with the growing positive sentiment surrounding its price action.
Pushing Bitcoin Adoption
Institutional strength may have been dwindling, but that has not deterred several high-profile companies as well as investors to jump on the bandwagon. Online e-commerce giant Amazon also revaled that it was exploring the industry even as it does not have any immediate plans to launch Bitcoin payments just yet.
Even though Bitcoin has seeped into everyday conversations, regulators in some parts of the world are still reluctant. However, there many notable lawmakers who are actually pushing the cause and its viability. United States Senator Cynthia Lummis, for one, has been advocating for regulation that would ensure BTC remains a good store of value. She recently tweeted,
"Big gov't spenders are [accidentally] doing far more to accelerate the adoption of digital assets than I am. The debasement of our currency is causing a flight to digital assets like bitcoin that are a store of value."
U.S Senator @CynthiaMLummis, "I own #bitcoin because it's a great store of value. I save it, so when I retire, I know it's there."pic.twitter.com/nNhYjGPsUe

— Documenting Bitcoin 📄 (@DocumentingBTC) July 29, 2021
---
If you found this article interesting, here you can find more Bitcoin news