Latest Bitcoin (BTC) News
It has been a tough going for Craig Wright, the Bitcoin SV agitator and the controversial Australian Computer Scientist who also claims to be Satoshi Nakamoto. While the US district court in Florida ordered that he pays the David Kleiman half of his IP and Bitcoin holdings-that he cannot access, the court initially issued a disclaimer stating that they couldn't determine whether he was indeed the anonymous-and elusive-Satoshi Nakamoto, the legit founder of Bitcoin.
According to Bitcoin sleuths and enthusiasts, the founder is said to be the owner of 1 million coins. Should Craig prove that he is indeed the owner of these digital gold that Hal Finney-the late computer genius who directly communicated with Satoshi, projected will rally to $10 million apiece if it turns out to have mainstream use, then he will automatically be a centi-billionaire, perhaps even more, since it is estimated that the blind trust they shared with Kleiman holds between 400k to 500k BTCs.
As things stand, the US Court has directed that he pays a fortune, roughly $5 billion worth of BTC and IP to Kleiman. Making the judgement, Judge Bruce Reinhart said:
During his testimony, Dr. Wright's demeanor did not impress me as someone who was telling the truth. When it was favorable to him, Dr. Wright appeared to have an excellent memory and a scrupulous attention to detail. Otherwise, Dr. Wright was belligerent and evasive.
BTC/USD Price Analysis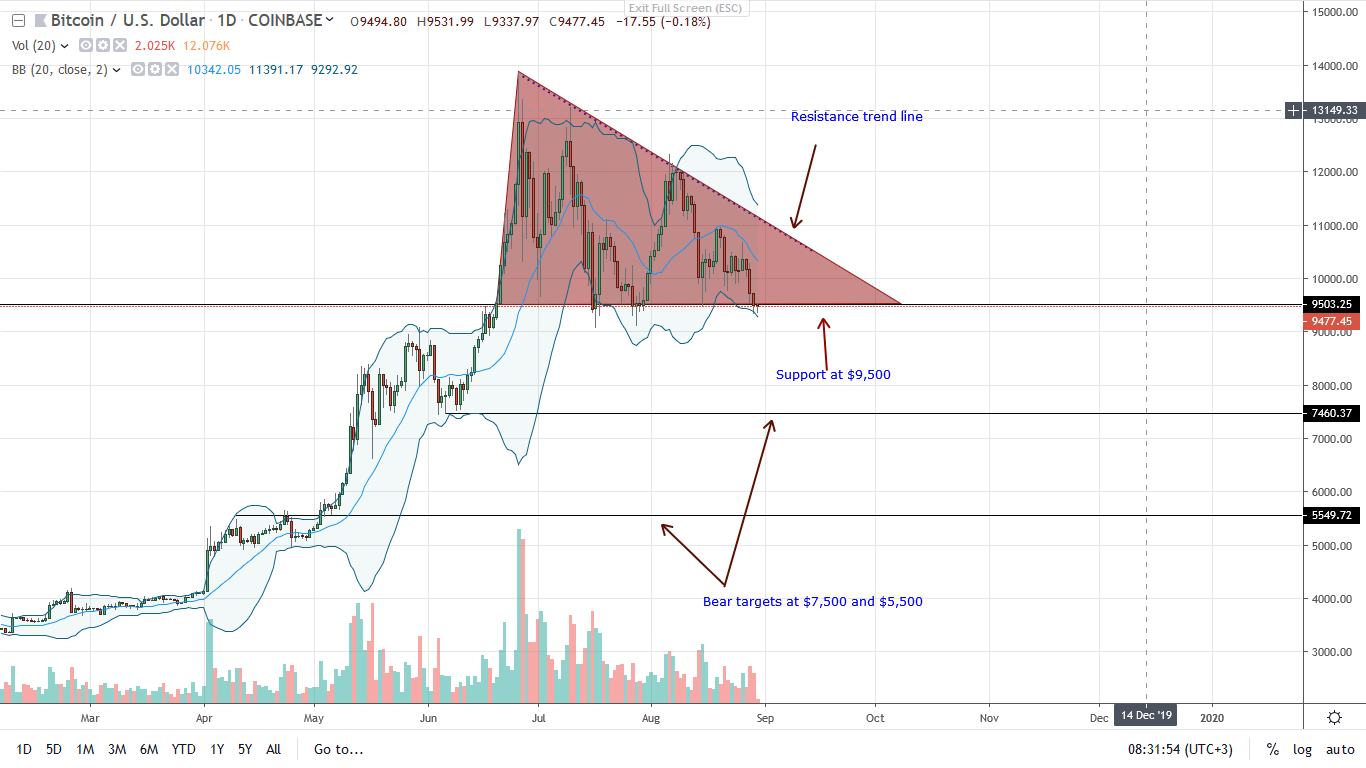 Still, BTC is up against ETH-adding 6.76 percent in the last week, but has been pummeled by the strong green back. Losing 5.54 percent in the last week, the path of least resistance is southwards. As prices oscillate inside a descending triangle, traders can find loading opportunities if prices arrest bears and print higher today or over the weekend.
Assuming there is no breakout, then given the stage at which BTC is trading against the USD-being the third phase of the triangle, prices would likely rally and break above the main resistance trend line connecting June, July and Aug 2019 highs ideally with high trading volumes exceeding 27k of Aug 15.
When that happens, BTC will easily rally to June 2019 highs of $14,000 in a trend continuation phase. Conversely, steep losses below $9,500 with similar trading volumes could see BTC collapse to $7,500 or $5,500 as mentioned in previous BTC/USD trade plans.
As such, the best course of action for risk-averse traders is to take a neutral stance until either there is a sharp reversal from $9,500 or a wide ranging bar closing below $9,500 prints.
Chart courtesy of Trading View—Coinbase
Disclaimer: Views and opinions expressed are those of the author and is not investment advice. Trading of any form involves risk. Do your research.