The price of Bitcoin surged on Tuesday morning (April 2nd) to new highs unseen since November 19th, 2018 when Bitcoin took a plunge to yearly lows of $3,200.
On Tuesday, Bitcoin price rose from its $4,200 range to an intraday high of $4,850 according to data by Coinmarketcap website. However, on other trading platforms such as margin trading platform BitMEX, the price went well past $5,000 and almost hitting the 21-month moving average (MA) line currently trailing $5,200 level according to data from the Luxembourg-based Bitstamp exchange.
The price surge has brought some hope and smile to otherwise desperate market conditions following one of the longest crypto bear markets starting in early 2018. On Reddit, cryptocurrency enthusiasts (especially Bitcoin maximalists) were sharing pictures of popped champagnes bottles and discussing the onset of a bull run. So far it is hard to pinpoint what may have caused the price jump but the social media space is not devoid of theories and possible explanations.
Several center around the April Fools ' Day that was marked yesterday April 1st including the age-old narrative that American business magnate Warren Buffet, a long time no-coiner and Bitcoin critic had changed his mind about Bitcoin and decided to diversify thereby purchasing the flagship cryptocurrency by the hundreds of thousands. (It is not true!)
Others were speculating about the US financial regulator accepting the launch of the much anticipated Bitcoin ETF (Exchange Traded Fund). A Bitcoin ETF has been in the works for close to a year with no green lights as of yet. In fact, the SEC postponed the two most likely ETF application proposals this week for another 45 days so that means this particular theory was just a prank. Even Binance CEO Changpeng Zhao, an industry insider tweeted his followers asking for an informed explanation over the recent price surge. He asked,:
Anyone know any news? I have been asked "a few" times, but honestly clueless.
Now. On to more viable reasons and several markets, experts have attributed the recent surge to a move above a closely-watched Bitcoin price resistance level – the $4,200 level. a breach of this resistance probably triggered some algorithmically placed buy orders which further sent the price of Bitcoin rallying to the psychological resistance at $5,000 levels. Mati Greenspan, social trading platform eToro's senior market analyst told CNBC that :
Bitcoin's break above $4,200 this morning was critical, as the market had been watching that level for a while. No doubt some entry orders and stop losses were grouped right above.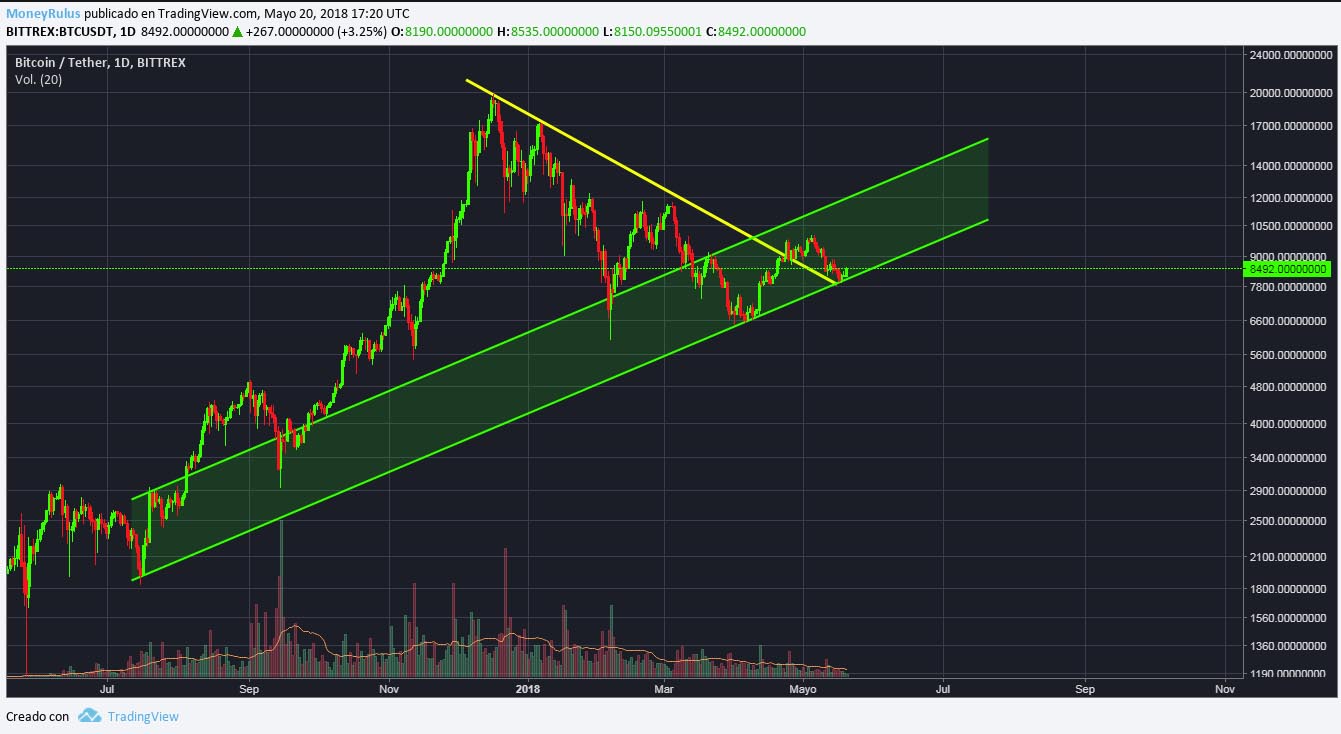 The break above the $4,200 level was significant because according to Alex Krüger, an economist and global markets analyst, this would signify the end of Bitcoin's bear market and possibly the start of another bull run. Earlier this week, Kruger said that:
This is not a call. Not a matter of aging well or not. A break above $4,200 technically ends the bear trend that started Jan 2018. Facts don't care about opinions. If strong selling resumes, later on, that would represent a different trend.
Another more plausible reason involves the liquidation of close to half a billion dollars' worth of trades liquidated on the BitMEX platform alone. In BitMEX and any other margin trading platform, the traders don't usually possess the cryptocurrency that they are trading, a feature called leveraged trading. When a trader decides to leverage trades, they significantly increase their risks for losing their money if the trade setups go the wrong way. Therefore when there are extreme up or down swings similar to today's price surge, several traders may have been liquidated. However, to stabilize the market offer such massive losses (and gains) BitMEX uses funds from its insurance funds to cover up any positions.
One trader on Twitter may have predicted such as scenario calling it a "black swan'. The trader, Crypto Bitlord, wrote that "Let's discuss a #bitcoin black swan event. And it's about to happen according to the BitMEX insurance fund." it seems that most people may have missed the news or completely ignored it as indeed, the black swan may have just been experienced. Another crypto trader on Twitter with the pseudonym Edward Morra, wrote earlier today following the price surge, "Around $500m in liquidations on BitMEX alone, ouch."
Here's why the BitMEX liquidation theory could be true. The $500 million that has been liquidated represents close to 15% of Bitcoin's total 24-hour trade volume. That is a huge amount of volume and it is not too hard to imagine that it could have triggered the price surge well past the $4,200 resistance.
As of press time, Bitcoin is priced at $4,776, up 15.45% since early this morning.