San Francisco-based cryptocurrency exchange OKCoin has pledged to donate 1,000 bitcoins currently worth in excess of $10.5 million to bitcoin and its two closely related forks Bitcoin Cash and Bitcoin Satoshi Vision (BSV) in an attempt to give back to the community and help foster the development in the bitcoin space. The initiative dubbed "Let's Build Bitcoin Together" will allow OKCoin account holders to vote on their favorite projects and for every vote a project gets, OKCoin will send 0.02 BTC (or an equivalent value in either BCH or BSV) to the project up to the maximum 1,000 BTC allocated for the program.
At the end of the campaign period, on September 27th, OKCoin will distribute the funds voted for to each camp but not particularly to individual developers but to the respective bitcoin communities. In a statement, OKCoin's CEO Tim Byun said that;
There is no question that the past few years have been a roller coaster for the whole community, so we've decided to step up and give back to the developers who keep moving us forward.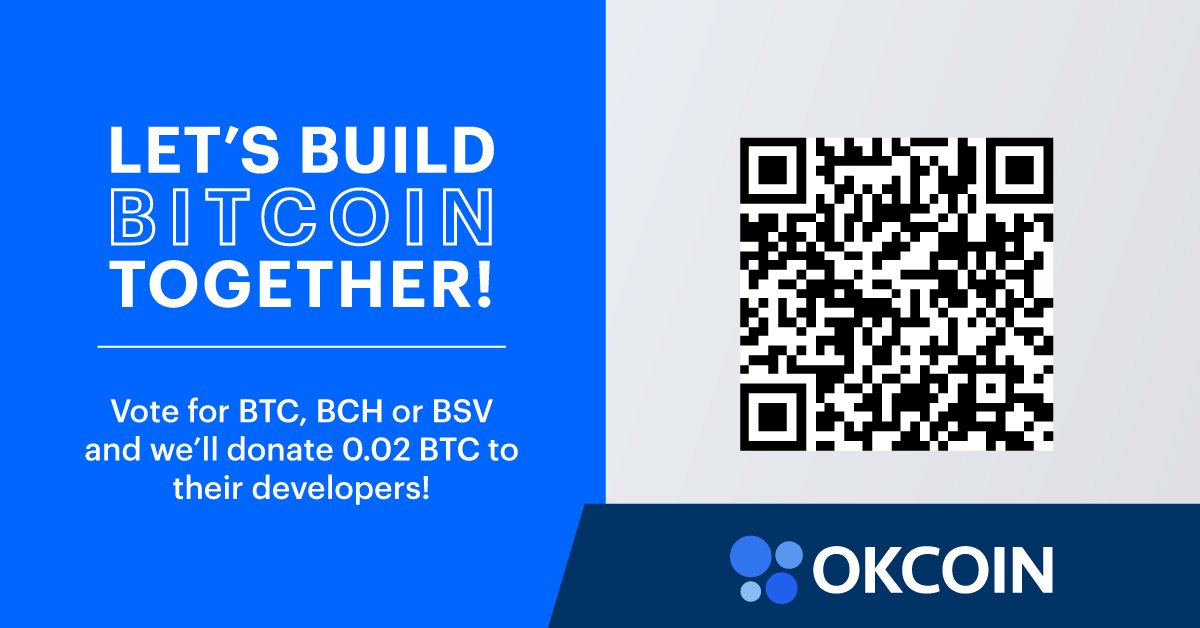 The exchange has identified 11 developers and projects that will represent the three communities. Representing the Bitcoin Core community will be Michael "fanqauke" Ford, Ben Woosley, Luke Dashjr, Jonas Schnelli, Jimmy Song, and Sjors Provoost. The Bitcoin Cash community will be represented by the three major node implementations namely ABC, BCH-D, and Bitcoin Unlimited while the controversial Bitcoin SV project will be represented by two institutions, the Bitcoin Association, and CambrianSV. Bitcoin SV is the coin that split from Bitcoin Cash in November 2018 during the "hash wars" led by Australian developer Craig Wright and Coin Geek's Calvin Ayre. The exchange stated that the individuals and projects chosen were verified and that met the specifications set out without providing the details.
Voting is already underway having been launched on Tuesday, September 3rd. Byun explained the need for the community to show up and vote for their favorite project. He said in the statement that the initiative;
which we believe is the first exchange-led community investment of this scale, is our way of showing our commitment and dedication to the Bitcoin community. Developers are and will continue to be, key to improving the accessibility of digital assets, which is the heart of the OKCoin mission. That being said, we hope to give the full 1,000 BTC away, but we need people to get out there and vote!