Bitcoin [BTC] makes history yet again. The flagship crypto finally broke the much-anticipated $60,000 barrier on the 13th of March.
After weeks of lackluster price action, the world's largest cryptocurrency is back at its game. While it was the bulls that dominated the day, the bears had a rather bad day.
More than $493 million worth of shorts were liquidated just hours after Bitcoin's meteoric rise to uncharted waters. This was according to Bybt's latest chart which noted that over $700 million were liquidated over the past day. The major chunk of the wipeout was short positions.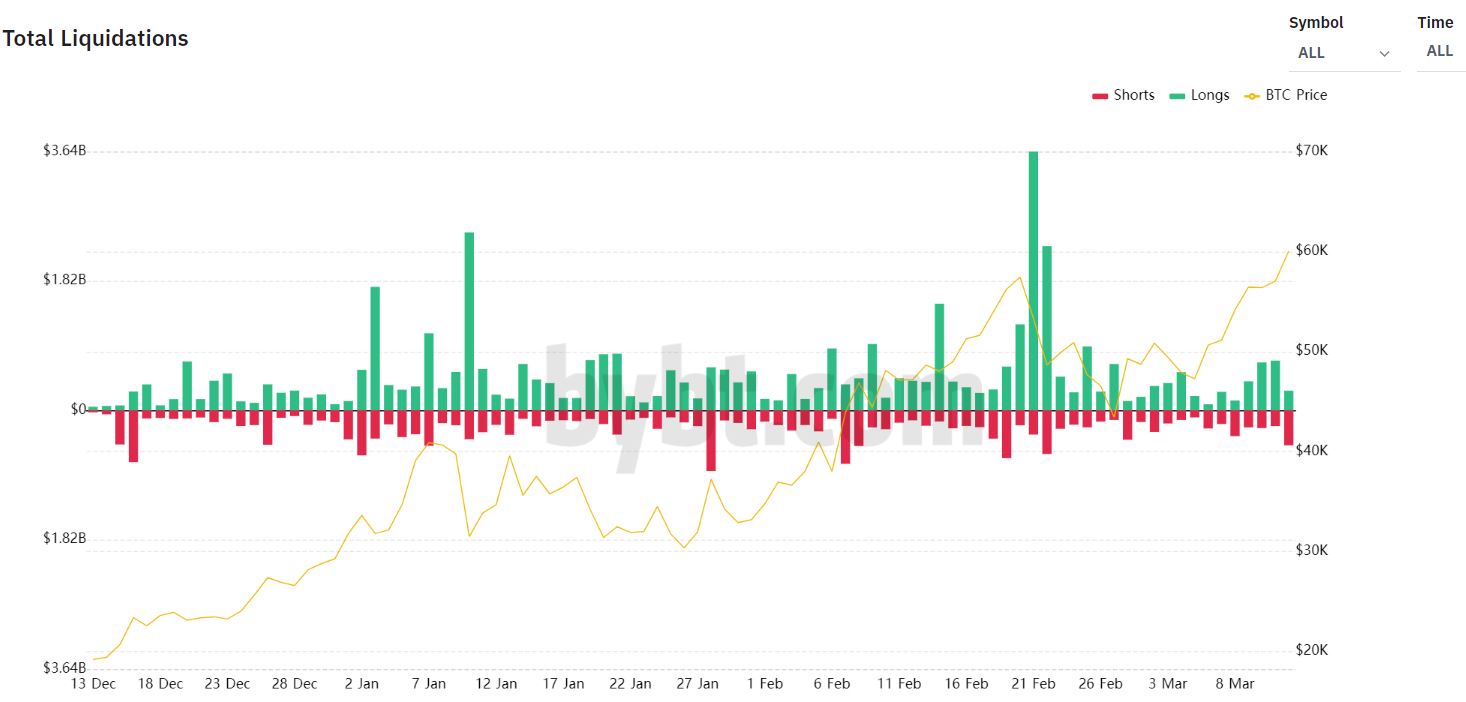 Binance users were the ones that got rekt. The cryptocurrency exchange took a lead in terms of the highest amount of BTC liquidation with a whopping 49%. This is not the first time that the platform's users have suffered the max.
This can be safely attributed to the fact that the traders on Binance started to use 20x or higher leverage and some even going for an astonishing 125x leverage just months after the launch of Binance Futures. Greater leverage, greater risk. 
Other platforms to trail behind were Huobi, Bybit, and BitMEX with 23%, 12.6%, and 9% respectively. 
According to Glassnode's Co-founder and CTO, Rafael Schultze-Kraft, Bitcoin's abrupt rise triggered a liquidation of more than $100 million in short positions in a matter of minutes. 
Besides, Bitcoin entered the week with strong price action. The bears' last meaningful position is near the $57.8K level, which now looks like critical resistance-turned-support. As the week comes to end, it has been interesting to see a major battle play in the backdrop of a huge institutional awakening.
While a damaging downturn below the aforementioned level does not seem likely, Bitcoin's price found support by dip-buying bulls and dip-buying bears near $55K.
1-year Rewind: Bitcoin Bled On The Charts
Notably, just a year back on the 12th of March, Bitcoin suffered one of the most painful falls in its history. The Black Thursday crash in response to the rising uncertainties as COVID-19 fears grappled the world. It was during this time that the crypto-asset fell to $3,800 before slowly recovering.
A year later, Bitcoin has broken all its previous records to establish a new high of $60K.
Talking about the latest push in the coin's price, here's what Zerohedge had to say about it,
"BBG on bitcoin: "It's benefiting from optimism in financial markets after President Joe Biden signed the $1.9 trillion pandemic-relief bill into law." Uh, no. It's "benefiting" from "optimism" that central banks will never stop destroying fiat currencies."
---
If you found this article interesting, here you can find more Bitcoin news