Bitcoin prices are lower than this week's highs. However, the path of least resistance for day traders appears northwards. In the past few trading days, BTC has been posting higher highs.
As an illustration, the coin is roughly 10 percent from November lows. Because of the strong start of December, BTC may likely expand, building on recent gains as buyers target $20k in short to medium term. Still, BTC remains broadly within a bear formation from a top-down approach.
Furthermore, prices are within the bear flag defined by the November 8 and 9 engulfing bars. At the same time, trading volumes are relatively low. Nonetheless, with buyers buoyant and BTC breaching the bear flag early this week, the coin could continue tearing higher, even breaking above $17.5k.
Elon Musk Caution to the FED
The crypto revival this week was triggered by fundamental factors.
The FTX ripple effect is waning, and SBF gave an interview Wednesday detailing what happened. SBF's action will likely have consequences for FTX executives, as regulators continue to question how the exchange was managed.
Meanwhile, Elon Musk called the U.S. FED to slow down on hiking interest rates to prevent a recession. If the central bank fails, he reasons that it will amplify the probability of a recession in the U.S.
Whether or not the central bank will raise interest rates depends on the central bank's monetary policy strategy. The FED is in the last stages of its campaign, which has seen rates increase to record levels to tame inflation.
Bitcoin Price Analysis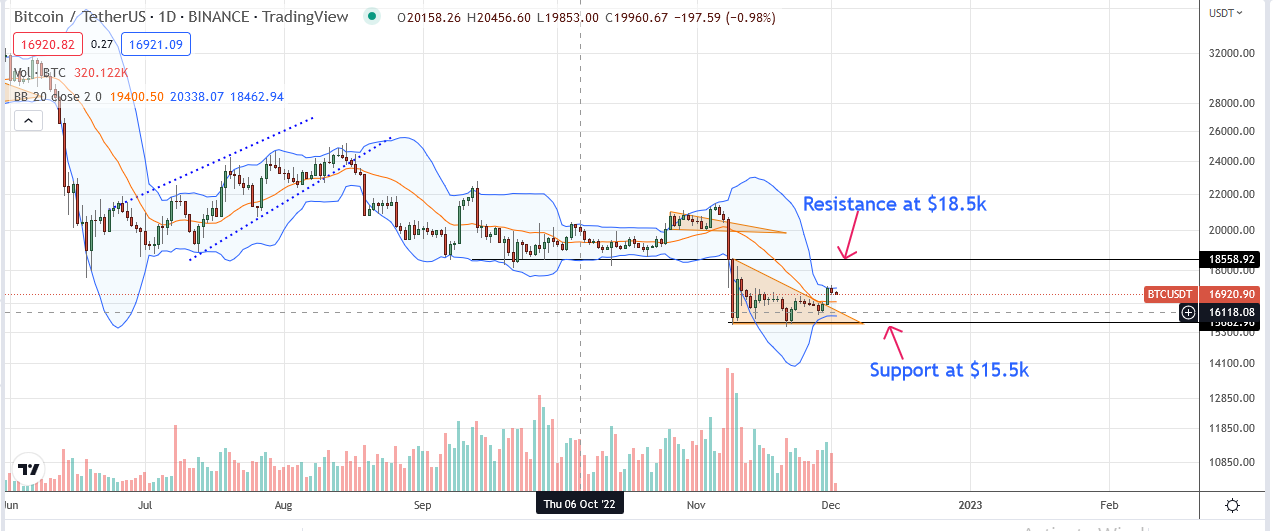 Bitcoin is up roughly 11 percent from November 2022 lows. As BTC breaks above the bear flag with relatively high trading volumes compared to participation in the last week of November, traders remain upbeat.
Thus far, BTC bulls are yet to clear immediate resistance levels at $17.5k and $18. Such gains will bolt BTC above the liquidation level and above the bear bar of November 9. If trading volumes are high, the odds of Bitcoin surging to $20k will be high.
At current rates, aggressive BTC bears can unload on every attempt higher as long as prices are below $17.5k. Their immediate target will be $15.5k, the base of the bear flat, and around November 2022 lows.
Technical charts courtesy of Trading View.
Disclaimer: Opinions expressed are not investment advice. Do your research.
---
If you found this article interesting, here you can find more  Bitcoin news.