Cryptocurrency exchange juggernaut, Binance has unveiled a new non-fungible token (NFT) generator powered by artificial intelligence (AI) dubbed as, "Bicasso".
The NFT space has been exploding at a rapid pace since the onset of the New Year. NFT trading volumes have soared over the past couple of weeks with January witnessing the highest trading volumes since June of the previous year, reaching nearly $946 million. Recently, Aleksander Larsen, the co-founder at Axie Infinity, a NFT-based online video game, said he believes major tech companies to jump into the NFT industry over the course of next few years.
Furthermore, on February 3, DappRadar reported that 2023 will mark a resurgence of the crypto industry due to the recovery of NFT and decentralized finance (DeFi). Amidst the upturn of digital artworks and collectibles, Binance's NFT marketplace is also making formidable strides to increase its presence in the NFT space.
Binance Expands NFT Boundaries
Here's a fun new #Binance AI product called #Bicasso 🎨

You can turn your creative visions into NFTs with AI. Give it a try and show me what you make with it.

Beta version live now, limited to 10k mints.

➡️ https://t.co/QeQS7oh9uH pic.twitter.com/22Dllhg2sP

— CZ 🔶 Binance (@cz_binance) March 1, 2023
As per the latest development, Changpeng "CZ" Zhao, CEO at Binance took to Twitter to announce the beta launch of Bicasso. It will be limited to only 10,000 mints in the test phase. Bicasso is an AI art platform where users can type in simple language to create a quirky image or even upload an image for the tool to produce an exclusive photo. Users can then mint their images as NFTs on Binance's native BNB chain. CZ tweeted,
"Here's a fun new Binance AI product called Bicasso.You can turn your creative visions into NFTs with AI. Give it a try and show me what you make with it."
It seems Bicasso is a reference to the famous Spanish painter "Pablo Picasso". Since the beta launch, the platform has gained immense popularity among Binance NFT users, who have eagerly shared their creations. As per the early mint data, almost 9,900 users have already minted at least one Bicasso NFT, reaching a cap of 10,000 NFT mints in just 2.5 hours. However, the images were part of the pilot so are not available for resale.
BICASSO first pilot just completed with 10K NFT minted in 2.5 hours. The AI was a little stressed out, but caught its breathe now. 😂 https://t.co/BBRevAdIUc

— CZ 🔶 Binance (@cz_binance) March 1, 2023
The Rise of AI in Crypto

AI powered technology is booming currently with the rise of powerful bots such as ChatGPT. Adoption of artificial intelligence based blockchains like SingularityNET has experienced a prolific growth over the past few months along with its native token AGIX which has seen a staggering 800% growth since the start of 2023.
AI and blockchain are two disruptive technologies that will enhance nearly every industry in which they are used. It is further believed that businesses can create safer, smarter, more transparent, and cost-effective business automation solutions by integrating the predictive capabilities of AI with the robustness of blockchain.
Of late, the rise of AI image generators, such as Dall-E and Midjourney have sent shock waves across artist all around the world. As per a recent JP Morgan survey, institutional traders are shifting their attention from blockchain to AI. More than half of the 835 institutional traders surveyed claimed that AI and machine learning will be the most important and influential technologies in the next few years.
Artificial Intelligence Go Hammer and Tongs
On February 28, Habytat, a social metaverse platform powered by DatChat, announced it will be launching pets for users, powered by proprietary AI. This new AI-powered metaverse pets will likely bring a new level of interactivity in the virtual world.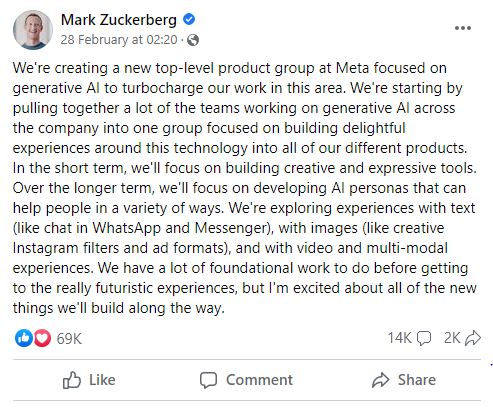 Earlier this month, Mark Zuckerberg, CEO at Meta revealed that his company is building a new feature that will focus on implementing generative AI into its services, enabling "delightful experiences" for users. He also said the company is exploring the use of generative AI in text, such as chat in Messenger and WhatsApp. In a statement, multimedia artist Raghava KK stated,
"Ride the AI wave, don't fight it."