Binance Coin, BNB, fell seven percent from last week's peaks. The slide was fundamentally triggered after a disastrous hack led to "hot sales" of BNB in the secondary markets.
However, from the performance in the daily chart, prices are stable. The coin is performing optimally, finding support at around the middle BB. Technically, BNB is within a bullish formation from a top-down perspective.
Even though there were sharp, worrying losses that analysts had said would be consequential for the network's reputation and, thus, BNB, the performance over the weekend has been nothing more than stellar.
In the days ahead, traders should watch how the coin performs and whether bulls will reverse last week's losses.
The 2 Million BNB Hack of the Binance Bridge
The 2 million BNB, roughly $566 million, the hack of the Binance Bridge was a scare.
As mitigation against losses, the Binance Smart Chain (BSC) network was temporarily paused for over 10 hours.
By freezing the network, BSC prevented a portion of funds from flowing to the attacker's account. In a blog post, BNB chain said:
"There was an exploit affecting the native cross-chain bridge between BNB Beacon Chain (BEP2) and BNB Smart Chain (BEP20 or BSC), known as "BSC Token Hub." A total of 2 million BNB was withdrawn. The exploit was through a sophisticated forging of the low-level proof into one common library."
BNB Technical Analysis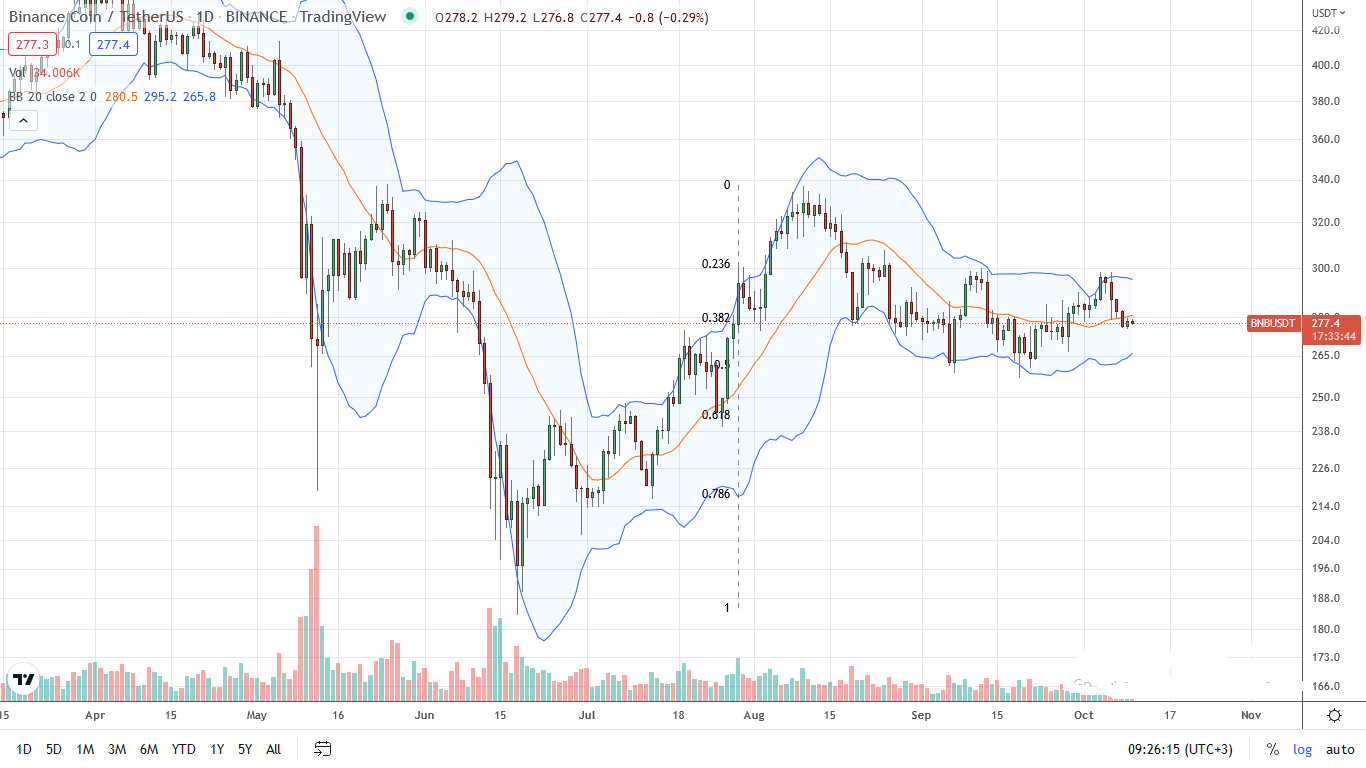 The BNB coin might be down seven percent from last week's highs and $300 trigger line, but it is up an impressive 51 percent from 2022 lows.
From the daily chart, the coin is within a bullish formation, finding support from around the 50 percent Fibonacci retracement level of the June to August 2022 trade range. This level flashes with the $260 mark, a critical support level in the short term.
Reading from the performance in the daily chart, every retracement of BNB from $300 may offer entries for aggressive BNB traders to accumulate, targeting $300. Notably, this preview is only valid as long as BNB is above $260.
On the other hand, conservative traders can wait for a clean, high-volume break above $300, the double top marking September highs, with targets at $340 or August 2022 highs.
Technical charts courtesy of Trading View.
Disclaimer: Opinions expressed are not investment advice. Do your research.
---
If you found this article interesting, here you can find more  BNB news.