Consumer electronics manufacturer HTC has partnered up with leading cryptocurrency exchange Binance to launch a limited edition smartphone dubbed Exodus 1 – Binance Edition.
The phone is an upgrade to the Exodus 1 and 1s variants sold by HTC which were launch earlier. This means that the Exodus 1 – Binance Edition does pretty much what the previous devices do but with added functionality. Expectedly, the new partnership allows HTC to integrate the Binance DEX ecosystem and token [BNB] into the smartphone device.
According to a press release published on Tuesday, Binance said that the new device is "the world's first blockchain phone to integrate the Binance Chain blockchain and offers native support for Binance DEX, allowing users to trade on the decentralized exchange on the go."
The Exodus 1 – Binance Edition sports the same specification as the older Exodus 1 device. This includes the Snapdragon 845 processor, 6 gigs of RAM with as much as 128 gigs of onboard storage. The device comes with a Quad HD+ display with 6 inches of real estate and useful additional amenities such as IP68 rating for water and dust-proof surface.
In the camera department, there a dual-camera setup on the back rated at 2MP+16MP while the front-facing dual shooters are rated at 8MP each with the capability of shooting 4K videos at 60fps. For a high-performance device, the battery department may be the only feature on which the device can be faulted. The phone houses a 3,500 mAh which falls short of what most flagship devices offer.
So what differentiates the Binance Edition from the Exodus 1 and 1s devices? For once, the expanded functionality of supporting the Binance DEX ecosystem. This means that all dApps that are running on the Binance Chain blockchain can now be accessible from the device. The HTC Secure Enclave storage wallet will now support the Binance DEX to allow for direct trades on the Binance DEX straight from the Exodus 1 – Binance Edition.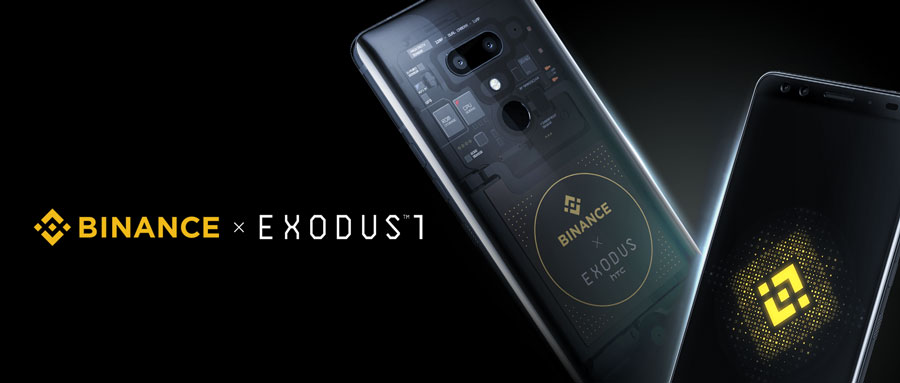 The special edition device also comes bundled with the Binance Apps such as the popular Trust Wallet application and the Binance DEX app. This does not, however, replace the native HTC Zion wallet which will be an additional wallet that offers the Trusted Execution Environment (TEE) for signing transactions. Arguably a better system for storing assets as compared to the Trust Wallet.
As if that is not enough, the new device ships for a $100 discount on the original Exodus 1 device retailing for $599 on the HTC website. Purchases only supported in cryptocurrency. For the lucky few initial customers of the Exodus 1 – Binance Edition, there will be BNB airdrops after the purchase.
"Smartphones will play a key role in the mass adoption of crypto and smartphones are the most natural devices for a hardware wallet that is simple to use and always with you," Binance CEO Changpeng Zhao said in a statement. "Crypto, on the other hand, will make every smartphone both a POS terminal and payment device, cutting out most other middlemen. The implications are profound and far-reaching, and the most innovative smartphone makers are racing to integrate crypto use for mass adoption and seamless usability. We are delighted to support and work with HTC EXODUS to help people access crypto anywhere and anytime. We are excited to collaborate with a manufacturer that is taking the innovative steps forward to empower users and further adoption."
HTC's Decentralized Chief Officer Phil Chen said that,
"[Binance's] vision of borderless finance is a cause that EXODUS also aspires to. We are excited to be supporting the Binance Chain and its DEX, which provides our community with the biggest spread and most liquid crypto exchange along with the trust minimization principle of empowering users to own their private keys and manage their personal bitcoin node comprehensively. We believe this combination and our partnership will usher in a completely new paradigm of digital asset exchanges and corresponding interactions."