AVAX, the native currency of Avalanche, a high throughput and scalable blockchain platform tailored to power decentralized finance (DeFi) dapps, was capped last week strongly, and kept relatively firm when writing on July 10. The coin sprung higher over the weekend, as per development in the daily chart. If bulls press on, there could be more upsides for AVAX in future sessions.
Looking at the candlestick arrangement, AVAX buyers appear to be in control in the short-medium term. Already, the coin is up 35% after dropping to as low as $10 in the first half of June. Even so, recent trading volumes are comparatively light versus the bear-engulfing bar of June 10.
DeFi activity suppressed, Circle launches EUROC
The revival of AVAX is amid a sluggish DeFi scene. When writing, the total DeFi total value locked (TVL) is below $50 billion, and most activities are on Ethereum, the pioneer smart contracting platform. Still, the high scalability, transaction processing speed, and relatively low fees in Avalanche give the network edge. Moreover, there are worthy strategic partnerships. DeFiLlama data shows that Avalanche has a TVL of $693 million, steady for the better part of the year.
Earlier, Avalanche partnered with Circle, the issuer of USDC, for the official issuance of Euro Coin (EUROC) on the network. The stablecoin, similar to USDC, would likely spark activity, driving demand for AVAX as developers would be free to make payments or transfer value. In the future, EUROC will be available in other networks, giving Avalanche a head start.
Avalanche (AVAX) Price Analysis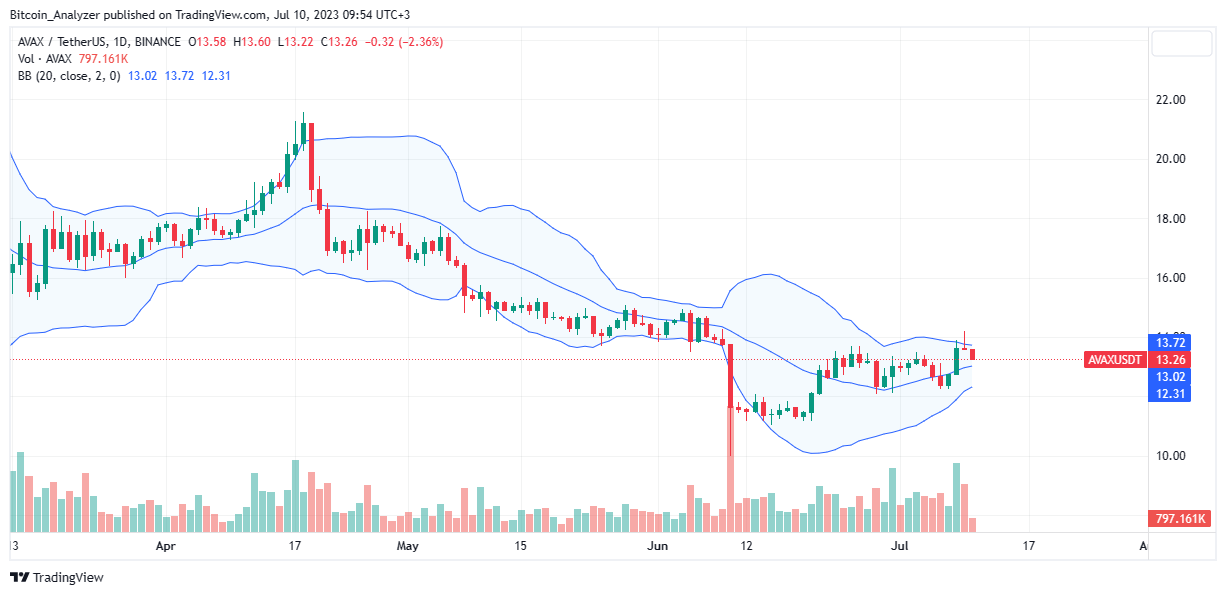 At spot rates, AVAX is bullish despite the contraction on July 9. The upswing of July 8 has rising trading volumes. The resulting bar broke the coin above June 2023 and June 10 high. The coin is trading above $13, a net positive for optimistic bulls.
While AVAX bulls were subdued on July 9 leading to the inverted hammer, the uptrend remains, and buyers have the upper hand.
A clear formation is that buyers have mostly reversed the losses of June 10. Despite low trading volumes, the rejection of lower lows today could propel AVAX higher. Subsequently, aggressive traders can load the dip provided prices are trending above $13 and inside the July 8 bar.
Any drop below $12.7 will pour cold water on the uptrend prospects. Conversely, AVAX bulls extending wins may see prices rewind June 2023 lows, pushing the coin to $15 or better in the sessions ahead.
Technical charts courtesy of Trading View.
Disclaimer: The opinions expressed do not constitute investment advice. If you wish to make a purchase or investment we recommend that you always conduct your research.
---
If you found this article interesting, here you can find more Avalanche News.