Loopring (LRC) is at a vital point in terms of price rises or dumps that may happen in the future. Many metrics should be analyzed. A new report by Santiment assesses the current situation of the network after the LRC coin was successful in breaking ATH and hitting $3. Some of the metrics are in favor of the token, while others show some concerning signs.
According to the report, the mentions of Loopring have been rising recently. One of the possible reasons is a thread on Reddit talking about GME earnings. There are lots of similar rumors circulating on social media about this network currently. It may result in good or bad situations affecting the price. These rumors resulted in a spike in the social dominance of Loopring, but it went down and looks ok now.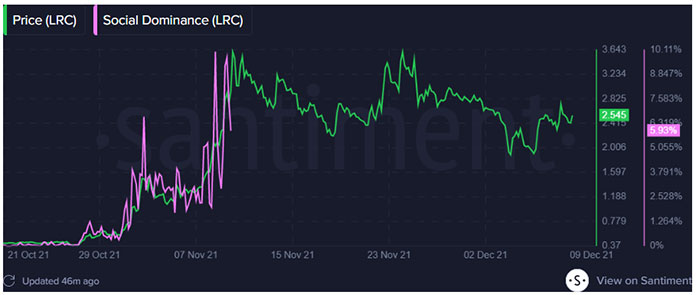 Network growth and daily active addresses are crucial metrics in analyzing blockchain like Loopring. It shows optimism about the blockchain and its usability for different goals. The charts show that Loopring is in an almost good situation in terms of network growth, with new addresses interacting with the blockchain every day. Besides, the daily active addresses are close enough to network growth, showing the network has descent usage among new users.
One of the worrying signs about Loopring is increasing exchange inflow that shows sell pressure. The inflow is surging and shows that some people are moving the tokens to exchanges to sell them. The relative metric here is active deposits. It's showing a sell-side pressure, too.
Amid the worrying signs in exchanges, there is an optimistic one named MVRV. It's currently somehow underwater and close to the first support level of -13%. It somehow shows an oversold situation that can be perfect.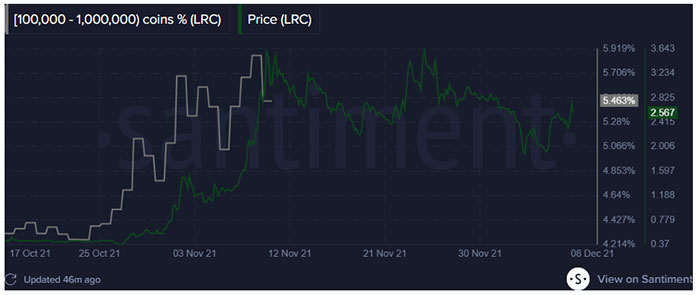 Whales are important factors in all tokens in terms of price. The analysis says about whale activities on LRC:
"A group holding from 100,000 to 1,000,000 LRC seems to be 'smart money.' Dumping right before the top, then ok buying a little bit too early. This group is probably the most representative of whale sentiment. And they generally seem to have dumped a little bit. It would be nice to see a very strong wave of whale confidence, but it's not really shown on a chart at the moment of writing this."
The combination of the above metrics shows investors should be cautious. The favored metrics like MVRV and some people selling the token are not bad. But whales are apparently dumping, and sell-side pressure is rising on some metrics.