According to the latest report published by Arcane Research, Binance is the leader in the crypto market, and Arcane is confident that it can continue to lead the market. Binance's market dominance has surged throughout the course of 2022 as a result of the fallout of FTX, the implementation of zero-fee BTC trading, and some notable acquisitions.
Staying Alive in the Winter
Based on Arcane Research's data, it has been determined that Binance has emerged as the clear winner of 2022, even after a year that has been marred by crises such as the collapse of FTX and Celsius.
Throughout 2022, Binance's market dominance is expected to soar as a result of a report released by Arcane on January 3. It is estimated that at the end of last year, it possessed 92% of the Bitcoin spot market share and 61% of the Bitcoin derivatives market share by volume as of December 28 last year.
The report indicates that the market activity is declining further according to the report. The volume of bitcoin trades on Binance is at an all-time low that has not been seen since before Binance launched its zero-fee BTC pairs last summer, and the volumes outside of Binance are also at an all-time low.
In addition to the decline in trading volume in spot markets, our year-in-review report also shows a similar fall in trading volume in perp markets.
Arcane summarizes key insights from its year-in-review in one section of the report as well as in a separate section. As of right now, Perps are experiencing 70 percent lower trading volumes than they were during the lows of H1 2022. The market for BTC derivatives is dominated by Binance, which represents 61% of the total volume in the market.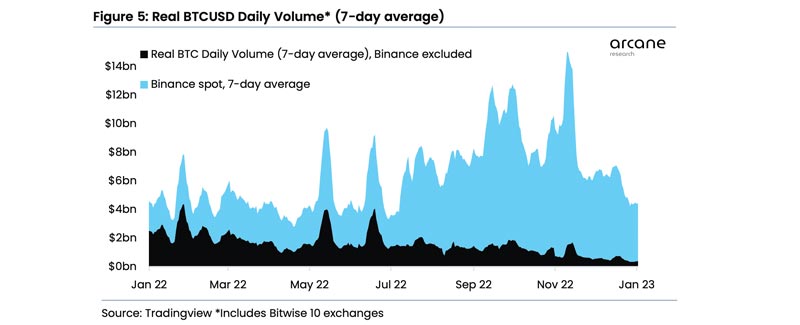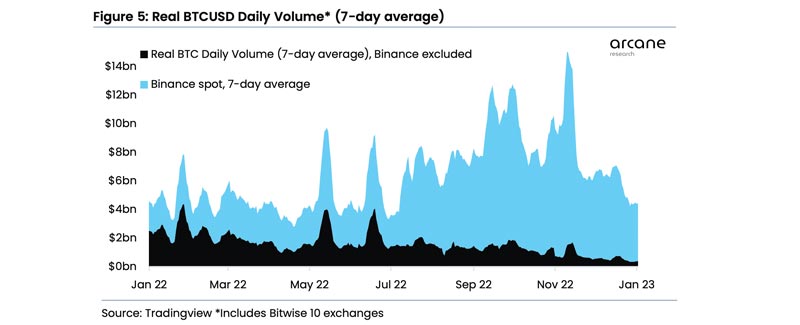 Based on the report, it seems that Binance has the edge over the rest of the crypto market in terms of market structure and dominance when it comes to the year 2022. A few weeks ago, Bitcoin spot pair trading fees were raised on the exchange.
During the summer of 2017, Binance took overall market share in the spot market and completely overtook all competitors. While there may be some room for debate regarding the organic nature of some of this volume, it's non-negotiable that Binance's dominance over the BTC spot markets has been consolidated as a result of this volume.
There is no doubt that Binance's position on the exchange market shows that a good company with a good management team will be able to grow its market share significantly.
In spite of this, there are worries that the market will be dominated by one company and that competitors will not be able to compete. I mean, after all, the whole industry is moving towards decentralization, so it is possible that CEXs will no longer have what they have now.