Daily transactions on the Ethereum layer 2 scaling solution, Arbitrum surged to a record high following the long-awaited ARB token airdrop.
According to blockchain explorer Arbiscan, daily transactions on the Arbitrum network skyrocketed to 2,733,872 on Thursday, soon after the airdrop was launched. The number of unique wallets interacting with the network also surged to an all time high with nearly 240,000 wallets. This is almost twice its previous peak in February 2023.
Arbitrum transaction numbers also hit higher than those of Ethereum (ETH) during the same period. This means, on March 22 and 23, there were more transactions on Arbitrum than on the Ethereum mainnet.
ARB Prices Nosedive
Despite much fanfare, the airdrop could not salvage ARB token prices. As the Arbitrum airdrop claiming process went live, ARB markets dropped more than 85% lower than pre-IOU market prices recorded the day before. At crypto exchange, ByBit, the token started trading for $7.50, but dropped to $1.50 within minutes.
According to CoinMarketCap, Arbitrum (ARB) is down almost a whopping 87% to trade at $1.52. The recently airdropped cryptocurrency  has witnessed enormous volatility over the last 12 hours with prices ranging from $1.10 to $11.80 per ARB. This comes at a time when crypto heavyweights like Bitcoin (BTC) and Ethereum (ETH) have soared to multi-months high.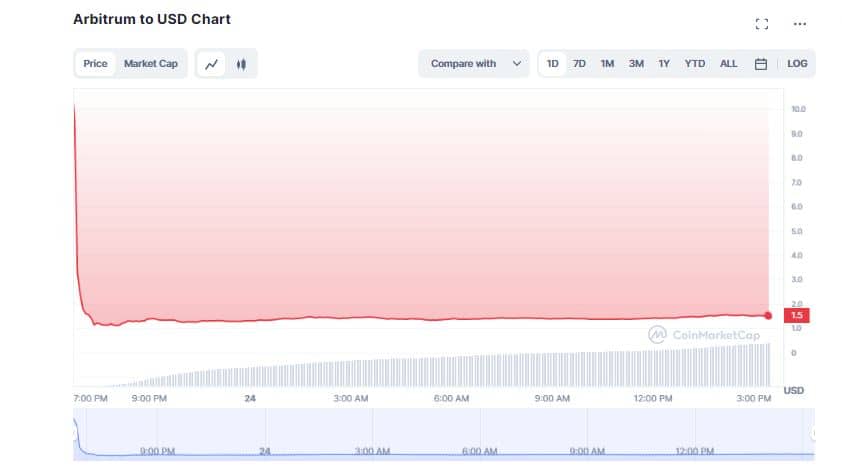 It seems the falling ARB prices has not been able to deter investors who have thronged the Arbitrum website just ahead of the token launch. Due to the overwhelming requests from users to claim ARB tokens, the  Arbitrum airdrop claim webpage crashed. It remained down for more than an hour after the claiming process began.
Nevertheless, some users still claimed the airdrop through alternative services like Arbiscan. The blockchain explorer witnessed a record number of visitors of over 84,000 in the first 30 minutes after the claiming window opened.
Arbitrum network insanely congested, Arbitrum website down, Arbiscan down

Everything will likely return to normal in the next few hours.

But crypto still has a long way to go before it's ready for mass adoption.

— The DeFi Investor 🔎 (@TheDeFinvestor) March 23, 2023
Arbitrum Jumps on Decentralization Train
Through the Arbitrum's native ARB governance token launch, Arbitrum will also transition to a decentralized autonomous organization (DAO), wherein ARB holders will be able to submit improvement proposals and vote on the future direction of the project.
The platform has finally embarked on its decentralization process as it has been under the sole control of an entity known as Offchain Labs since its launch in August 2021. The ARB airdrop will put the reigns of the protocol in the hands of its community.