ApeCoin (APE), the governance and utility token of the Bored Ape Yacht Club ecosystem has rocketed nearly 15% over the past seven days mainly due to the launch of ApeCoin staking rewards which is reportedly coming up in December.
ApeCoin (APE), the Ethereum-based token governed by ApeCoin DAO is developing its staking platform in collaboration with Horizen Labs, a blockchain infrastructure company. On November 24, Horizen Labs revealed the launch for ApeCoin staking, allowing APE holders including Bored Ape and Mutant Ape NFT owners to receive token rewards for staking their coins. Horizen will initiate the launch procedure on December 5 with reward accumulation to begin on December 12th.
Ape Staking Update: Big thanks to the talented community devs for their helpful improvements. Bug Bounty AIP delayed us a bit, so we shortened the pre-deposit period by a week to keep our original 12/12 go-live. Alternate front-end sites going live. See card. pic.twitter.com/mgmP7X3SwQ

— Horizen Labs (@HorizenLabs) November 24, 2022
APE Becomes a Banana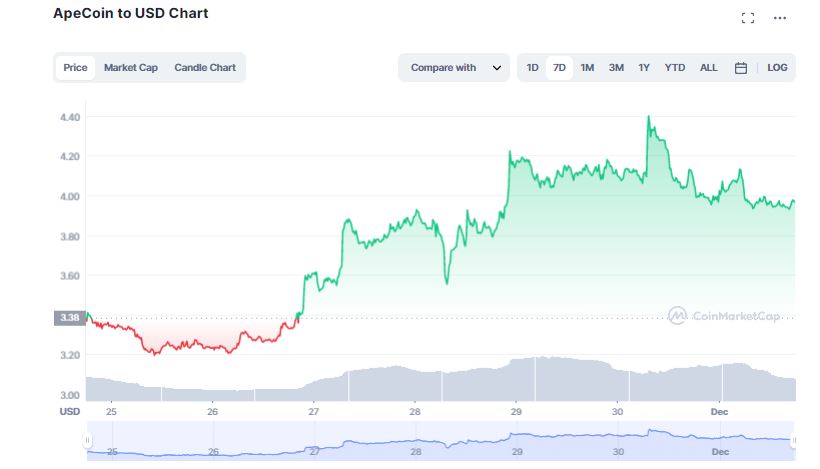 The announcement seems to have propelled the price of APE that witnessed a sharp uptick. According to CoinMarketCap, ApeCoin (APE), has surged more than 17% in the last seven days outperforming most major cryptocurrencies. At the time of writing, APE is up 0.71% in the past one hour with a market cap of $1.43 billion. However, over the past 24 hours, the digital asset tanked 3.71% to trade at $3.97.
After peaking at $23.63, earlier this year, APE was on a steady decline until it stopped the bleeding on November 10 when it changed hands at $2.85. Despite the plunge, several crypto experts predict the cryptocurrency will go up almost 12% over the next five days to trade at $4.43. It seems investors are looking forward to accumulate APE ahead of the staking launch in order to maximize staking emissions, which are typically highest at the beginning.
On November 14, ApeCoin (APE) nosedived to an all-time low price of $2.63 as the fallout from the collapse of crypto exchange FTX reverberated through the entire crypto ecosystem. Despite the downward spiral, ApeCoin has recovered nearly 58% since the drop.
Planet of the Apes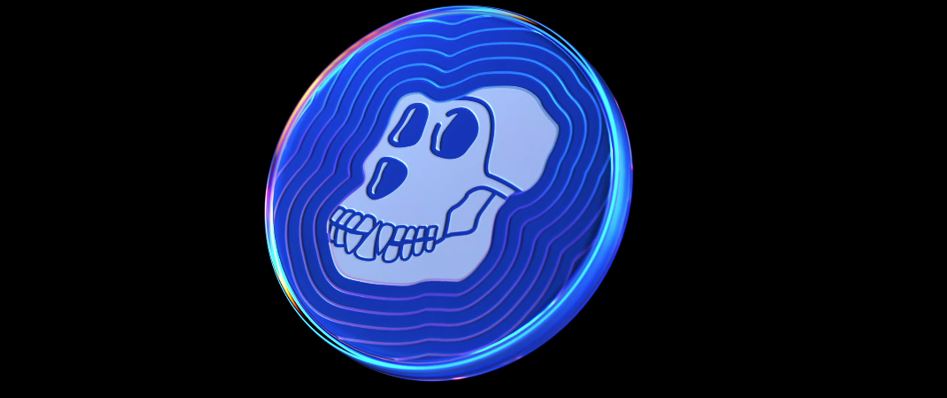 Not just APE, but both Bored Apes and Mutant Apes have experienced a substantial increase in USD floor value of almost 34% over the last week. Moreover, in anticipation of the launch, the number of total holders of APE increased from a little under 91k at the beginning of October to over 103k, untill now.
Last week, Horizen Labs said the company is also developing a website dubbed, "ApeStake.io" to act as a front-end interface for the staking platform allowing investors to access the smart contract in a seamless manner. The announcement revealed that there will be four different staking pools that will allow ape ecosystem participants to get returns on their staked assets.