Uniswap recorded an all-time high in terms of total trading volume reaching $500B since the launch of the platform in 2018. It's a significant milestone for this DeFi platform that is now on top of the list for many users.
Uniswap is one of the most popular DeFi platforms in the industry that has attracted a significant number of users and provided numerous services to people worldwide. Many believe that this platform and other DeFi services can be the next big thing in the market.
The DeFi boom showed the world there are still many opportunities in the cryptocurrency market. Lots of services and platforms launched with numerous capabilities to serve more people. Decentralized exchanges are among the most popular ones in this sector because of the opportunity they provide for people. There is more transparency, control over data, and reliability in many of the DEXs compared to traditional exchanges. Uniswap is one of the most attractive ones in this market, now reaching a whopping $500B total trading value. It's a new all-time high for this platform.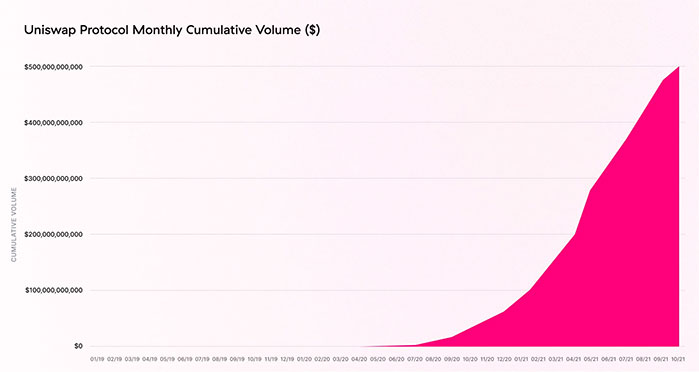 According to the announcement tweet by Uniswap, a good amount of this new all-time high goes to Arbitrum and Optimistic networks. These two new concepts are focused on offering alternative solutions to Ethereum users. Uniswap supports these networks, and users can swap their tokens easily on them. Currently, about $2B of the total trading volume on Uniswap happens on these two networks.
As mentioned above, serving more people and providing financial opportunities for them is one of the biggest purposes of platforms like Uniswap. The latest tweet about the new record in the platform continues:
"We're proud of the magnitude of this number, but we're even more delighted knowing that millions of users had direct access to markets that they could trust were operating in their best interests…
These past three years have sent a clear message: users increasingly place enormous value in transparency, security, autonomy, and reliability."
The new ATH in Uniswap happens in a market condition that many are waiting for new ATHs in the Bitcoin chart. But many others are looking at altcoins and alternative exchanges for trading or doing financial tasks. Other platforms may follow the lead of Uniswap, and we can expect more ATHs in the DeFi sector soon. Besides, the governance token of these platforms has the opportunity to rise. So, it's better to keep an eye on the charts of UNI and similar tokens.