Ethereum is having a great time, and it seems more opportunities will happen for ETH than BTC. There is numerous good news around Ethereum in terms of usage and price performance. Besides, the community is still growing fast, and new users prefer the Ethereum network more.
One of the biggest headlines around Ethereum was Twitter accepting tips in ETH. Some days ago, Jack Dorsey, the co-founder of Twitter, resigned.
not sure anyone has heard but,

I resigned from Twitter pic.twitter.com/G5tUkSSxkl

— jack (@jack) November 29, 2021
But it wasn't the only big news around Twitter. Some tech bloggers have discovered lately that social media is adding ETH to the tips paying feature. In this feature, users can send money to each other in the form of tips. Because Twitter and its execs embrace cryptocurrency, we could expect this feature to support crypto payment. But adding ETH to the system when we have multiple cryptocurrencies for payments was great news for the Ethereum blockchain.
Twitter user Jane Manchun Wong is one of the bloggers who tweeted about the discovery of this feature. She even added an address to her profile to test it. The replies under her tweet show that people were successful in paying ETH tips.
Next to the usage of the network that is growing thanks to many sectors like DeFi, NFT, and metaverse, the price performance of ETH is something that attracts many investors. A recent analysis by Bloomberg shows that ETH has outperformed BTC very significantly in the past year.
In fact, the performance of last year has been the greatest since the launch of Ethereum in 2015. ETH has gained 530% since the last December, while BTC has only doubled in this period. It shows a 400 point gap between the first two cryptocurrencies of the market. Although Bitcoin's market value is still double that for Ethereum, it seems the latter has been a very better investment in the last year.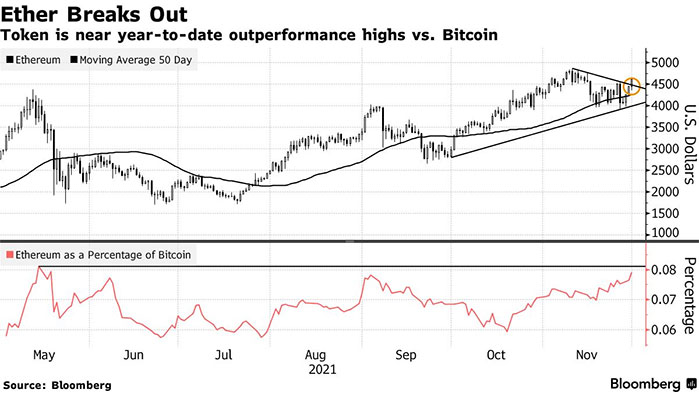 As mentioned above, the high usage of Ethereum in numerous emerging sectors is the biggest factor that differentiates the two networks. Stephane Ouellette, chief executive and co-founder of crypto platform FRNT Financial Inc said: 
"The current BTC trading window seems to associate the asset more with global currency trends, inflation hedges, etc. While ETH has, at least from a current market perception standpoint, higher correlations with the growth of crypto sub-sectors."
There are many speculations in the market that ETH will go higher in price, and even some expect $10K for its price. But BTC is somehow moving in ranges. We should wait and see what happens to the most famous cryptocurrencies on the market.
---