Algorand [ALGO] saw a massive spike in trading volume today which now stands at $3.07 billion. The recent vast sell-off managed to pull the price of the asset down but the current selling pressure is not strong enough to drive the market down to a damaging turn of events.
The native token of the Pure Proof-of-Stake [PPoS] blockchain protocol has maintained a steady upward trajectory. But the latest fall was inevitable. The current trend depicted that a bottom may have formed.
Buyers May Soon Have Control Of The Market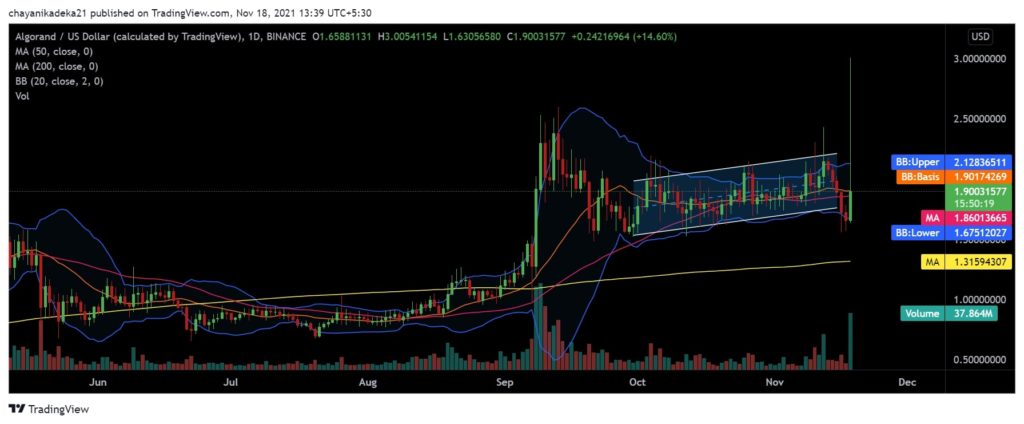 ALGO's price candles broke away after fluctuating within the constraints of a rising parallel channel resulting in a bearish breakout. The fall may be short-lived and a reversal could be in the offing. This was derived from the closing candle that formed an inverted hammer pattern with a long upper wick indicating a period of intense buying pressure in the market.
If the asset manages to climb above the 50 DMA [Pink], it would cross a major hurdle that may push it to September highs. The uptick in volatility could propel the much-needed bullish reversal. The rising volume is another factor that could potentially cushion the uptrend.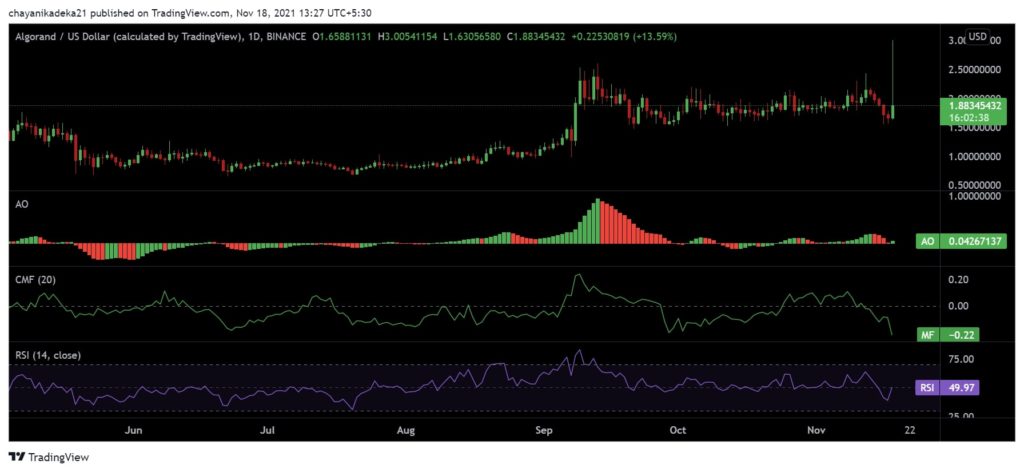 ALGO's technicals look fairly optimistic. The formation of green closing bars of Awesome Oscillator [AO] depicted a switch to bullish momentum in the market. Additionally, the Relative Strength Index's [RSI] spike towards the half-line further validated the thesis of increasing buyers' strength among the market players. However, the Chaikin Money Flow [CMF] is yet to demonstrate capital inflow.
Mapping Algorand's [ALGO] Appeal
Several market participants have expressed their bullish take on the asset. The former White House director of Communications Anthony Scaramucci, for one, believes that Algorand is best suited for real-world use cases. This follows Scaramucci's SkyBridge Capital forging a partnership with NAX to provide Algorand-powered services, digital applications [DApps], and opportunities with regards to institutional investment in a bid to bolster adoption of Algorand across North America and the Middle East.
Besides, the latest surge coincided with the South Korean crypto exchange Upbit's anouncement of listing the ALGO token. In addition to that, 21Shares, which happens to be the world's leading issuer of physically-backed crypto ETPs revealed the listing of 3 additional crypto ETPs on the SIX Swiss Exchange including Alogorand. The 21Shares ETP Algorand is set to tracks the investment results of Algorand.
Following the development, 21Shares's CEO Hany Rashwan, commented,
"Adding Polygon, Avalanche and Algorand to our already expansive suite of single-asset ETPs delivers another simple and easy option for investors to enter the crypto asset class, and allows us to continue fulfilling our mission to build the simplest and most transparent way to access this asset class."