Whithout any doubt 2017 is a year that has been characterized by being the boom of the ICO's appearances of the most diverse possibilities of adoption of blockchain proposals. And behind each ICO there is a team of consultants that develops all the technical part and that ensures the viability of each project, so that it is not only in a mirage, but in a reality. One of the companies that has this very clear is the people of Alfatoken, whom we will talk in this article.
Crowdfunding is a method of collecting many small contributions, through a line to finance, fund or capitalize an organization. The new fund-raising phenomenon – Initial Currency Offering, ICO – is fueled by a synergistic convergence of blockchain technology, new wealth through digital currencies, entrepreneurs and crypto-ideas investors. Entrepreneurs raise funds by creating their own tokens or coins. These are offered at discounted prices on digital assets before exchanges of cryptocurrencies. This creates a digital asset, with a certain value and by consensus reached by the investment, the value is solved by a network of participants and not by a central authority or government. In this cycle we can summarize the crowfunding phenomenon and the ICO's.
AlfaToken is a service designed to create tokens and contracts for all types of business relationships, including initial coin offerings – ICO'S -. The block chains supported by the Alfatoken service are Bitcoin, Ethereum, Bitcoin Cash, NEM, Ethereum Classic, Waves and BitShares. It is a platform that allows you to issue your own tokens and create smart contracts in different blockchains for companies without programming skills that wish to obtain investments through initial currency offerings – ICO's -.
Alfatoken's long-term goal, as they say in their White Paper, is to provide an easy-to-use service to create tokens and contracts for any type of business relationship. They build a service ecosystem that will help companies prepare for Pre ICO and ICO campaigns from the technical point of view. Customers will be able to issue their own tokens and create a smart contract for ICO in different blockchains of their choice, including Bitcoin, Ethereum, Bitcoin Cash, NEM, Ethereum Classic, Waves and BitShares. No special programming skills are required and the entire broadcast process will only take a few minutes from the platform. AlfaToken will also offer customers an automated teller distribution service to investors that are willing to raise investments in different cryptocurrencies, as well as a service that helps manage and execute other related programs.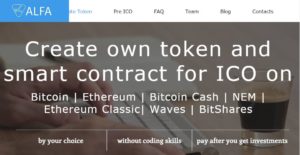 Alfatoken for its part is developing its platform and to achieve the best of it has launched a PRE ICO. Alfatoken tokens, ALFA, will be a tool and method of exchange within the platform, not the basis of future benefits. Only 100 million ALFA chips will be created.
Pre-sale began on September 29 and will end on October 29, 2017 at 10:00 am. The reference price is 1 ALFA = 0.002 ETH; 1 ETH = 500 ALPHA.
Already in October 2017 there will be a launch pad where anyone can issue tokens and create smart contracts for Pre ICO / ICO in Ethereum blockchain.
You can follow the Alfatoken´s platform in their social networks and especially in their Twitter account, where they can be up to date on all their news.