A recent survey by Coinbase and Morning Consult reveals that most Americans are dissatisfied with the current financial system and believe it is unfair.
The survey, which gathered data from over 2,000 American adults, found that 80% of respondents think the global financial system unfairly favors powerful interests. Additionally, 67% of Americans believe the economic system needs significant changes or a complete overhaul.
Crypto is Still the Answer
However, the survey also highlights a promising trend: 20% of Americans, or over 50 million people, own cryptocurrency. Despite the tumultuous events of 2022, crypto ownership has remained unchanged since early 2022, the historic high water mark for crypto ownership in America.
The request is higher with people of color and younger Americans, indicating they are more engaged and optimistic about crypto's future.
Crypto ownership is generally consistent for Republicans (18%), Democrats (22%), and Independents (22%), speaking to how crypto is a rare bipartisan issue. Moreover, 76% of those who own crypto agree that cryptocurrency and blockchain are the future. These numbers are even higher amongst people of color and younger Americans.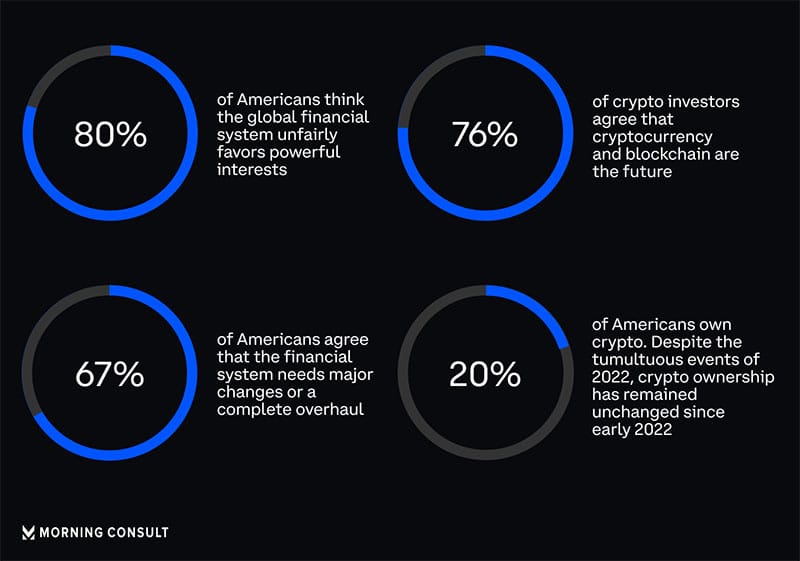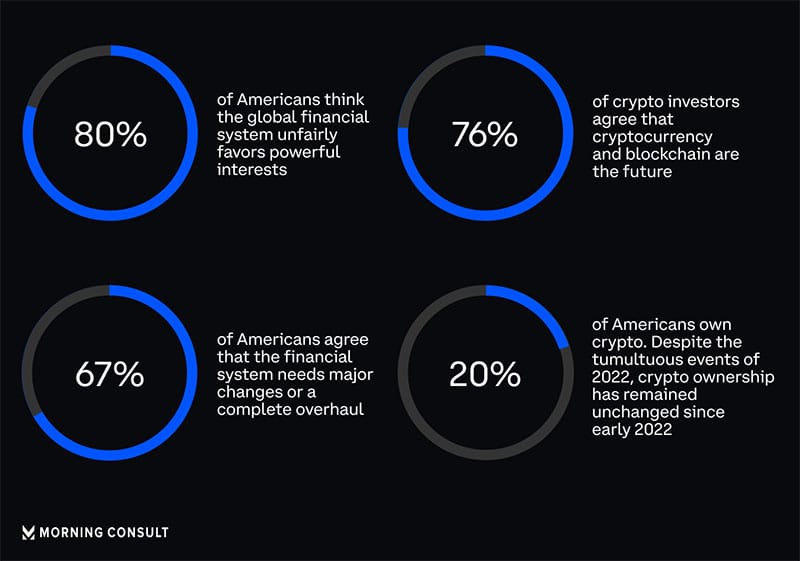 The survey also shows that many Americans believe that crypto can be a powerful part of the solution to bring about meaningful change to the financial system that would benefit society.
Communities underserved by the banking system are more likely to have used cryptocurrency, and digital stablecoins are helping underbanked people worldwide to gain access to the US dollar and financial services to help launch a small business.
Coinbase is committed to partnering with policymakers and traditional finance to make that a reality. The company plans to launch an integrated public education campaign to shed light on the everyday challenges consumers face and crypto's role in a broader effort to update the system.
The campaign will include the regular release of data and reports and national advertising to highlight specific use cases showing how crypto's utility benefits people in the US and worldwide.
The survey highlights that the public is ahead of policymakers regarding crypto's role in helping update the financial system. As Coinbase launches its education campaign, it aims to work with the millions of Americans who hold crypto to help them engage policymakers.
Most importantly, the company will continue to release products and services specifically designed to support economic opportunity.
In conclusion, the survey underscores the need for change in the current financial system and crypto's role in bringing about meaningful change. While most financial systems were built over 100 years ago when computers and the internet did not exist, crypto offers a promising solution to these problems.
Coinbase's upcoming public education campaign aims to educate Americans from all walks of life and around the country about the role that crypto can play in supporting a broader effort to make the financial system more open and fairer, and faster for everyone.