A whopping number of 5000 Bitcoins (BTC) was just transferred from a Bitcoin address to popular cryptocurrency exchange, Kraken. As BTC continues to struggle below $20k, a Bitcoin whale address has become active for the first time in nine years moving Bitcoins (BTC) worth $100 million to the crypto exchange.
The transaction has sparked a widespread panic in the crypto community, as many fear that a transfer of this sort could wreak further havoc on the value of Bitcoins (BTC). Bitcoin grappled to gain momentum as the flagship token continues to trade below the $20k mark. According to CoinMarketCap, BTC rose marginally even as it was trading below $20,000 level after trending downward through the weekend. At the time of writing, BTC, gained 0.36 per cent in the last 24 hours to currently trade at $19,786.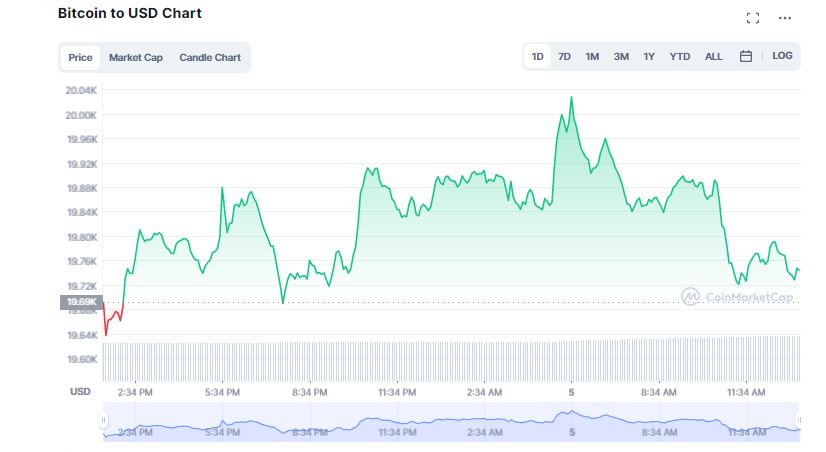 What Does the Move Mean for Bitcoin?

As per Ok Link's crypto analytics platform, the Bitcoin whale address (18xGHNrU26w6HSCEL8DD5o1whfiDaYgp6i ) transferred 5000.01 BTC at on September 5th to Kraken crypto exchange, which was valued at around $100 million at the time of transfer. Crypto reporter, Colin Wu, also took to twitter to confirm the transaction.
The Bitcoin whale address (18xGHNrU26w6HSCEL8DD5o1whfiDaYgp6i ) transferred out 5000.01 BTC at 04:50:38 (UTC+8) on September 5th to the Kraken, which is worth about $100m now. The wallet was created and bitcoins were transferred to this address in 2013. https://t.co/nXWa0HV3oi

— Wu Blockchain (@WuBlockchain) September 5, 2022
Experts believe that when a whale moves such a massive amount of digital tokens intendening to sell a major portion of the order, it may plunge the price of the top asset class. This causes volatility, resulting in the general reduction of the real-time prices of Bitcoin. It is followed by a chain reaction where people panic and start selling their Bitcoin at a cheaper price. In a statement, Kabir Seth, founder of Speedbox and a long-term Bitcoin investor explained,
"Most whales have seen multiple market cycles of Bitcoin to have the patience to wait for the next one. In the Bitcoin ecosystem now, the faith of whales is reinforced by the macroeconomics of inflation and more recently, the correlation with the stock markets."
Crypto Prices May Drop in the Coming Weeks

Bitcoin (BTC) is currently trading nearly 71 per cent lower from its all-time high. As per the datat from CoinMarketCap, the world's largest cryptocurrency tanked more than 0.50 per cent over the last 7 days. Bitcoin's dominance fell by 1.32 per cent in the past 24 hours to stand at 38.76 per cent. Edul Patel, CEO and Co-founder of Mudrex said,
"Bulls might attempt to recapture the US$20,000 price level if BTC can trade above the overhead resistance level. If BTC keeps facing continued rejections, it might dip to the US$18,000 support level. Overall, a bearish trend persists in the crypto market, and we might see a correction in the coming weeks."