As part of its partnership with Unstoppable Domains, the blockchain-based domain name provider, 1inch Network, will provide new services. As a result of the partnership, 1inch Wallet users will benefit from a new feature that enables them to enter human-readable domain names when they are buying or sending crypto assets, which will make the entire transaction process easier for them.
Joining Forces for Competition
There was a time when users had to interact with alphanumeric crypto wallet addresses that were lengthy. There will now be the possibility for them to replace those complex addresses with simple, straightforward names.
It should be noted that once a crypto wallet address name provided by Unstoppable Domains is purchased, it forever belongs to the holder as it is minted as an NFT on the blockchain, and there are no fees associated with it. 
Sergej Kunz, 1inch Network co-founder, said:
"The issues of user experience, security, and identity are still holding back Web3 mainstream adoption. The partnership with Unstoppable opens up opportunities for overcoming these barriers by making Web3 onboarding more fun and attractive, while users will also benefit from a user-friendlier way of transacting."
Unstoppable Domains has become one of the top providers of NFT domain names in the industry. The purpose of this platform is to facilitate the navigation of Web3 through the handling of digital identities and the creation of understandable crypto domain names.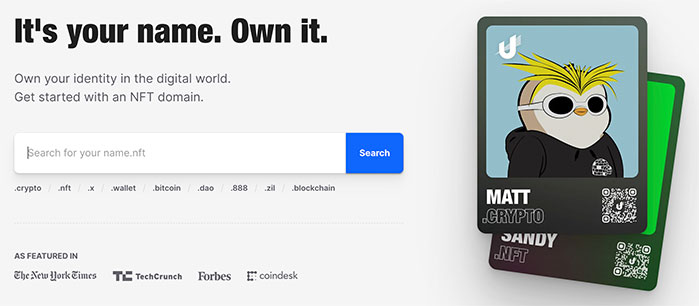 NFT domains can serve more than just as payment addresses; they can also serve as universal digital identities that can be used across apps and platforms. There are many options available for users on the internet when it comes to creating usernames for crypto. These include NFT, Wallet, Crypto, X, DAO, etc.
The 1inch Wallet users will now be required to enter a new address name when transacting with cryptocurrency, such as Andy.wallet, Money.crypto, or any other simple yet creative word combination that is chosen as the address name for the 1inch Wallet. A secure domain like this also increases transaction security by doing thorough address checks and preventing any errors that can occur when sending.
By partnering with cutting-edge DeFi projects, 1inch is aiming to enhance the user's transaction experience, among other things. Using the domain resolution feature, the usability of sending and receiving crypto within the 1inch Wallet increases to a greater degree in line with this strategic approach. It also results in more users for Unstoppable Domains.